Rattray Head
In Aberdeenshire's county of castles, it is its lighthouse, rather than its castle, that collects the accolades here at Rattray Head.
Rattray Head is a sandy headland in Buchan, Aberdeenshire on the northeast coast of Scotland. Its main attraction is the Rattray Head Lighthouse, which is listed as a building of architectural and historical interest.
Some of the golden sand dunes here reach up to 23 metres in height and its beach stretches 27 kilometres from St.Combs in the north to Peterhead in the south. It's a great place to stop as part of a photography road trip.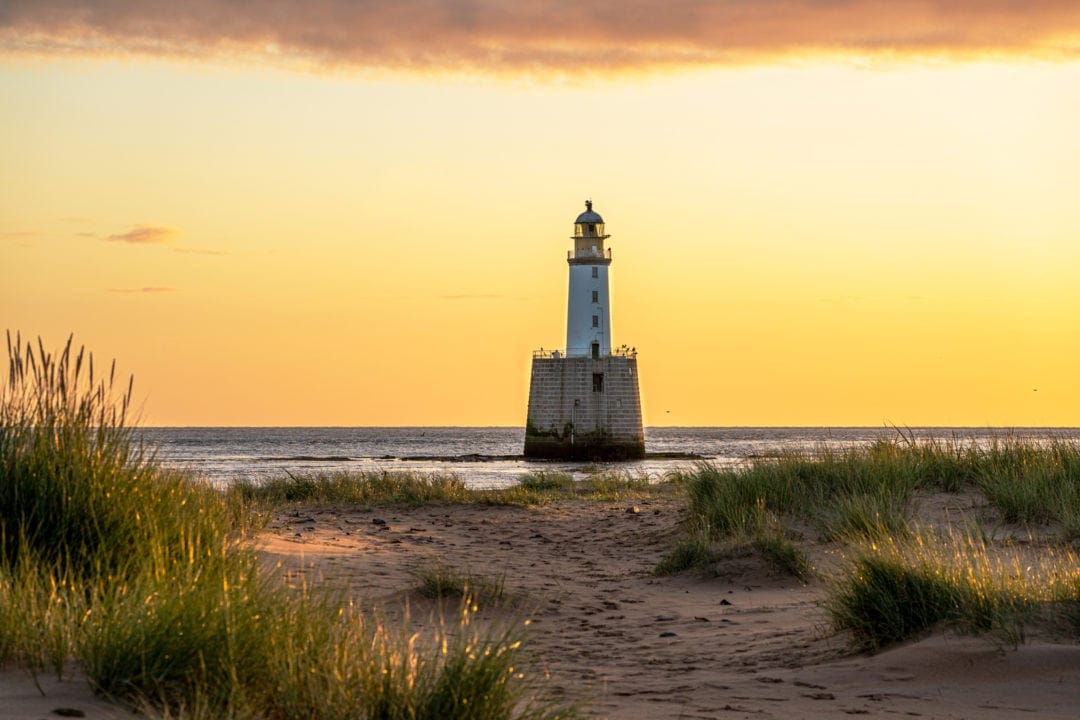 Rattray Head beach's soft palette of colour presents a serene setting, so the crisp salty breeze blowing in from the North sea can catch you unawares.
As with so many areas in Scotland, Rattray Head used to have its own castle, but this one is a real hidden gem. Literally. In 1790, the castle was buried by a massive storm and is now hidden under a grassy mound with livestock grazing above its ancient walls.
Not that Rattray Castle was likely a great loss, the history books tell us that it was already a ruin, having been abandoned in the late 15th century.
Planning a Trip to the U.K.?
Rattray Head Lighthouse
Rattray Head Lighthouse, built on a rock tower, is a photographer's dream. It is implanted on a sandy causeway, only visible at low tide. The reflections on the wet sand make for dreamy shots at any time of day, but with the sun rising behind the 37 metres tall beacon of light, an extra measure of magic is added into the mix.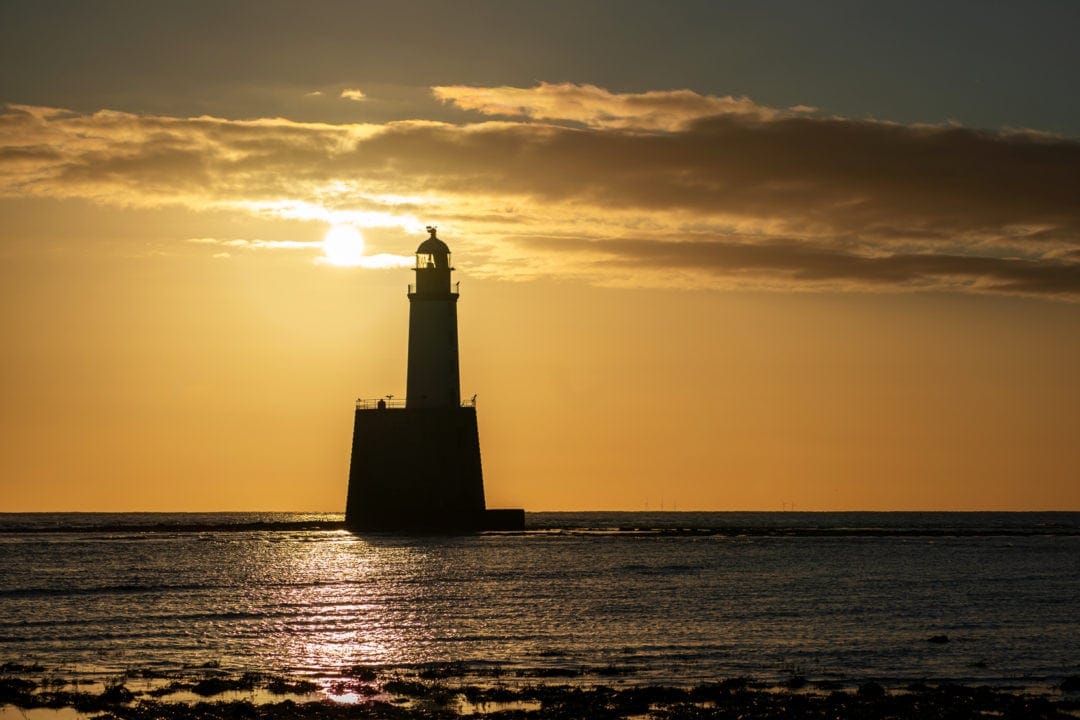 The lighthouse was designed by David Alan Stevenson, an engineer from Edinburgh, who built no less than 26 lighthouses throughout his career. The tower was constructed in two parts with the lower one containing a foghorn and engine-room, and the upper, the lightkeepers' room and lantern.
Rattray Lighthouse has protected mariners on this coastline since 1895, and even though a WWII bomber dropped three bombs around it in1941, it succumbed to only minor damage and still stands tall today.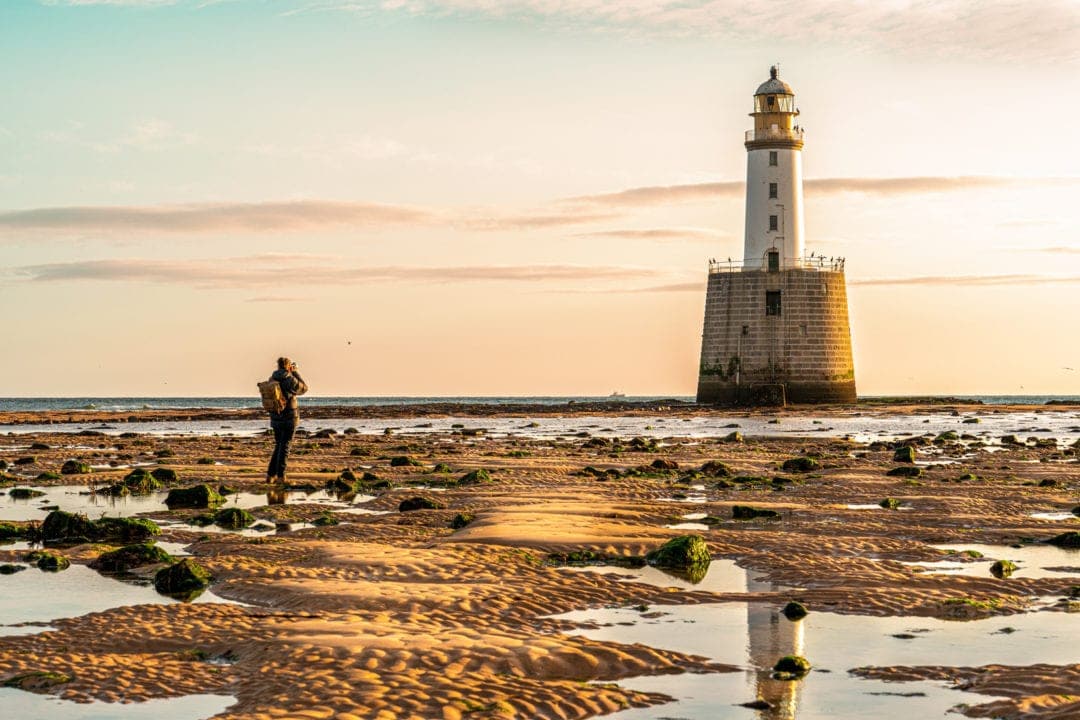 In 1982, the Rattray Head lighthouse became fully automatic. Now, instead of the keepers gracing its verandah, seabirds dry their outstretched wings whilst others use the high lookout to spot tasty morsels in the waves below.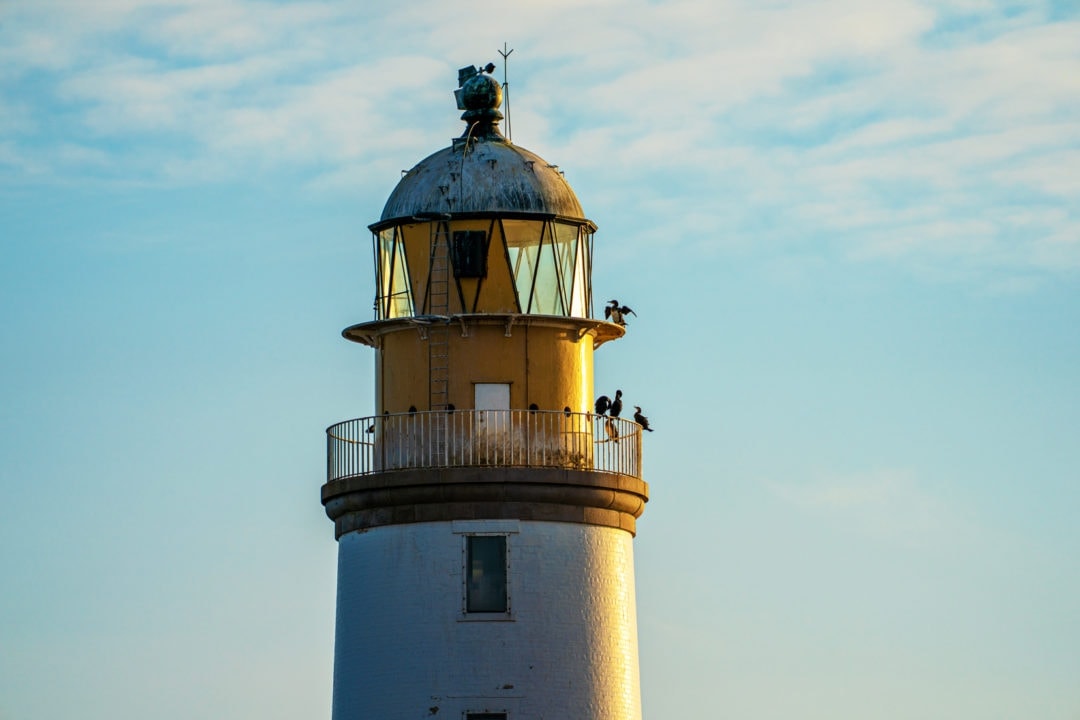 Rattray Head Beach
Access to the beach from the small carpark by the old keeper's accommodation is through a small gate and a short walk along the pathway through the dunes (see map).
Climb the steep sand dunes to get a fantastic view over the coastline. You'll also spy a few remains of past shipwrecks along the shore. Local lore tells how shipowners would deliberately ground their vessels on the rocks as part of an insurance scam.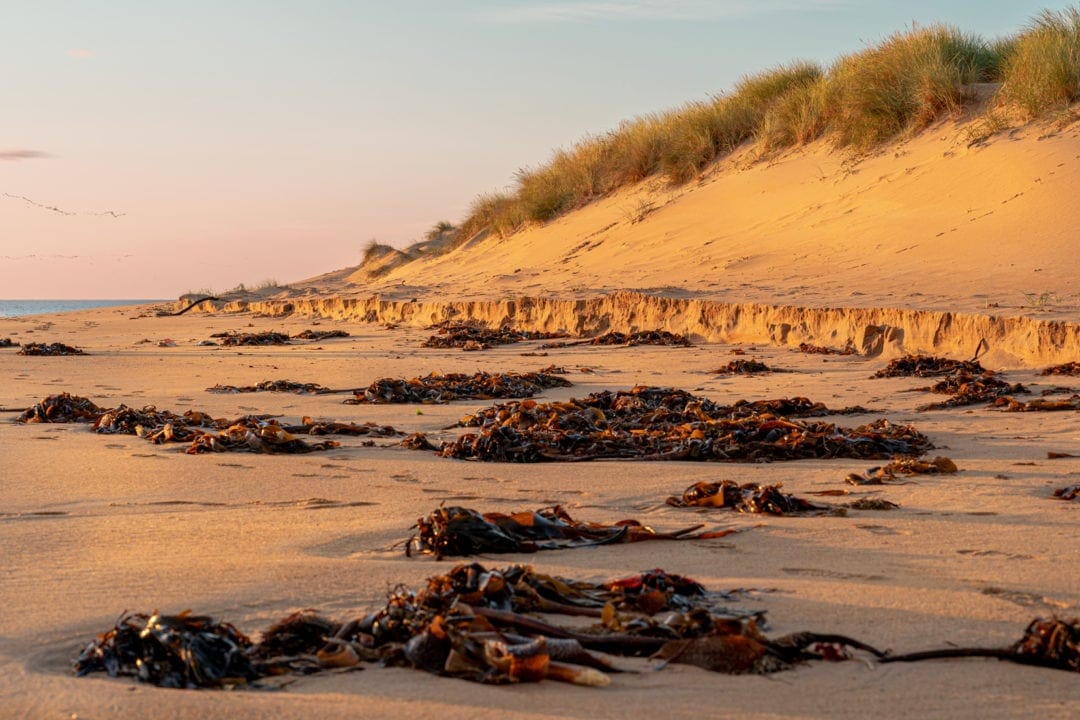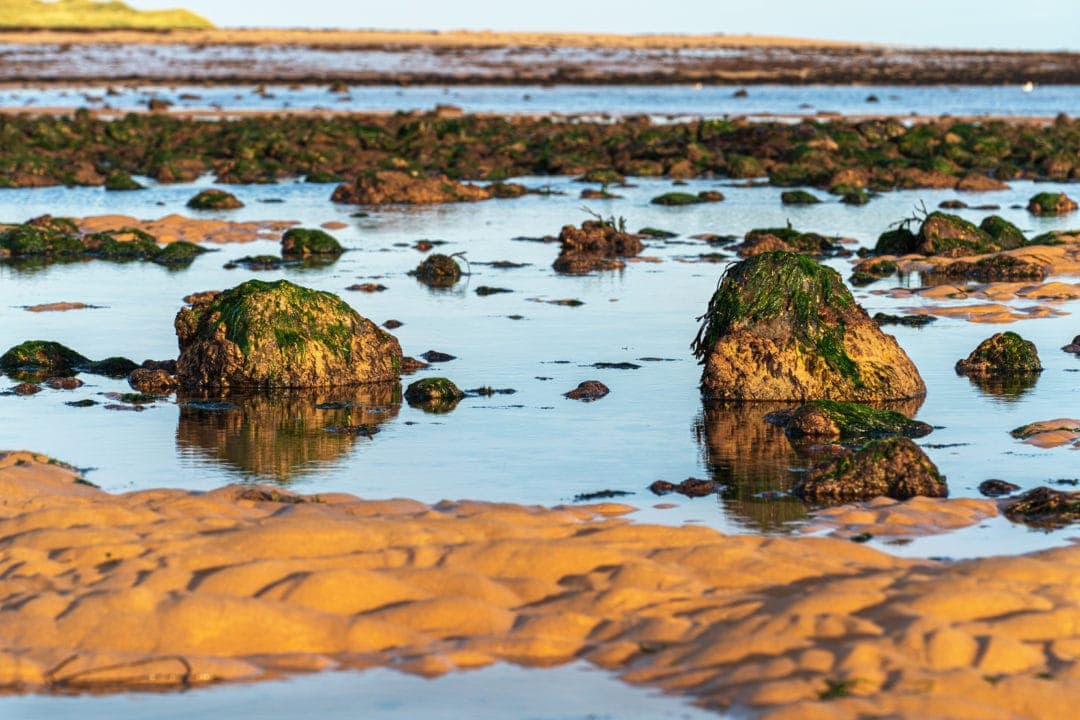 Where in the UK is Rattray Head Lighthouse?
Rattray Head is on the northeast coast of Scotland in the area of Buchan in Aberdeenshire.
It is about an hour's drive north of Aberdeen along the A592 and then the A90 and about a 20-minute drive from Peterhead.
There is a bus that travels from Peterhead, north along the A90, but it doesn't go to Rattray Head, the nearest stop would still leave you 4.5 miles (7.2km) from Rattray Head.
Rattray Head is an ideal stop on a coastal road trip from Aberdeen to Inverness and on the North Coast 250 but it isn't listed as a place of interest — which means this secluded spot is off the tourist radar.
Rattray Head Map
To use this interactive Rattray Head map, click on the square symbol on the top right-hand side to expand. You will find the key on the right with parking, points of interest and main towns listed.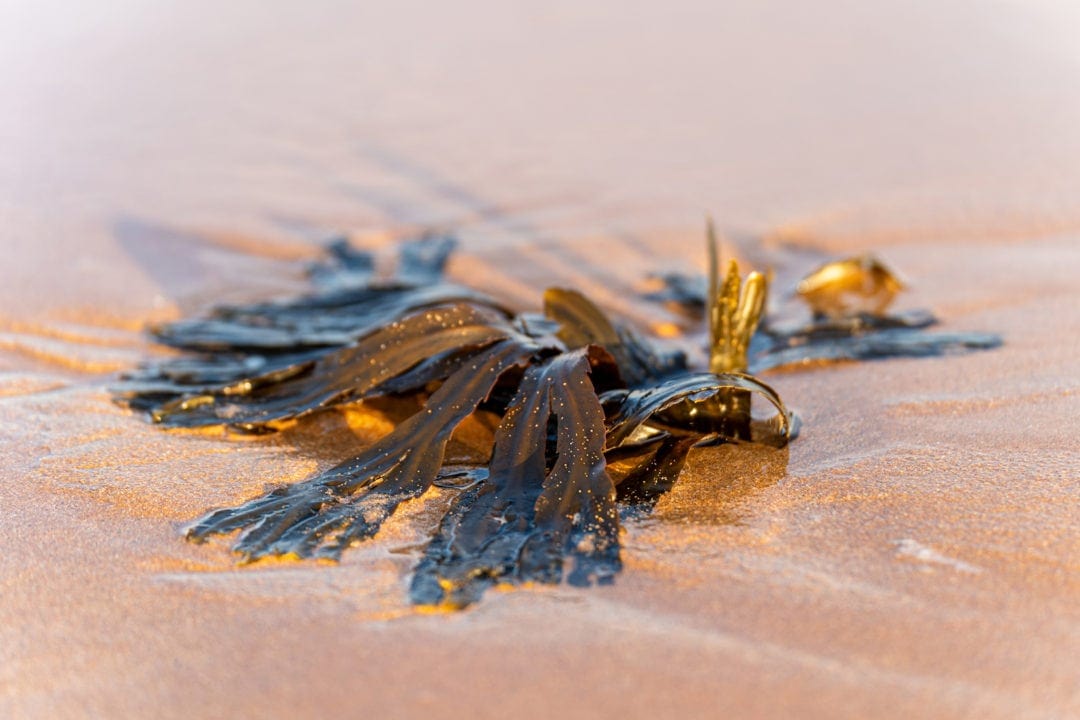 Rattray Head Walk
The sandy beach along Rattray can be walked from St Combs to Peterhead, (See Map). However, the most scenic part is from St. Combs to Rattray Head, which takes you past Strathbeg Nature Reserve. This walk is about 6 miles (9.5km) one way and takes approximately 3 to 4 hours.
Once at Rattray Head Lighthouse you would need either someone to pick you up or do a return walk to St.Combs, (due to the lack of public transport at Rattray Head).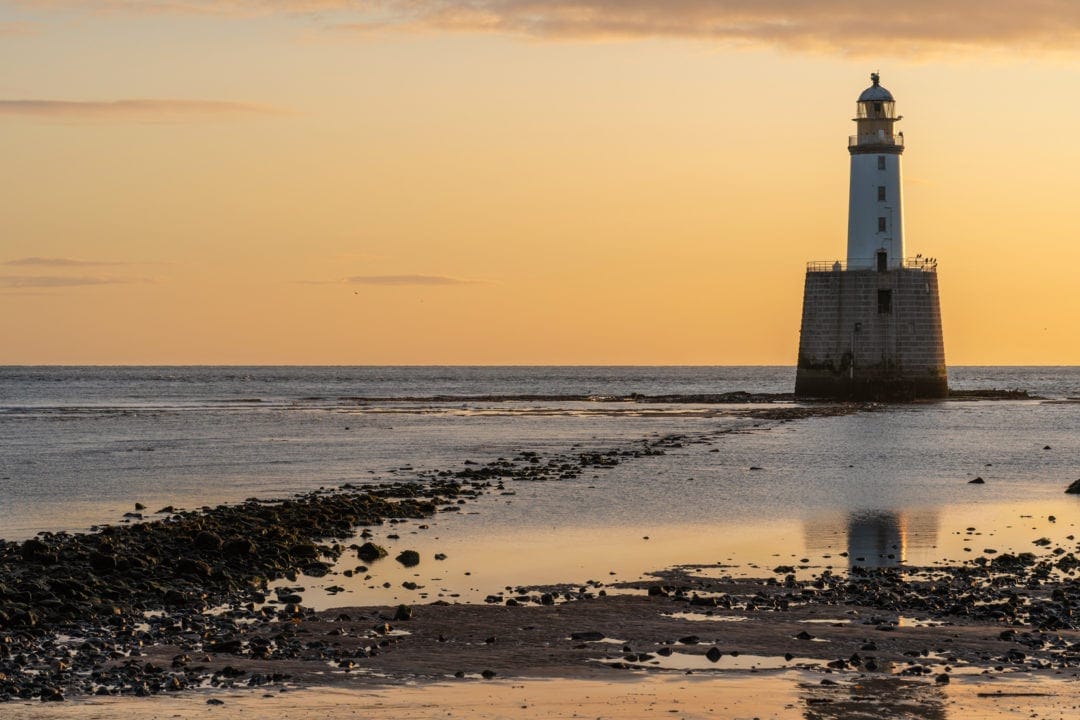 Rattray Head Lighthouse Walk
A much easier walk is to do a loop including the Rattray Head Lighthouse, past the Loch of Strathbeg, (Britain's largest coastal lagoon and a haven for up to a fifth of the world's pink-footed geese in autumn/ winter) and the nearby ruins of St Mary's Chapel.
You could start at the Rattray Head small carpark or at St Mary's Chapel.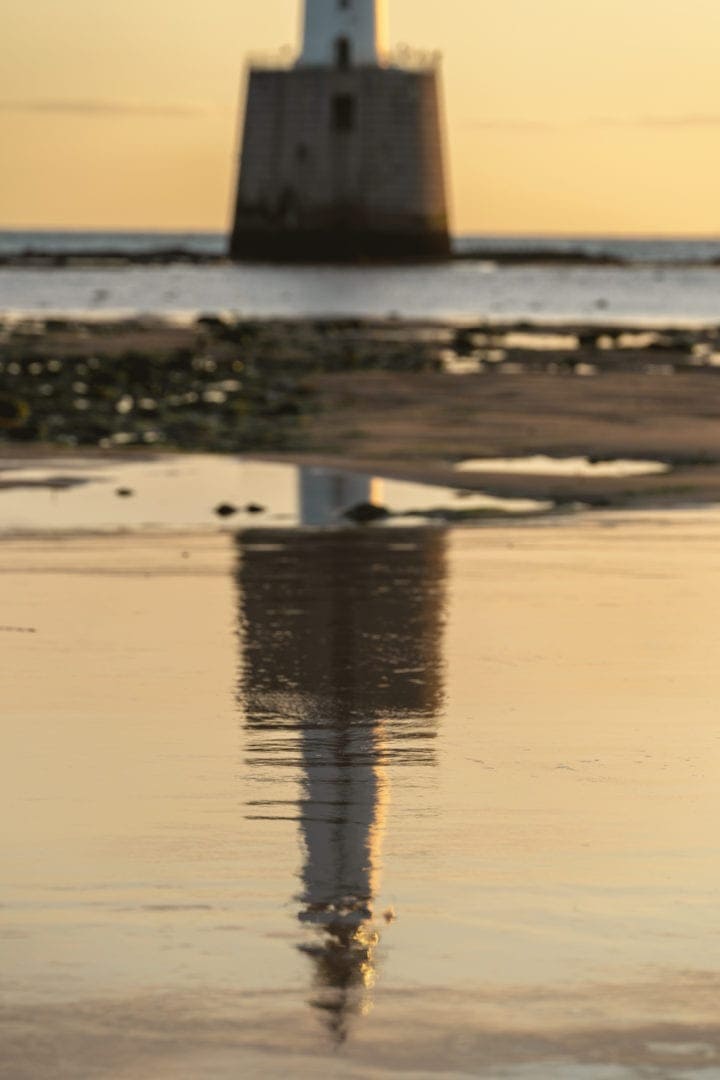 Reflections on the shallow waters at low tide
St Mary's Chapel
St. Mary's Chapel, built in the 13th century, is one of the oldest structures still standing in East Scotland. Its ancient churchyard (kirkyard) remains by its side and locals replaced the wall surrounding the yard in 1848. It is believed that it was built by William Comyn (Earl of Buchan) as a private chapel dedicated to his son who drowned in a well.
For more information on the Chapel, you can read this leaflet produced by Aberdeenshire Council.
Loch of Strathbeg
The Loch of Strathberg is a beautiful wildlife reserve just a few minutes drive from Rattray Head. The wetlands here are of international importance and are home to more than 560 species of wildlife. Entry is free and there are many trails leading to various bird hides.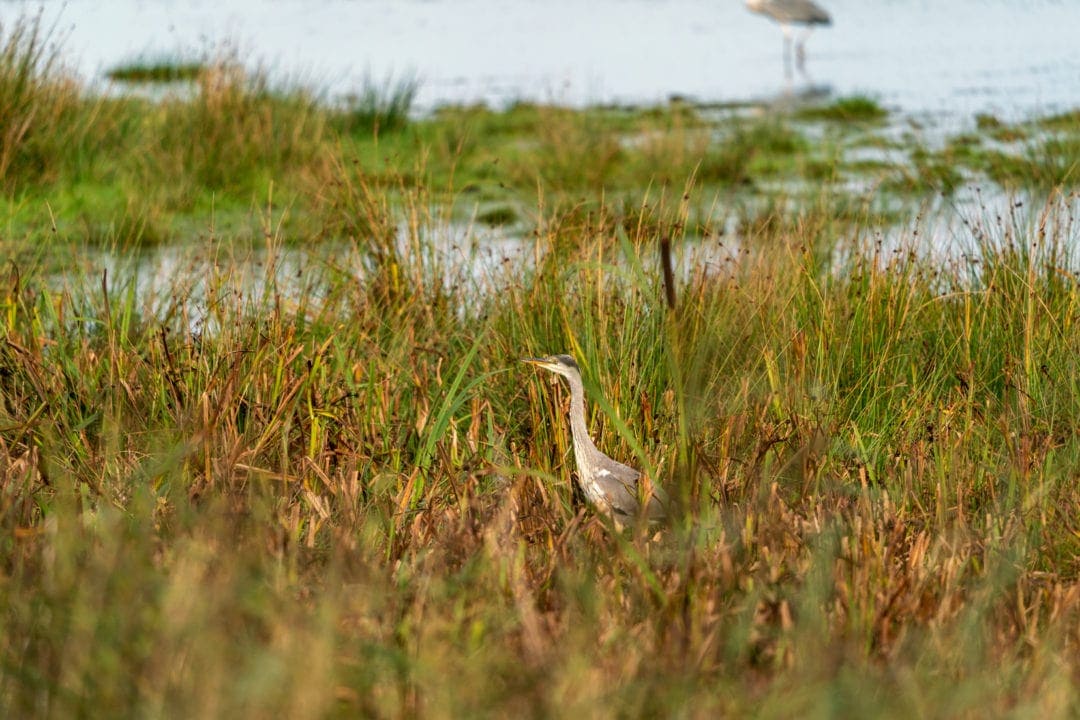 Strathbeg Wetland at Loch of Strathbeg
Best Time to Visit Rattray Head
If you are after some special shots of the lighthouse then you'll want to catch the sunrise. We arrived just after sunrise and the light was magical. We were driving from Aberdeen and arrived later than we'd wanted, some photographers were already leaving!
It's a fantastic photography spot, and whether summer or winter, the magnetic appeal of the Rattray lighthouse will be sure to lure you in. We were there for at least 1.5 hours capturing the light on the dunes, reflections and interesting aspects of the landscape.
If you visit in the autumn in the early morning, you're also likely to spot hundreds of pink-footed geese flying through the sky, going out to graze for the day before returning to the local Loch of Strathbeg.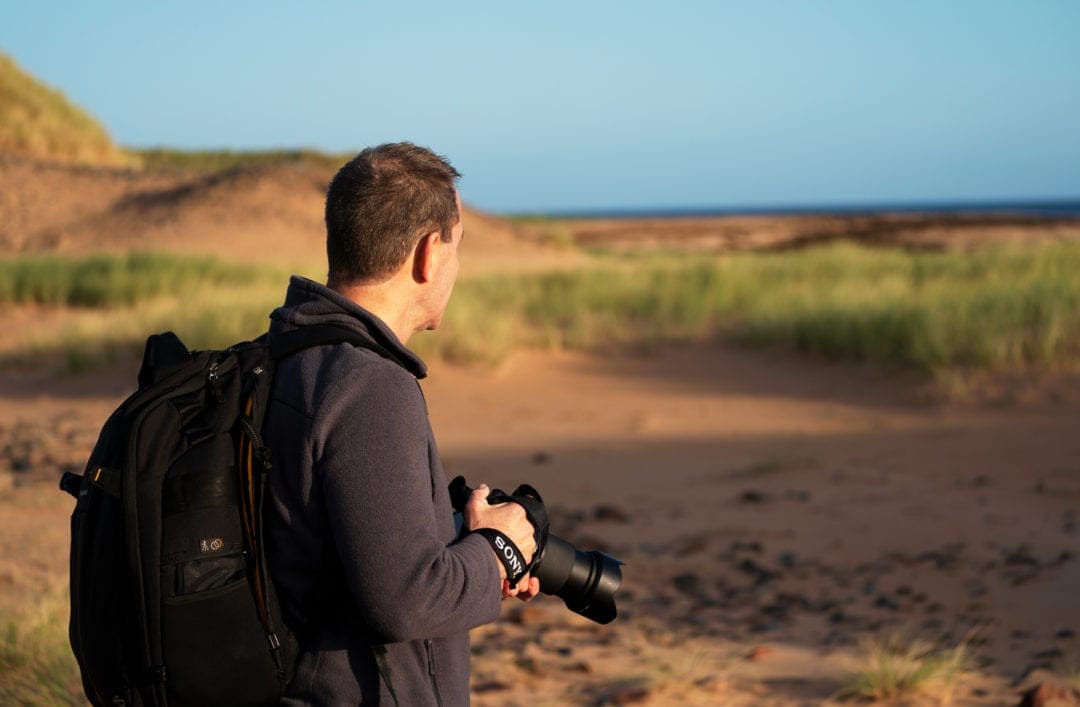 Rattray Head Car park
The small car park is at the end of a single-lane, rugged, uneven track with several potholes. It makes for a choppy ride before you even set sight on the ocean. It is situated just beside the old lighthouse shore station. Parking is free, but there is only room for about a dozen cars.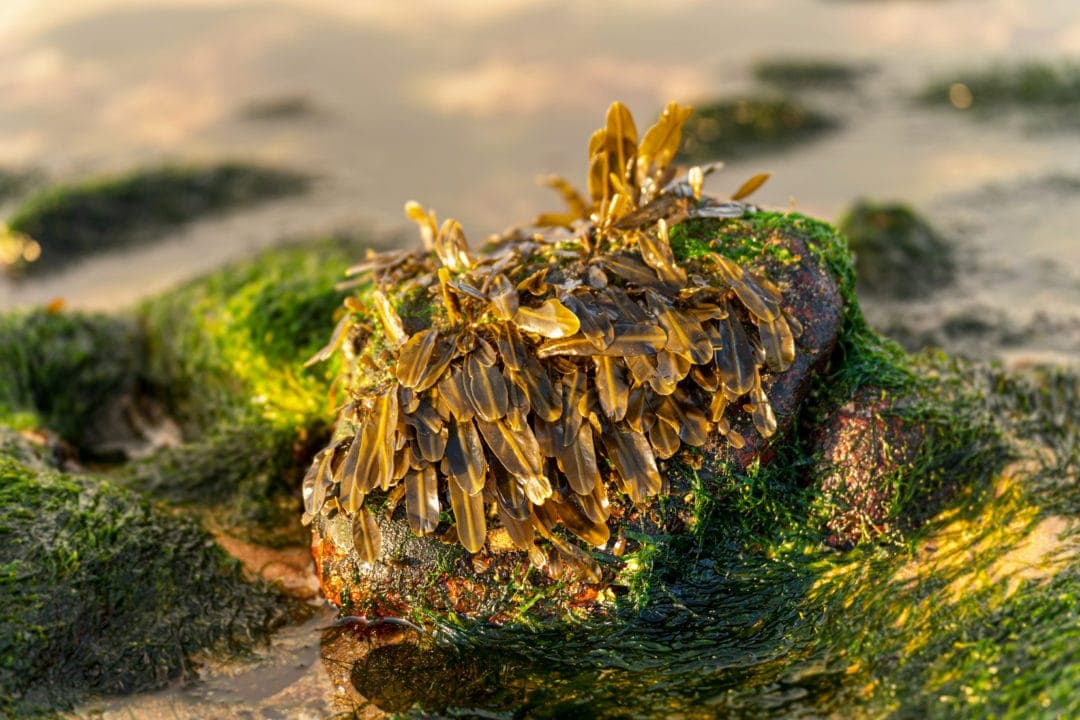 Rattray Head Tide Times
Here's a quick link to find out the current Rattray Head tide times. The lower the tide, the closer you will be able to get to the lighthouse.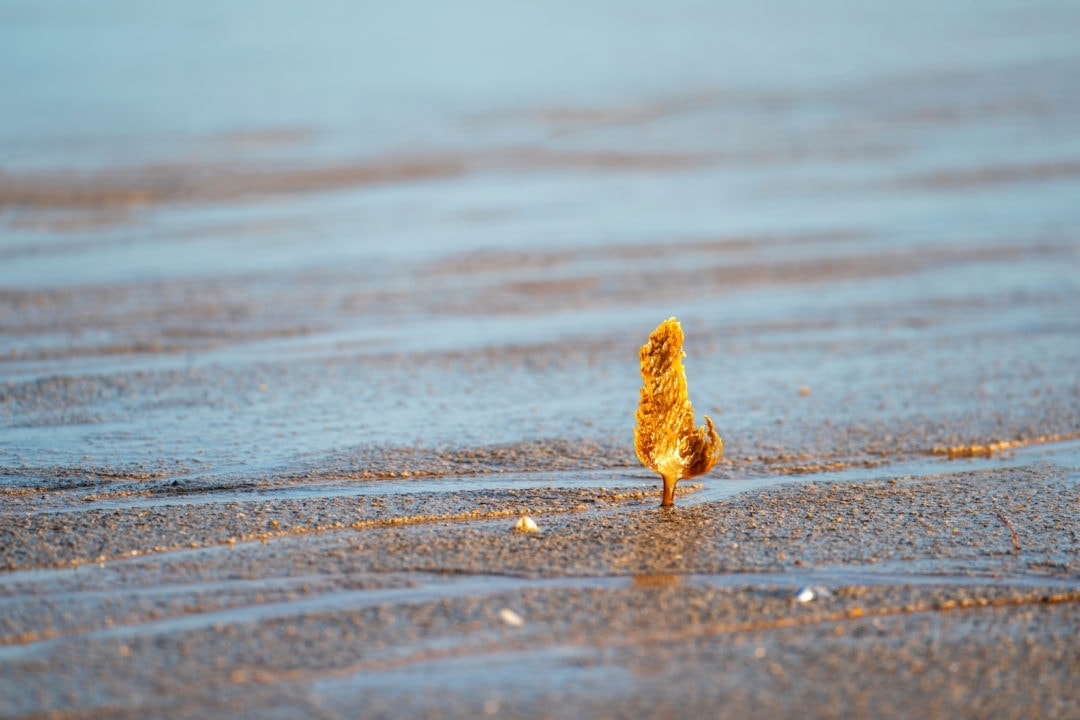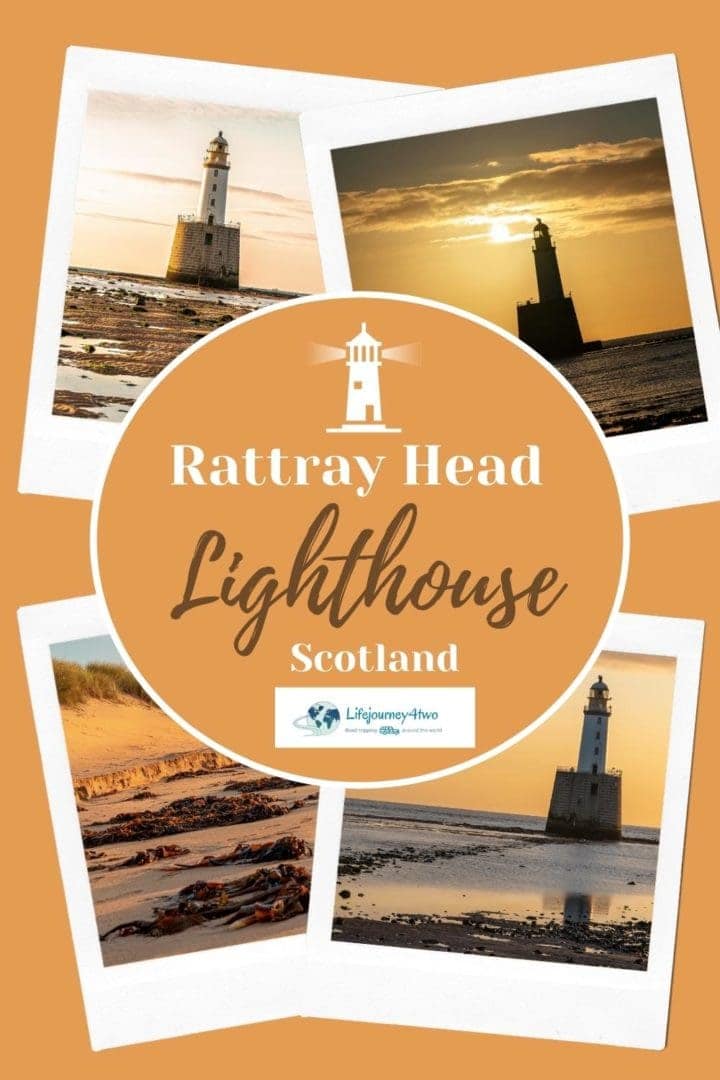 You May Also be Interested in Reading:
PLANNING YOUR TRAVELS?
These are some of the travel resources we use when planning our trips.
For a more thorough list visit our Travel Resources page here.