Some posts on this site contain affiliate links, meaning if you book or buy something through one of these links then we may earn a small commission. Read our Disclosure Policy here.
ALBANIA ROAD TRIP
[Updated: 2023]
On our Albania road trip, we were openly embraced as visitors to this, as yet, off-the-beaten-path country. With rugged mountain landscapes and beautiful beaches, Albania awaits with bated breath, for the rest of the world to catch on to its vibrancy as a European travel destination.
Lonely Planet named Albania as one of the top ten best-value places to visit in 2019, and we agree that you definitely get bang for your buck there.
We'd already road-tripped through Bosnia and Serbia, so we had some kind of an idea as to what to expect for this Albanian trip. But what we weren't expecting, were the beautiful beaches on Albania's 362 kilometres of coastline.
Come along with us and find out all you need to know about planning your road trip and your Albania itinerary.
Useful Information in this Albania Road Trip Post:
What is it like to drive in Albania?
Driving rules and regs for your road trip
A suggestion of places to visit on your Albanian road trip
A detailed list of what to see in Tirana, the capital of Albania
Where to hire a vehicle
What to expect on your Albania road trip
Motorhome campsites for your Albania road trip
Interactive map of the route through Albania
ALBANIA ROAD TRIP – RED CARPET WELCOME
For a country that was, until relatively recently, completely isolated from the outside world, Albania welcomes you as if a long-awaited friend.
We were hardly obscure, in our seven-metre gleaming white campervan. But when locals in horse and cart or those on foot, weighed down with sticks across their back, warmly waved as we passed by, we felt an immediate sense of ease and acceptance.
This was the first surprise of many, as we continued to road trip Albania.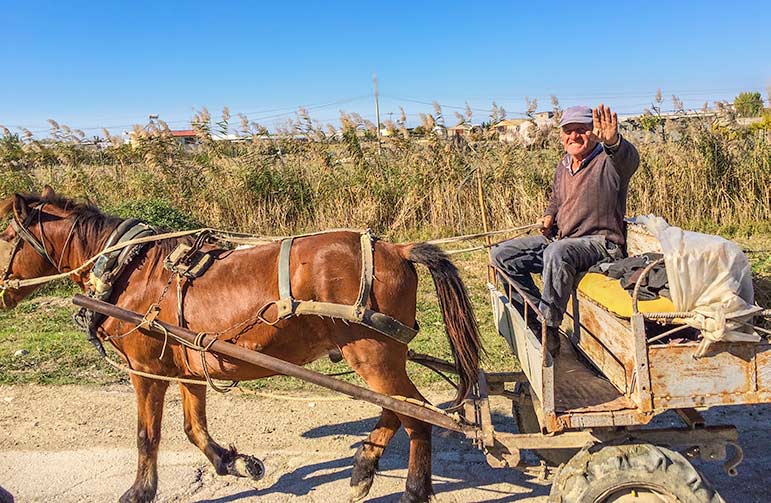 The initial idea of driving through Albania on our European road trip, had us feeling a little anxious. We had to get special permission from our motorhome insurer, and at the time, to the outside world, Albania was something of an unknown entity.
Friends questioned our decision and worried about our safety. There really was no need.
ALBANIA ROAD TRIP MAP
How to Use This Albania Road Trip Map
To use this map, expand it using the square symbol on the top right-hand side and you will find the key on the left-hand side. By clicking each location you will find extra information.
For example, each Campervan overnight stop has a web link to Camper Contact where you can see the facilities available, price, opening times, and useful user reviews on each campsite.
The Motorhome overnight stops are marked with an orange P circle,
The places we visited are marked with blue icons and
Places that you may like to stop on your road trip are marked in purple.
ALBANIAN ROAD TRIP – SHORT VIDEO
What is it Like Driving in Albania?
We crossed the border (Muriqan – Sukobin Border crossing) from Montenegro and entered Albania without difficulty. There was a small queue but we've heard that in the summer months, there can be a long wait.
Our motorhome jarred and jerked along the rutted roads as we dodged potholes and pedestrians.
We passed curbside peddlers, dotted along the streets, with their customers sifting through jumbled piles of clothes, old shoes and bric-à-brac.
Caged chickens piled in crates, littered the pavements.
One of the first things you may notice on your road trip in Albania is the lack of adherence to road rules.
It is an organised type of chaos though. Don't be surprised if the traffic lights aren't working, or more interestingly, the locals ignore the traffic lights altogether.
Moreover, be ready to share the road with a variety of local livestock. We drove behind goats, sheep, cows and even gobbling turkeys gobbling waddling down the highway.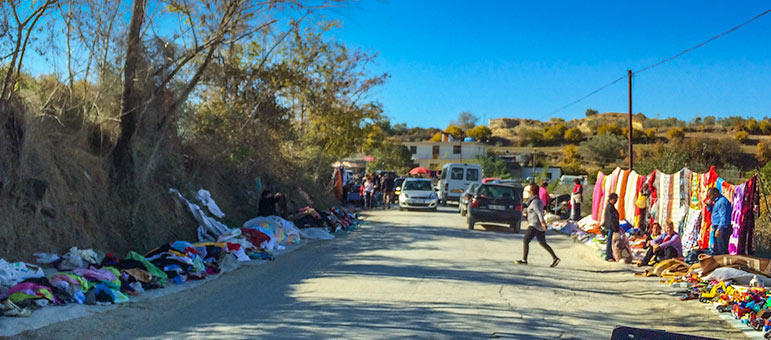 As we neared the capital of Tirana, the traffic intensified.
Here the roads bulged with buses and cars barging and pushing to get ahead. The road lanes became superfluous. Horns blared, colours blurred and local drivers seemed unperturbed as they scraped and nudged their way through.
I'm still not sure how we got out without a scratch on the van.
But it's fair to say, the rest of the road trip through Albania was much less hectic.
A VERY SHORT GUIDE TO ALBANIA'S MORE RECENT HISTORY
Albania has a complex historical and cultural past, but to keep this short we'll just deal with post-WWII.
After the end of WWII, Albania became a communist state.
It was ruled over, in the main, by an extremist communist, Enver Hoxha. At first, Hoxha made alliances with the Soviets and China, but he found their communism too weak and finally cut off all ties, isolating Albania even more.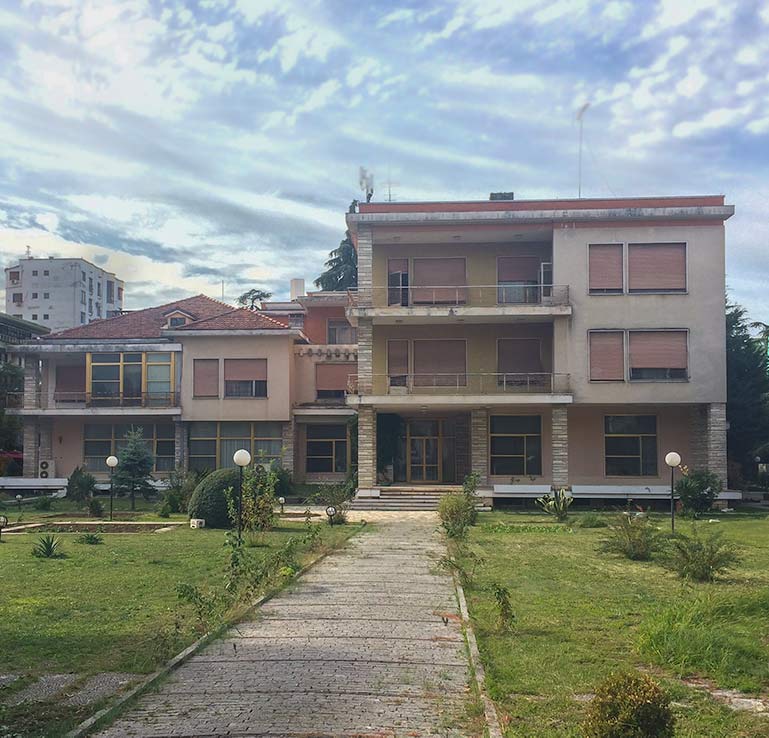 Albania: Life Under Communist Rule
It's difficult for us to imagine living a life so cut off from the rest of the world. The communist state controlled all aspects of Albanian lives.
A local, Gazi, told us that travel abroad, car ownership and practising religion were all forbidden. Everybody's furniture was exactly the same, the buildings were all painted the same colour and if you had a television, you all watched the same thing.
Propaganda was broadcast for four hours a day, detailing how great Albania was, how its people were the happiest in the world and how lucky they were compared to all other countries.
Albania's New Beginning
In 1985 Enver Hoxha died, and by 1990 communist rule was coming to an end.
Gazi told us that in 1991, he was given his first pair of jeans and had his first taste of what for him, was an unrecognisable fruit — a banana.
However, the country was still embroiled in crime, fraud and widespread corruption.
In 1997, Albania's economy collapsed, resulting in widespread civil unrest and fighting. Many Albanians lost their life savings through schemes they had been encouraged to invest in by the government.
UN peacekeeping troops were sent in to restore order.
Since then, Albania has cleaned up its act. Although corruption still lingers in its halls and money continues to talk too loudly, Albania is gradually growing up.
It was admitted into NATO in 2009 and once it satisfies the European Union criteria, it will be allowed out to play with the big boys.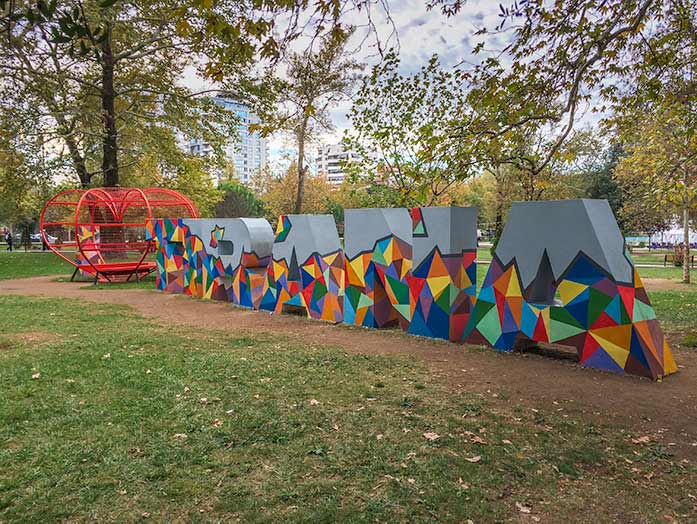 The Best Places to Visit in Albania on Your Road Trip Itinerary
Use these recommendations of places to visit to plan your own Albanian itinerary.
2. Shkoder
As we headed on the road towards Shkoder, we could see Rozafa Castle, one of Albania's most visited castles circling the top of a small rocky hill.
Albanian Road Trip Tip:
You may wish to stop for a day in Shkoder. It is well known for its religious diversity and has many mosques and churches. You can also take time to explore the Rozafa Castle up close, instead of just from a distance.
A sad legend is attached to the Zozafa Castle. The castle is said to represent the strength of women because, in the legend attached to it, a young woman sacrifices her life for something bigger than herself.
The story involves three brothers who were involved in building the castle walls. Each day they returned to the walls they had built and each day the previous day's work had been ruined.
An old fortune-teller told them that in order for them to succeed, one of their wives would have to be buried in the walls of the castle.
The brothers agreed that whichever wife arrived first with their lunch would be the one to be buried. They swore to each other that they would not tell their wives.
However, the youngest brother was the only one who didn't warn his wife.
The next day – two of the wives didn't arrive with lunch. The youngest brother's wife arrived and didn't argue her fate.
She did ask however, asked that holes be left for her right breast to feed her baby son, her right arm to cradle him and one for her leg to rock his cradle.
The castle walls were finally built to protect the community.
3. Tirana
Our first stop on our Albania road trip itinerary was in its capital, Tirana.
We joined a free two-hour walking tour, as we do in many capital cities. We really recommend doing one of these because it's a great way to get local knowledge and first-hand accounts of experiences of living in the city.
If you are interested in the history of the surrounding areas of Durres and Kruja, as well as the local food then this highly-rated tour, with pick up and drop off from Tirana may interest you.
The Durres & Kruja History and Local Food Day Trip Tour includes a visit to the Durrës Roman Amphitheatre and the Venetian Tower and the colourful bazaar in Kruja. This tour receives glowing reviews, such as;
⭐️⭐️⭐️⭐️⭐️ "It was one of the best tours I ever did" — Traveller from Greece, April 2023
⭐️⭐️⭐️⭐️⭐️ "This tour was really amazing." — Traveller from the UK, April 2023
👉 Find out more or book this Durres and Kruja Guided Tour here | ⭐️ 4.8 /5 Star Reviews | ⏰ 10 hours | 👫 Small Group Tour (max 8)
Here are the best places to visit in Tirana:
1. SKANDERBEG SQUARE
Skanderbeg Square is the centre plaza of Tirana. The name comes from the 15th-century national hero, 'Skanderbeg' who led a rebellion against the Ottoman Empire for Independence.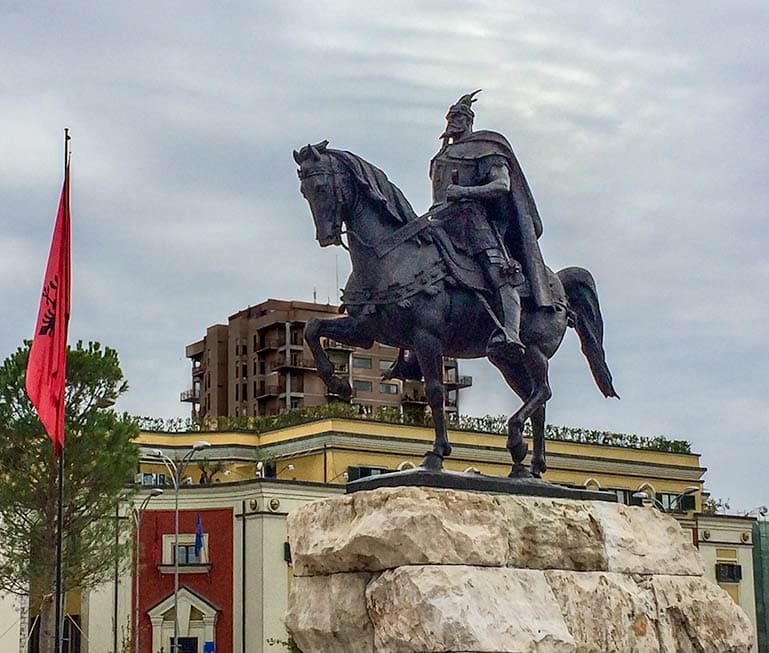 In 2017, Skanderbeg Square was renovated to create a large pedestrian area. The stone for the paving came from different areas in Albania.
The area is slightly sloped around the edges for drainage of water from the central fountain which serves to wet the stones to show off their colour and also helps to cool the area in the summer months.
2. TIRANA NATIONAL HISTORY MUSEUM
Just on the edge of Skanderbeg Square, you will find the National History Museum, the largest museum in the country. The museum documents Albania's rise and fall through the ages, and includes pavilions dedicated to the communist terror and another to Mother Teresa, who was born in Albania.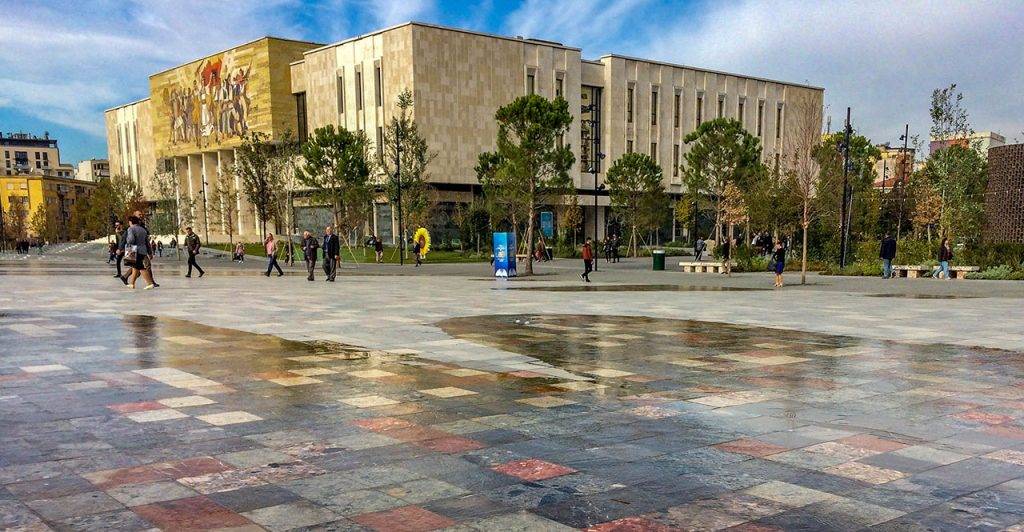 3. TIRANA NATIONAL ART GALLERY
The National Art Gallery has plenty of Albanian political art but also hosts exhibitions from around the world.
While we were there, Austrian artist, Deborah Sengl's 44 installations of 200 stuffed white dwarfed hamsters were gracing the Art Gallery. This peculiar display named, 'The Last Days of Mankind', seemed particularly eerie given Albania's history.
Outside, behind the National Art Gallery, we found some old communist statues which we thought were part of the Gallery. However, while we were taking photos, security guards moved us on telling us that we were in a restricted area.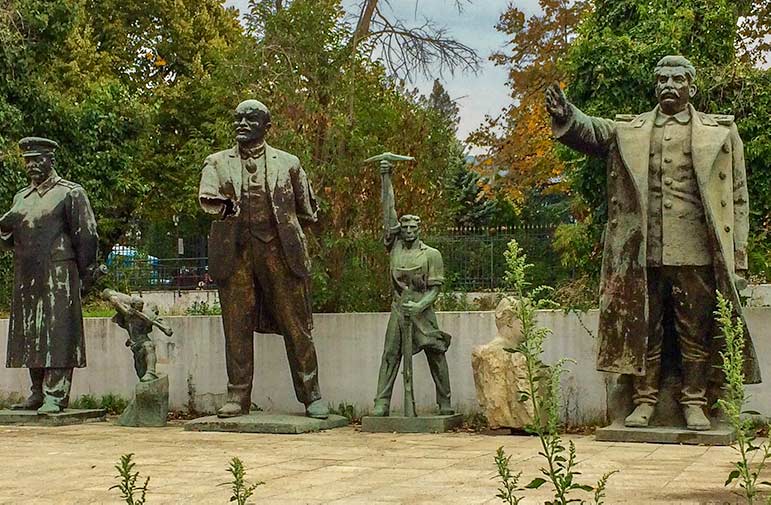 4. THE PYRAMID OF TIRANA & VIDEO FROM THE TOP
The Pyramid of Tirana was designed by Enver Hoxha's daughter and her husband, as a museum in honour of her father. It originally opened in 1988, three years after Hoxha's death. However, when communism ended, so did the life of the museum.
It has occasionally been used as a venue for events, but its main drawcard for tourists and locals is to climb to the top and then practice their agility on the steep descent. One of us accomplished this feat … I wonder if you can guess who?
When we visited it on our Albanian road trip, it lay abandoned, strewn with graffiti as a stark grey reminder of what once was.
In 2018, there were plans to renovate it and turn it into a hub for Tiran's cultural life, with an atrium, cafes and workshops. However, this is still to materialise.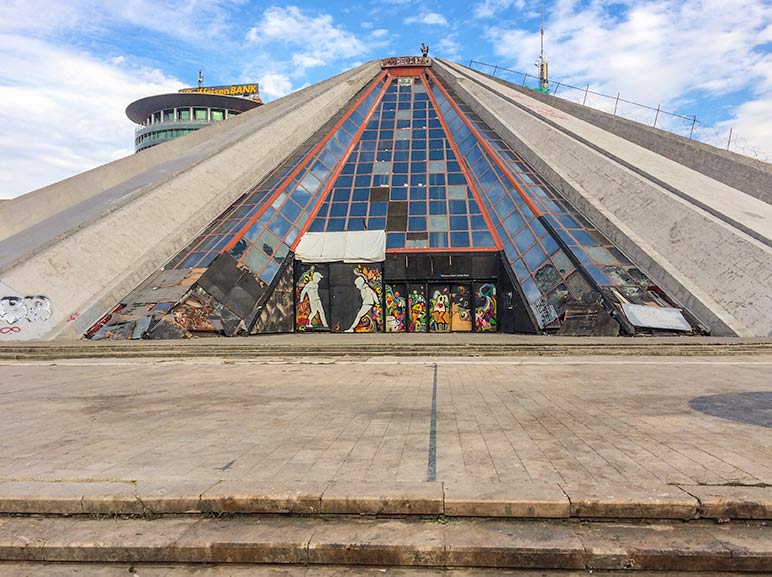 5. TIRANA'S PEACE BELL
In front of this unattractive scar of a city still healing, sits a monument with a contrasting message. One of peace.
The 'Peace Bell', was made by the children of Shkodra from thousands of spent gun shells collected during the 1997 civil unrest.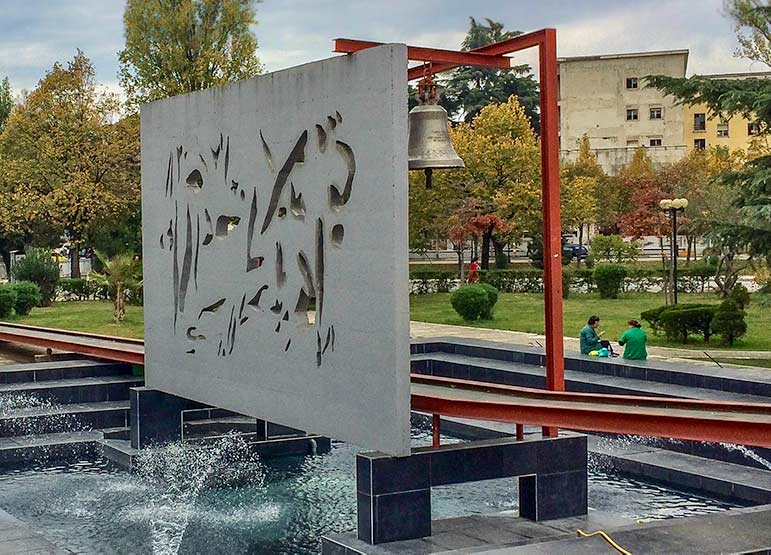 6. BUNKART2
What was originally a top-secret nuclear bunker is now a museum in the centre of Tirana. The bunker was originally built in the early 1980s to shelter élite police and interior ministry staff in the event of a nuclear attack. In fact, hundreds were built around the country in the case of an attack.
The Bunkart2 museum highlights the political persecution of about 100,000 Albanians from the years 1945 until 1991.
7. POSTBLLOKU
Just near Blloku, the once off-limits residential area for the élite communist leaders is the PostBlloku Memorial. The installation consists of three separate parts:
a piece of the Berlin Wall,
a mushroom-shaped bunker and
concrete pillars were taken from Spac MIne, a forced labour camp for communist dissidents.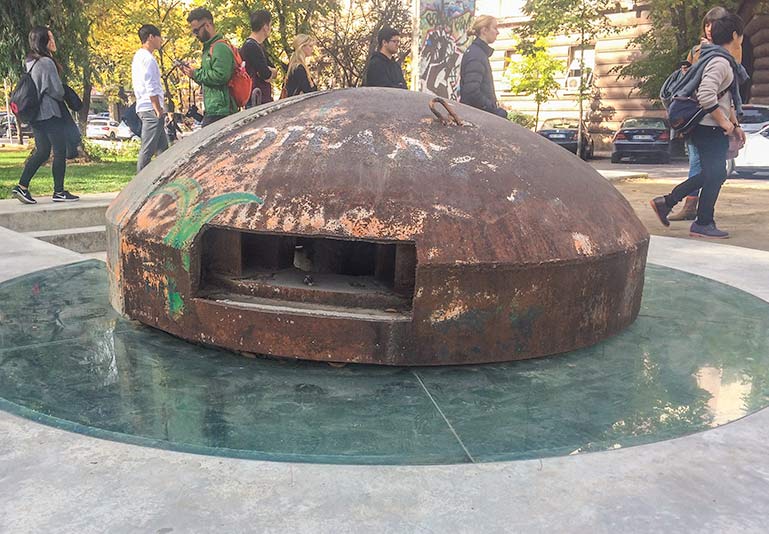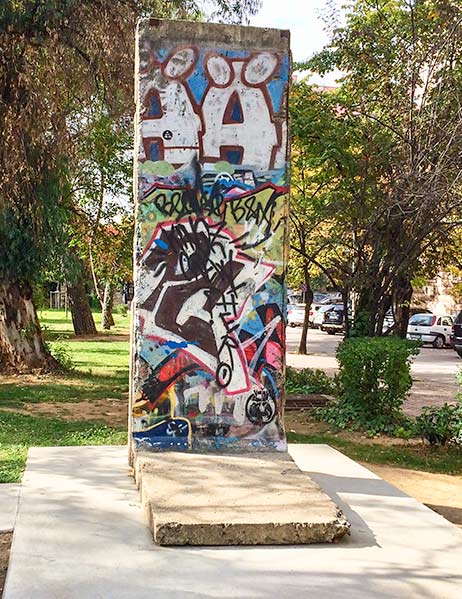 4. Berat
Leaving the historical monuments and shocking traffic of Tirana behind us, we continued our Albania road trip itinerary and headed out into rural Albania, towards Berat.
We camped in a campsite just outside of Berat – and were later kicking ourselves that we didn't take the road into Berat to explore the city.
We found out more about this city after we left. It's full of white ottoman houses on a hill overlooking the Osum River and is sometimes referred to as the 'City of Windows'. It definitely looked like it would have been worth a visit.
We discovered this useful guide by Gabriel Traveler, which gives you a good idea of what a visit to Berat would be like and how economical a trip to Albania can be.
5. Rural Albania: Llogara National Park and Gjipe Canyon
The next leg of this road trip in Albania will have you driving through the spectacular mountainous scenery of the Llogara National Park.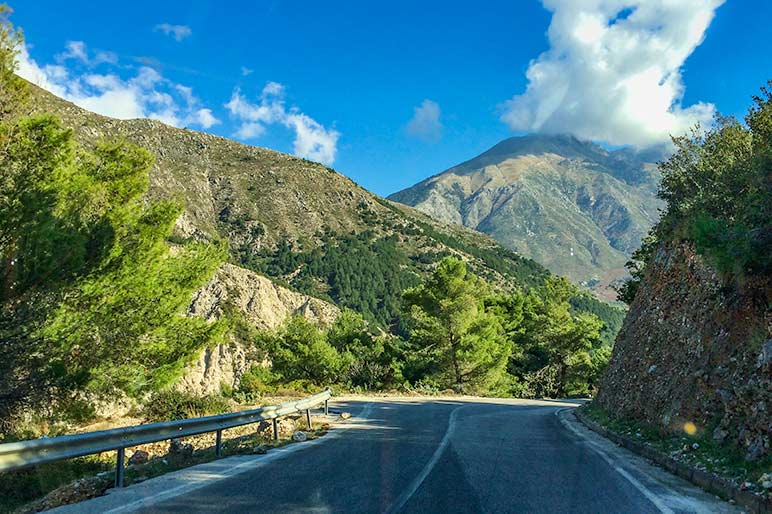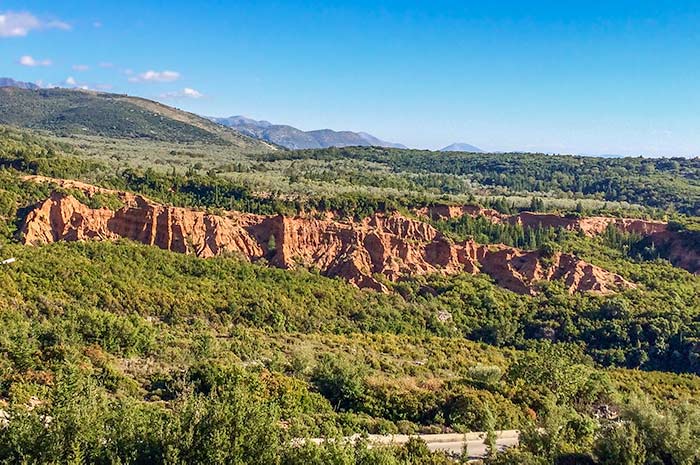 One thing you will see on your road trip through Albania, in fact, will likely see numerous times, are concrete mushrooms sprouting up from the landscape.
Enver Hoxha had these bunkers built during his dictatorship because he was overly defensive about being attacked. It's difficult to know the precise number of bunkers, but estimates range from around 173,000 to 750,000.
Regardless, there are thousands and thousands laying abandoned across Albania. Presumably, in time they will decay along with the memories and atrocities caused by Hoxha himself.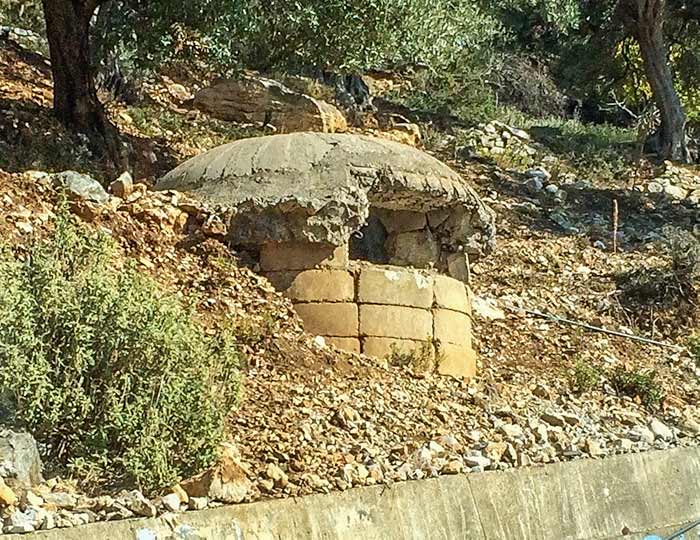 Bunkers weren't our only companions on our brief three-day road trip through Albania. We encountered many goats and other animals on the roads.
Unfortunately, I didn't have my camera ready when we came across the road full of turkeys, so you'll have to trust me – it was an extremely amusing sight.
On the road between Berat and Fier, we came across this unusual 7-storey building shaped like a ship. This was an interesting sight, given that it was miles from the ocean.
On Atlas Obscura, this quirky home is listed as Fier's Ship House.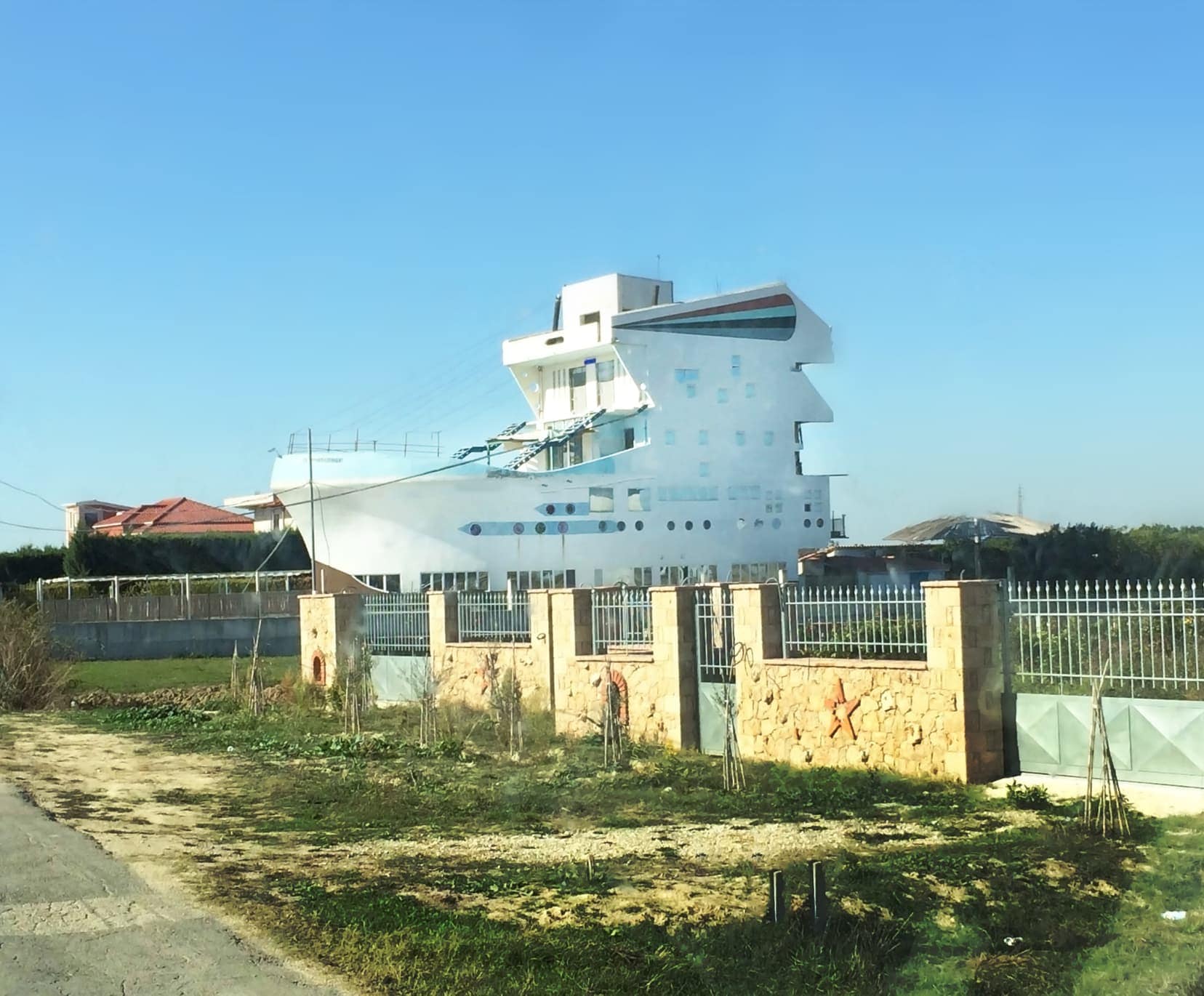 6. Albania Riviera
Albania is a country of surprises and has to be one of the most interesting countries we have visited.
We were no less surprised by its beaches. Long stretches of azure water, just waiting to impress.
It was autumn (November), so not exactly beach weather but that didn't stop Lars — he went swimming several times in some of the beautiful deserted bays.
I wonder how long it will be before summer tourists adorn the beaches, and Albania becomes as popular and tourist-laden as its next-door neighbour, Greece.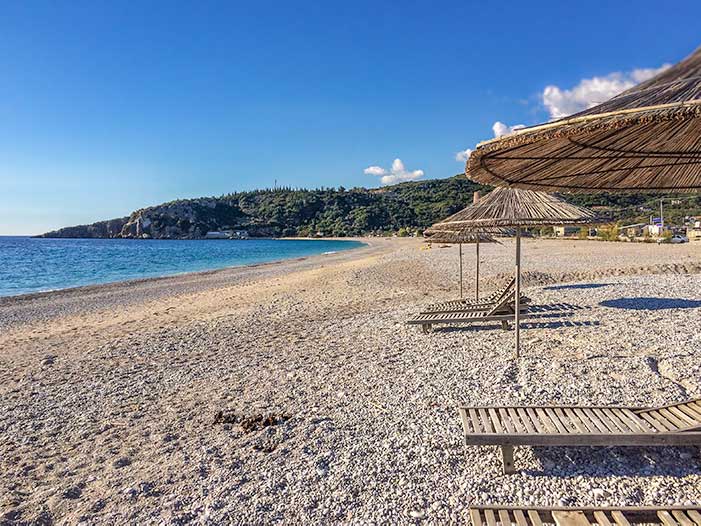 7. HIMARE
Livadhi Beach in Himare is one of the longest stretches of beach, on the Albanian Riviera. It's 1.2 kilometres long and known for its beauty among the olive groves.
On the last night of our Albania road trip, we watched the sun as it set on this beachside bunker on Livadhi beach. Quite a fitting vision for our final night in a country, gradually breaking free from its past.
The next stop for us was: Campervanning through Greece and the Peloponnese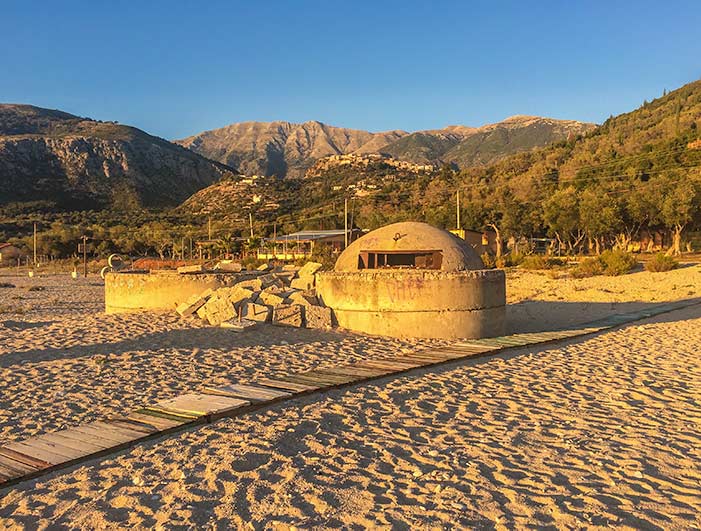 We then continued our Albania road trip south, following the coast towards the Greek border.
We hadn't planned to spend too long driving through Albania, as our plans were to spend more time on on the road in Greece and motorhoming around the Peloponnese. So, we then continued our Albania road trip south, following the coast towards the Greek border.
The remainder of our Albania itinerary consisted of driving the endless bumpy roads, admiring the surprising landscape, spotting old war bunkers, waving at locals and waiting patiently for the many animals and their herders to move off to the side of the road.
ADDITIONAL PLACES TO STOP ON YOUR ALBANIA ROAD TRIP
These are all places we have since researched and will be adding to our road trip when we hit Albania's shores again.
For locations, see the map above with purple destination icons.
8. The Blue Eye
The Blue Eye (known locally as Syri I Kalter) was a hidden oasis that unfortunately we drove right past.
It is a deep water hole fed by a natural spring surrounded by tropical plants. If you are visiting Albania in the summer months, in peak season, then be aware that this is a very popular tourist destination.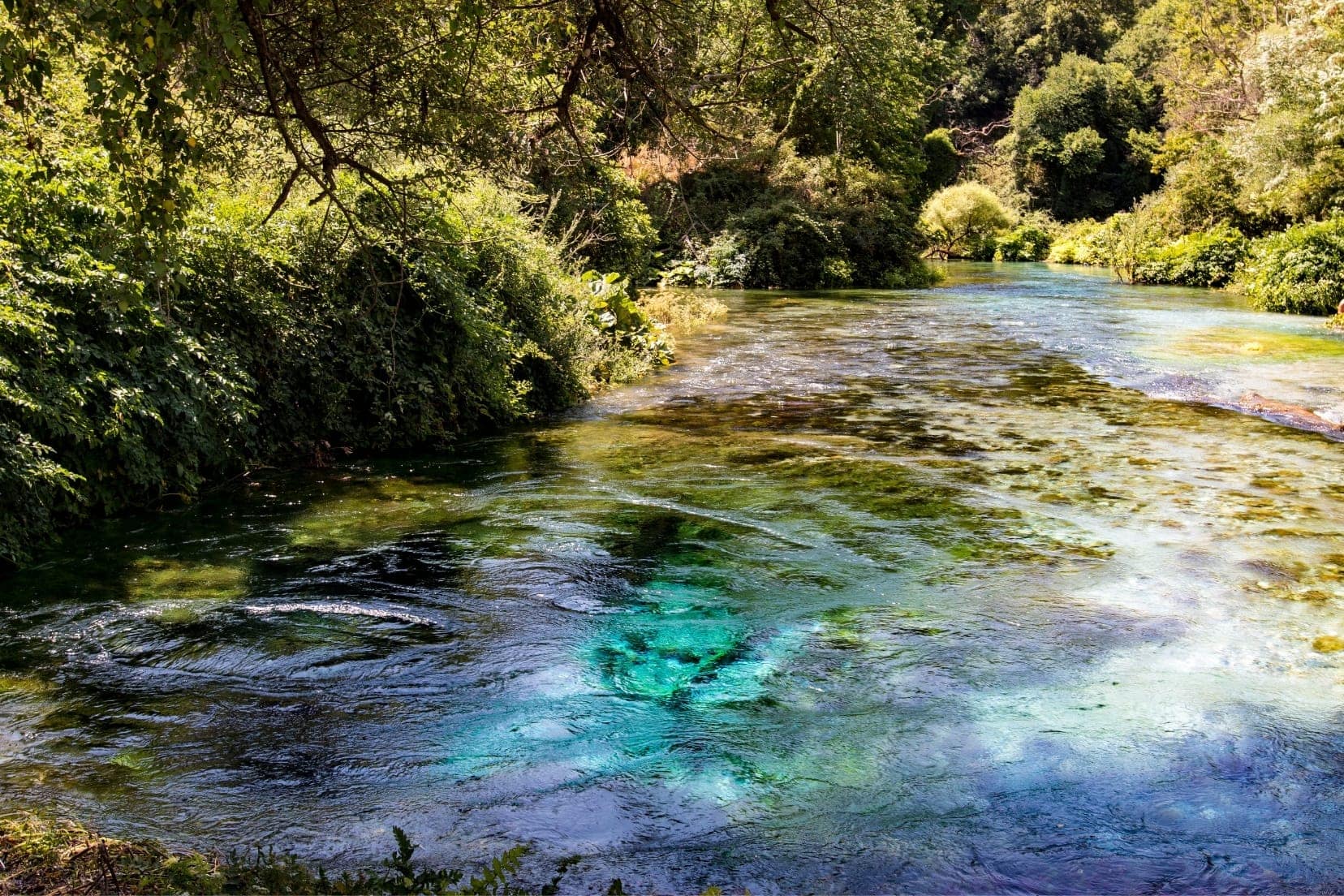 9. Durres
Durres is Albania's second most populated city, after Tirana. It is famous for its ancient amphitheatre built in the 2nd century and is the country's largest seaport.
10. Gjirokastra
Gjirokastra is known as the city of stone and is a UNESCO world heritage-listed city that houses Albania's largest castle, Gjorokastra Castle. It is also known for its old open-air Bazaar.
11. Saranda
Saranda is listed by Lonely Planet as Albania Riviera's unofficial capital. If you are looking for busier beaches and nightlife then this will be a place you might want to include on your road trip.
Many locals flood here in the summer and it's also a popular tourist spot.
DRIVING IN ALBANIA
These pointers will help make your Albania road trip hassle-free.
In Albania, you drive on the right and overtake on the left.
You will need to have the following documents:

Drivers licence (An international driver's licence isn't compulsory but it is recommended)
Vehicle insurance (Your vehicle must be covered by third-party insurance recognised in Albania, so check with your provider before you travel)
Vehicle registration document
If Hiring – have the vehicle hire paperwork handy
Passport

You are also required to have the following in/on your vehicle:

First Aid Kit
Country of origin vehicle sticker (eg GB sticker if travelling from the UK)
Snow chains (compulsory to have in-vehicle if between 1 November to 30 April)
It's also recommended to have spare bulbs for your vehicle's external lights
A fire extinguisher (compulsory on coaches and lorries)

Driving in Albania requires adjusting the beam pattern to suit driving on the right so that the dipped beam doesn't dazzle oncoming drivers. You can cheaply purchase beam deflectors to adjust the beam.
There are not any toll roads in Albania
Speed Limits are generally as follows unless otherwise signposted and on dry road

110 km/h on motorways
80 – 90 km/h outside of towns
40 km/h in urban areas.

The emergency number is 112
For more detailed information about driving on your Albania road trip check out the RAC website here.
Vehicle Rental Options for Your Albania Road Trip
Below we set out the best options for hiring a car, campervan or motorhome for your road trip in Albania.
Hiring a Car in Albania
If you are flying into Albania, you will likely arrive in the capital, at Tirana International Airport, Nënë Tereza (named after Mother Theresa, born in Albania). So it will be easiest to arrange a hire vehicle for pick up there.
🚘 If you are looking to hire a car then we recommend DiscoverCars.
They are winners of the World's Best Car Rental Booking Website
They have a Price Match Guarantee.
4.5 Rating on Trustpilot
Free Cancellation
Campervan or Motorhome Hire in Albania
If you are new to hiring a motorhome or campervan then this thorough guide will help you with decisions on the type of camper that will suit your needs, your budget and everything you need to know about hiring a motorhome or camper.
The first motorhome we hired was from McRent and the second was from DRM. Being newbies, we organised our McRent motorhome ourselves, but when we wanted to extend our trip and change our motorhome, we went through the Motorhome Republic.
They were able to negotiate a much better deal than we could get when we tried going to the motorhome rental companies ourselves. And, they did all the hard work. We are now affiliated with them because we were so impressed.
⭐️ Get a quote from Motorhome Republic (now GoSee) here ⭐️
Also, remember to check what campervan accessories and gadgets come with the motorhome and whether the price includes them.
For more information about campervan rental and details of how and why we hired a motorhome for our Travels in Europe, check out our CAMPERVANNING IN EUROPE article.
Motorhoming in Albania
Where Can You Camp When Motorhoming in Albania?
We used the Camper Contact app (about 6 euros/year) to find our motorhome overnight spots on our Albania Trip. They have about 80 motorhome parking listed throughout Albania.
Some motorhomers also use Park4night — our preference for Europe is Camper Contact but it's good to know you have a backup option.
To help with your planning, we've included our motorhome overnight stops on the above map.
Can You Wildcamp in Albania?
Yes, according to Caravanya, you can wild camp in Albania. In the offseason, there are plenty of beaches that would make for perfect overnight stops.
Remember to be respectful of the environment around you.
MOTORHOME PARKING ON OUR ALBANIA ROAD TRIP
On our four-day road trip itinerary in Albania, we stayed at the following sites:
All can be found on the interactive Albania road trip map above
Tirana: MAK Albania Hotel (Sheraton) Parking overnight (Parking only — no facilities), 10 euros for 24 hours with security (Coordinates 41.315988, 19.824131)
Berat: Berat Caravan Camping — Quiet site. Good facilities and hot water showers. Strong wifi. The owner speaks English and was very welcoming. Washing machine €5 per load.
Himare: Camping Kranea — Nice and quiet spot right by the beach. Good facilities. The owner speaks English. You can order dinner in the morning for that evening.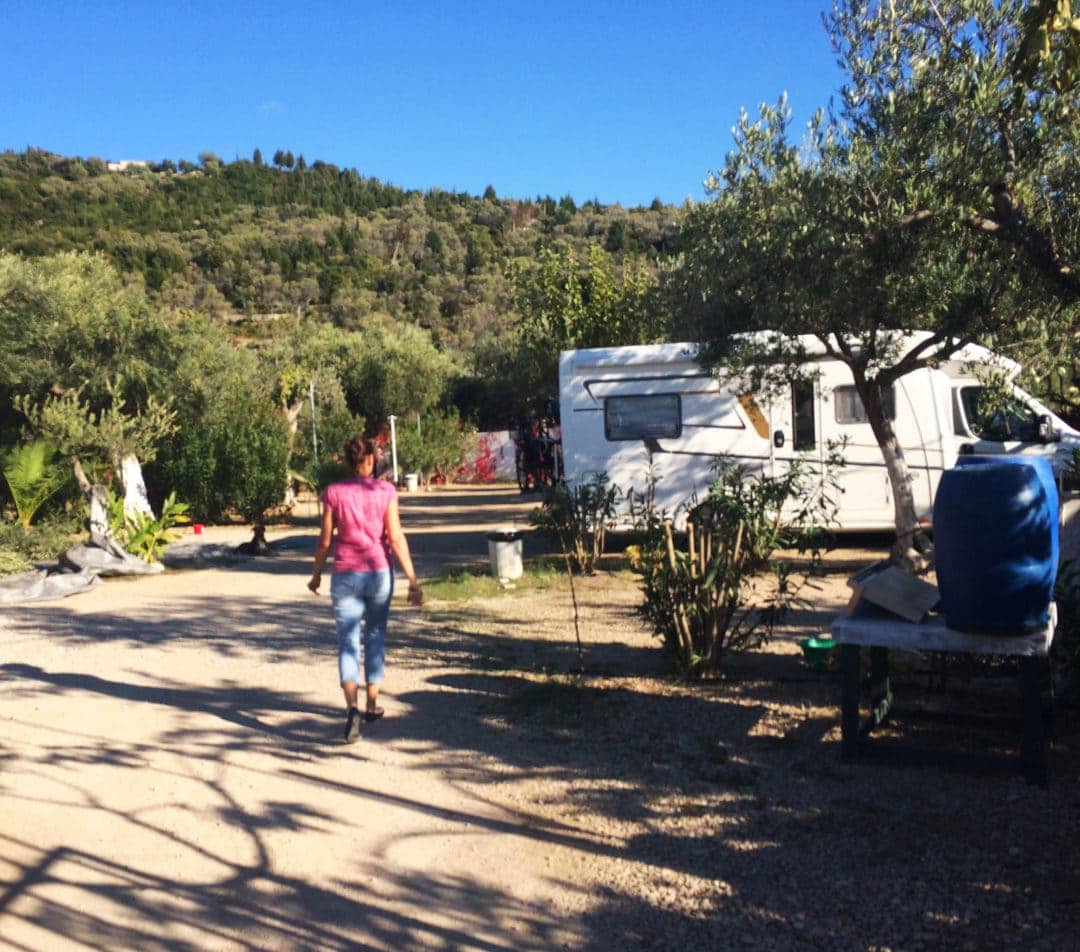 Handy Tips for Your Albanian Road Trip
Currency: Albanian Lek
Language: Albanian — Many people we met in the cities spoke English, but less so in rural areas
Shopping: Many shops close on weekends
Quirks: Albanians tend to nod when they mean 'no' and shake their head when they mean 'yes'
Handy Words for Travelling in Albania
Yes → Po
No → Jo (ya)
Please → Të lutem (tel-oo-tum)
Thank you → Faleminderit (fal-loo-min-airs)
Goodbye → Lamtumirë (Lam -too-meer)
Left → majtas (my-a-tas)
Right → Djathtas (dee-ath-ass)
FREE Road Trip Planner
⭐️ GRAB our exclusive FREE PRINTABLE Travel Planner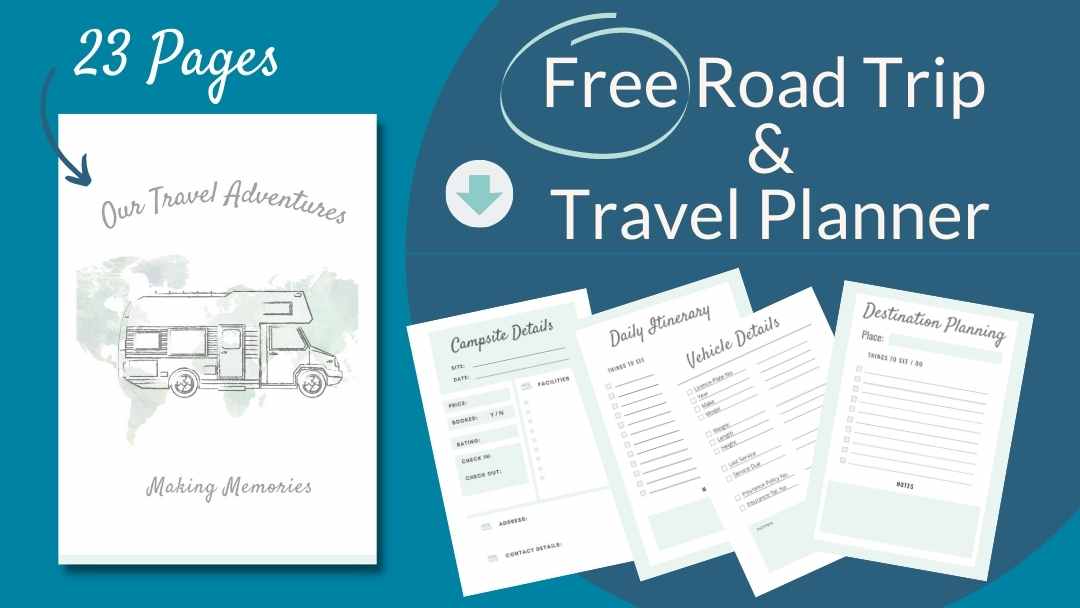 Pin and Save for Later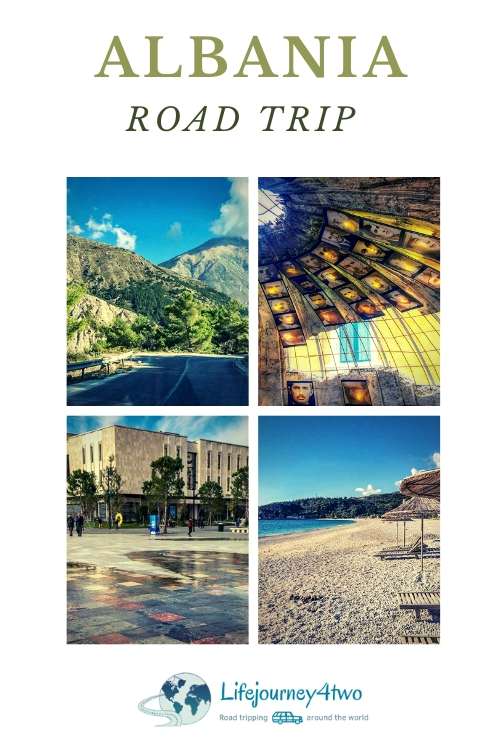 ALBANIA ROAD TRIP — THAT'S A WRAP
On a visit to Albania in 2014, Pope Francis said,
The eagle, depicted on your nation's flag, does not forget its nest, but flies into the heights. All of you, fly into the heights!
Will Albania fly into the heights?
Maybe it's worth a visit before it flies too high.
Have you been to Albania? Are you planning a trip? We'd love to hear about your experiences.
Are you a Travel Lover?
Are you interested in travel, road trips, camper life and hitting the road for adventures? Then join us on this journey, for inspiration, detailed trip info and beautiful photography from around the world.
As a subscriber, you will also have access to our free resources, such as a travel planner, discount codes and more.
Why wait for our one day? Let's explore this incredible world together today.
YOU MAY ALSO BE INTERESTED IN READING:
PLANNING YOUR TRAVELS?
These are some of the travel resources we use when planning our trips.
For a more thorough list visit our Travel Resources page here.