Thinking of campervanning in Albania?
Are you dreaming of an off-the-beaten-path adventure that combines natural beauty, cultural richness, and the freedom of the open road? If so, you've landed on the right page.
A camper trip through Albania offers a blend of rugged mountains, idyllic beaches, and a welcoming culture. And the best part? Your money goes a long way here.
One of the biggest challenges for adventurers like you is finding comprehensive planning information that takes the guesswork out of travel. That's where we come in.
Lars and I motorhomed through Europe full-time for a year, and Albania is a gem that's still somewhat under the radar. Though National Geographic has listed it as one of the top 30 places to visit in 2024, it might not stay under the radar for much longer.
In this guide, we'll share insights and tips from our own Albanian road trip itinerary to help you navigate your campervan adventure. From navigating vehicle hire to understanding local driving rules, we've got you covered.
Whether you're a seasoned campervanner, motorhomer, or first-timer, we aim to make your Albanian trip smooth and stress-free.
Ready to hit the road? Let's dive in.
A Warm Welcome on the Albanian Roads
Albania, a country once isolated from the world, welcomes you as a long-awaited friend.
We tried to be inconspicuous, but our seven-metre white campervan had other plans—it was like trying to hide an elephant in a room full of mice. Yet, locals—whether on horse-drawn carts or carrying bundles of sticks—waved warmly as we passed.
That immediate sense of ease and acceptance was our first pleasant surprise in Albania.
Initially, the thought of driving through Albania made us a bit anxious. We even needed special permission from our insurer to bring our motorhome into the country.
Our friends questioned our decision, concerned for our safety. But as we found out, their worries were unfounded.
💡Lifejourney4two Tip: If you're feeling anxious about driving in Albania, don't be. The locals are incredibly welcoming, and the experience is more than worth it.
Our Route: An Interactive Map
How to Use This Albanian Road Trip Map
To use this map, expand it using the square symbol on the top right-hand side. You'll find the key on the left-hand side.
By clicking each location, you will find extra information.
For example, each Campervan overnight stop has a web link to Camper Contact to see the facilities available, price, opening times, and useful user reviews on each campsite.
The Motorhome overnight stops are marked with an orange P circle,
The places we visited are marked with blue icons and
Places you may like to stop on your road trip are purple.
Our Albanian Itinerary and Camp Spots: A Summary
We've compiled a summary of our itinerary and camping spots to give you a tried-and-tested roadmap for your Albanian campervan or motorhome journey. We have three different camping spots, but there are plenty of other options to extend your itinerary.
Resources for Campers
The Route Overview
Total Distance: 508 km
Total Driving Time: Approx 10 hours
Campervanning Albania: Day-by-Day Breakdown
Day 1: Entering Albania
Route: Montenegro Border to Tirana
Distance: 120 km
Time: 2.5 hours
Border Crossing: Muriqan (Shkodër, Albania) – Sukobin (Ulcinj, Macedonia)
Highlights: Shkoder View and Rozafa Castle
Overnight: Mak Albania Carpark in Tirana
Optional: Stay a night in Shkoder and visit Rozafa Castle
Day 2: Tirana to Berat
Day 3: Berat to Kranea
Route: Berat to Kranea Camping
Distance: 180 km
Time: 3.5 hours
Highlights: Fier Ship house, Llogara National Park, Llogara Panoramic view
Overnight: Camping Kranea (4/5 star reviews)
Day 4: Kranea to Greece Border
Route: Kranea to Kakavia, Greece Border
Distance: 100 km
Time: 2.5 hours
Highlights: Optional stop at Blue Eye Nature Reserve, Castle of Porto Palermo and Borsh Beach,
Optional: Stop at Blue Eye Nature Reserve en route from Himare to Kakavia. Or take a detour to visit Gyrokaster or Saranda.
Add to Your Itinerary: Great Spots to Visit in Albania
Whether you're starting in Tirana or crossing the border from Montenegro, your adventure awaits. We've got you covered with some great spots and a few hidden gems to consider adding to your itinerary.
1. Shkoder: A Town of History and Diversity
As we left the Albanian border at Muriqan, the town of Shkoder caught our eye. Dominating the skyline was Rozafa Castle, perched on a rocky hill.
Why You Should Visit: Shkoder is a melting pot of religious diversity, with mosques and churches aplenty. If you have an extra day, explore Rozafa Castle up close rather than admiring it from afar like we did.
The Legend of Rozafa Castle
The castle comes with a poignant legend. It's a tale of sacrifice and the strength of women.
Three brothers tasked with building the castle found their work undone each day. A fortune-teller revealed that success would come only if one of their wives were entombed in the castle walls. The youngest brother's wife became that sacrifice, asking only that holes be left in the wall to nurse and comfort her baby.
The castle was finally built, standing as a testament to her sacrifice.
2. Tirana: The Heartbeat of Albania
Tirana, the capital, was our first pit stop. We jumped on a free two-hour walking tour, a staple for us in any capital city. It's a great way to soak up local insights and stories.
If you're a foodie, consider a city and food tour. You'll get to munch on traditional Albanian bites as you explore the capital.
▫️Skanderbeg Square
Skanderbeg Square is the city's heart and is named after a 15th-century hero. It got a facelift in 2017, costing €13,000,000, with stone tiles from all over Albania.
The slope design is for water drainage because the fountains wet the stones periodically for their colours to be enjoyed.
▫️National History Museum
The National History Museum, Albania's largest museum, is right next to Skanderbeg Square.
The museum documents Albania's rise and fall through the ages and includes pavilions dedicated to the communist terror and another to Mother Teresa, who was born in Albania.
If you are particularly interested in learning about the Communist era and the museums, then consider this 5-star rated Communist History Tour, which includes the main museums and other local landmarks.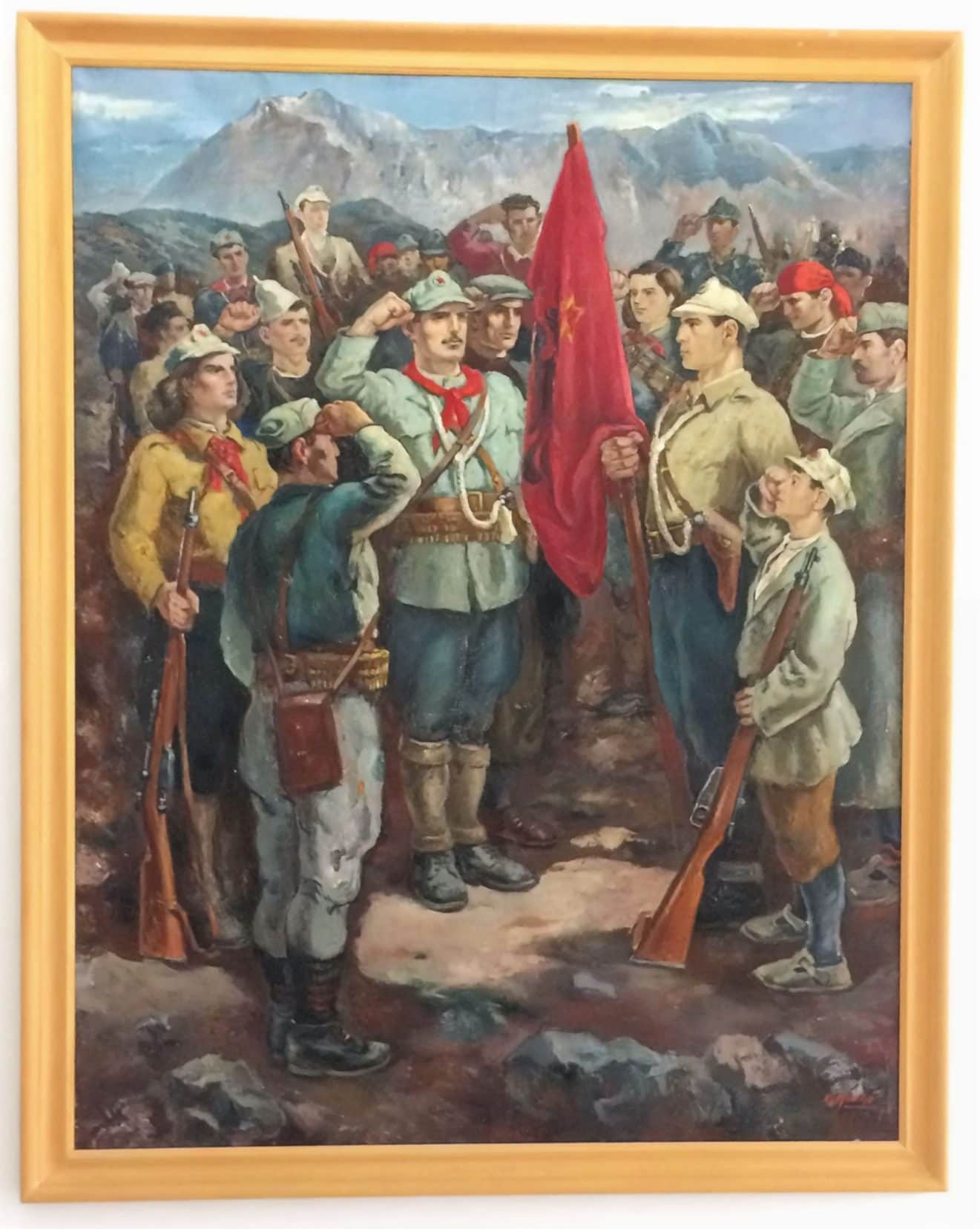 ▫️National Art Gallery
Expect a mix of political and global exhibitions at the Tirana National Art Gallery. When we visited, there was a rather eerie display featuring 200 stuffed white dwarfed hamsters.
Note: As of October 2023, the National Art Gallery was temporarily closed for renovations
Outside, behind the National Art Gallery, we found some old communist statues that we thought were part of the Gallery. However, security guards moved us on while taking photos, telling us we were in a restricted area.
▫️The Reimagined Pyramid of Tirana
Originally, the Pyramid of Tirana was a tribute to Enver Hoxha, designed by his daughter and son-in-law. It opened its doors in 1988 but lost its purpose when communism fell.
Over the years, it's been a magnet for thrill-seekers. Climbing to the top offers a unique view of Tirana, and the descent tests your agility.
One of us made it to the top … I wonder if you can guess who? See our short video here.
The pyramid sat abandoned for years, its graffiti-covered walls a silent testament to a bygone era. But fast forward to 2023, and it's a different story.
The pyramid has been transformed into a vibrant hub filled with classrooms, cafes, and creative spaces.
🎥 Sara CH's Tour of the Pyramid
▫️Peace Bell
The 'Peace Bell' was made by the children of Shkodra from thousands of spent gun shells collected during the 1997 civil unrest.
▫️Bunkart2
What was originally a top-secret nuclear bunker is now Bunkart2, a museum in the centre of Tirana.
The bunker was originally built in the early 1980s to shelter élite police and interior ministry staff in the event of a nuclear attack. In fact, hundreds were built around the country in the case of an attack.
The Bunkart2 museum highlights the political persecution of about 100,000 Albanians from the years 1945 until 1991.
▫️Postblloku
Just near Blloku, the once off-limits residential area for the élite communist leaders is the PostBlloku Memorial.
The installation consists of three separate parts:
A piece of the Berlin Wall,
A mushroom-shaped bunker and
Concrete pillars were taken from Spac MIne, a forced labour camp for communist dissidents.
▫️Resurrection of Christ Orthodox Cathedral Tirana
Nestled in the heart of Tirana, the Resurrection of Christ Orthodox Cathedral's grandeur is immediately striking, with its intricate frescoes and towering dome that seems to touch the sky.
It's one of the largest Orthodox cathedrals in the Balkans, and the atmosphere inside is a serene contrast to the bustling city outside.
If you are interested in getting out of the city for a short hike and seeing the beautiful Bovilla Lake, you might like this tour:
🚐 Where We Stayed: Mak Albania Carpark
3. Durres
Durres is Albania's second most populated city, after Tirana.
It's famous for its ancient amphitheatre, which is one of the largest amphitheatres in the Balkans. Built-in the 2nd century, it could accommodate up to 20,000 spectators.
Durres is also known for its beautiful beaches, which attract both locals and tourists during the summer months. The city's coastline stretches for about 10 kilometres with a variety of sandy beaches lined with beach clubs, restaurants, and bars.
Being the largest seaport in Albania, Durres serves as a major hub for imports and exports, so don't expect it to be quite as picturesque as many places in Albania.
If you are interested in the history of the surrounding areas of Durres and Kruja, as well as the local food, then the Durres & Kruja History and Local Food Day Trip Tour, with pick up and drop off from Tirana, may interest you.
It includes a visit to the Durrës Roman Amphitheatre, the Venetian Tower, and the colourful bazaar in Kruja.
4. Vlore & Lungomare
As we motorhomed through Albania from Tirana to Berat, we chose to drive the coast road. This took us past the Old Town of Vlore and the esplanade-like Lungomare.
Extending for about 3 km, this promenade is a hub of local culture and activities. It's pedestrian-friendly, making it perfect for strolls and cycling, and you'll find plenty of cafes and restaurants where you can sip coffee or dine with a sea view.
Parking is available, but it can get crowded during peak season.
There are so many beaches along this strip you can take your pick on which to stop at. The beaches were empty as we travelled in November, but it's a different story come summer.
5. Berat: The City of Windows
Leaving behind Tirana's bustling streets and historical landmarks, we hit the road again.
Our Albanian road trip adventure led us into the heart of rural Albania, towards the picturesque city of Berat.
We opted for a campsite just on the outskirts of Berat. In hindsight, we wish we'd ventured into the city itself. Why? Because Berat is not just any city—it's often dubbed the 'City of Windows'. Imagine white Ottoman houses cascading down a hill, all overlooking the serene Osum River. It's a sight we regret missing.
If you're curious about what a visit to Berat might entail, we found this insightful YouTube Video by Gabriel Traveler. It's a fantastic guide that also highlights how cost-effective travelling in Albania can be.
🚐 Where We Stayed: Berat Caravan Camping
6. Rural Albania
Llogara National Park, Porto Palermo Castle, and Gjipe Canyon
As you steer your camper van through the winding roads of Llogara National Park, you'll be greeted by awe-inspiring mountainous landscapes. The park is a haven for nature lovers and offers some of the most scenic drives in Albania.
One of our favourite stops was Panorama Llogara, a viewpoint that offers jaw-dropping vistas of the surrounding area. It's the perfect spot to stretch your legs, snap some photos, and soak in the natural beauty.
But not just the natural and historical landmarks will catch your eye. You'll likely spot concrete bunkers dotting the landscape, remnants of Enver Hoxha's suspicious regime. Numbering in the thousands, these bunkers are a haunting yet fascinating sight.
And bunkers aren't the only things that'll keep popping up. Expect to share the road with goats, cows, and sheep; if you're lucky, a gobble of turkeys might appear.
It's these unexpected encounters that add a dash of humour and local flavour to your road trip.
But the surprises don't end there. On the stretch between Berat and Fier, you'll come across a seven-story building shaped like a ship, miles away from any body of water. Known as Fier's Ship House, it's one of those quirky roadside attractions that make a road trip memorable.
So, whether it's the stunning natural beauty of places like Gjipe Canyon or the oddities like Fier's Ship House, rural Albania offers a road trip experience that's as diverse as it is unforgettable.
Remember, the journey is as important as the destination, and both are equally spectacular in Albania.
7. Himare on the Albanian Riviera
Albania is a treasure trove of surprises, and its beaches are no exception. Imagine long stretches of azure water and miles of pebbled and shingle beaches.
We visited in November, not exactly beach weather for most, but that didn't deter Lars. He took the plunge, swimming in the beautiful deserted bays. It's these off-season moments that make travel so special.
I can't help but wonder how long it will be before Albania's beaches become as crowded as those in neighbouring Greece.
Livadhi Beach, in Himare, stretches for 1.2 kilometres and is framed by olive groves. It's the kind of place where you can lose track of time, and we almost did.
On our last night in Albania, we found ourselves on Livadhi Beach, watching the sun dip below the horizon.
Its last rays shone on a beachside bunker, a relic from Albania's past. It was a poignant moment, symbolising a country that's breaking free from its history and embracing a brighter future.
🚐 Where We Stayed: Camping Kranea
8. Porto Palermo Castle
After leaving Camping Kranea, we headed south along the coast and came across Porto Palermo Castle also known as the Ali Pasha Tepelena Fortress.
Perched on a peninsula, this castle offers a historical pitstop and a chance to capture some amazing photos right from the road.
9. Borsh Beach
After leaving Camping Kranea, we headed south along the coast
Borsh Beach is the longest in the south of Albania and stretches for 7km. It is a less busy summer beach with public and private sections. The beach is made of pebbles, and there can be lots of rocks and sea urchins in the shallow shore areas, so it might be worth investing in a pair of water shoes.
In the summer months, in the private areas of Borsh Beach, you can hire umbrellas and sunbeds.
10. The Blue Eye
The Blue Eye (known locally as Syri I Kalter) was a hidden oasis that, unfortunately, we drove right past.
It is a deep water hole fed by a natural spring surrounded by tropical plants. If you are visiting Albania in the summer, peak season, then be aware that this is a popular tourist destination.
11. Gjirokastra: The City of Stone
Gjirokastra, a UNESCO World Heritage site, is a city that's as rich in history as it is in stone architecture. Nestled in southern Albania near the Greek border, this city is home to Albania's largest castle—Gjirokastra Castle.
Don't miss the panoramic views from the castle. Perfect for capturing some Instagram-worthy shots.
The old open-air Bazaar is a must-visit for unique souvenirs and local crafts.
If you're into architecture, the 17th-century turreted stone houses are a sight to behold.
The Gjirokastra Castle, also known as the Fortress of Argyrokastro, has been a cornerstone of the city since the 12th century. It offers sweeping views of the city and its surrounding landscape.
12. Saranda: The Pulse of Albania's Riviera
Saranda, dubbed as the unofficial capital of the Albanian Riviera by Lonely Planet, is your go-to spot for a livelier beach scene and buzzing nightlife.
Nearby Attractions:
Ksamil Beach: Known for its crystal-clear waters and sandy shores.
Mirror Beach: A quieter option but equally stunning.
Butrint National Park: Just a short drive away, this park offers a mix of history and natural beauty.
Saranda is a local favourite and a hit among tourists, especially during summer.
So, if you're planning a road trip through Albania and crave a bit of hustle and bustle amid natural beauty, make sure to add Saranda to your itinerary.
In the next section, we'll delve into the practicalities of campervanning in Albania—everything from road conditions to wild camping rules.
What is it Like Driving in Albania?
Ah, the open road in Albania. It's not just a drive; it's an adventure. Crossing the border at Muriqan–Sukobin was a breeze for us, but we've heard summer queues can test your patience. Once you're in, brace yourself for a ride that's as unpredictable as a British summer.
The roads are a patchwork quilt of smooth asphalt and jarring potholes. You'll share them with everyone, from pedestrians to peddlers selling everything from clothes to caged chickens. And let's not forget the livestock—goats, sheep, cows, and even turkeys seem to think they have the right of way.
Traffic rules?
It's more like traffic suggestions.
Lights and lanes are often ignored in a chaotic dance that somehow avoids disaster. It's especially intense as you near Tirana, the capital. Cars and buses jostle for space like it's a Black Friday sale. But don't worry, it gets calmer as you move further into the country.
Driving in Albania: Tips for a Smooth Journey
Essential Documents:
Driver's licence (International one is recommended)
Vehicle insurance (… and check it's valid in Albania)
Vehicle registration
Hire paperwork if renting
Passport
Must-Have Items:
First Aid Kit
Country sticker (e.g., GB for the UK)
Road Rules:
Drive on the right, overtake on the left
Adjust your beam pattern for right-hand driving. Beam deflectors can help.
Only one Toll Road: A1 Rruga e Kombit motorway, which runs west from the Kosovo border towards the capital of Tirana.
Speed limits vary but are generally:

110 km/h on motorways
80-90 km/h outside towns
40 km/h in urban areas

Emergency number: 112
For more in-depth info, the RAC website is a great resource.
Lifejourney4two Tip: Keep your wits about you and your camera ready. The scenery is stunning, the locals are welcoming, and the driving? Well, it's never dull.
Vehicle Rental Options for Your Albania Road Trip
Below, we've laid out the best options for hiring a car, campervan, or motorhome for your Albanian adventure. Whether you're a couple looking for a romantic getaway or a family seeking a nature-filled holiday, we've got you covered.
Hiring a Car in Albania
If you're flying into Albania, you'll most likely land at Tirana International Airport, also known as Nënë Tereza (named after Mother Teresa, who was born in Albania). The easiest way to get your road trip started is to arrange a rental car for pick-up right at the airport.
💡Lifejourney4two Tip: Booking your car rental in advance can save you time and stress & check if your rental includes insurance or if you need to purchase additional coverage.
Campervan or Motorhome Hire in Albania
If you're new to the campervan or motorhome scene, our comprehensive guide will help you decide on the type of vehicle that suits your needs and budget.
We've had experiences with both McRent and DRM, and we found that going through Motorhome Republic got us a much better deal.
💡Lifejourney4two Tips: Consider the size of the motorhome if you're planning to explore narrow or winding roads.
⭐️ Get a quote from Motorhome Republic here ⭐️
Also, don't forget to check what campervan accessories and gadgets come with the motorhome and whether they're included in the price.
Getting to Albania
We crossed into Albania in our motorhome from Montenegro in the north. But if you're flying in, starting your journey in Tirana, the capital, is your best bet.
Crossing by Land
We entered Albania at the Muriqan-Sukobin border crossing, but there are several other options depending on your starting point. Each crossing has its own set of rules and timings, so it's worth doing a bit of research beforehand.
Flying into Albania
If you're flying, Tirana International Airport, also known as Nënë Tereza, is the main gateway. It's well-connected to various European cities, so finding a flight that fits your schedule shouldn't be a problem.
It's getting easier to fly to Tirana, especially for those flying from the UK. *Ryanair has recently started flying to the capital, Tirana, from Edinburgh, Manchester and Stansted, and Wizz Air will fly from Birmingham, Edinburgh and Liverpool starting on 19 December 2023. [*National Geographic]
By Sea
For those coming from Italy, there's also the option to take a ferry to the port city of Durrës.
Book your ferry tickets in advance, especially during peak season.
No matter how you choose to get to Albania, each option offers its own unique experience and adventure.
Handy Tips for Your Albanian Road Trip
Currency: Albanian Lek
Language: Albanian — Many people we met in the cities spoke English, but less so in rural areas
Shopping: Many shops close on weekends
Quirks: Albanians tend to nod when they mean 'no' and shake their head when they mean 'yes'
Handy Words for Travelling in Albania
Yes → Po
No → Jo (ya)
Please → Të lutem (tel-oo-tum)
Thank you → Faleminderit (fal-loo-min-airs)
Goodbye → Lamtumirë (Lam -too-meer)
Left → majtas (my-a-tas)
Right → Djathtas (dee-ath-ass)
A VERY SHORT GUIDE TO ALBANIA'S MORE RECENT HISTORY
Albania has a complex past, mainly shaped by its communist-era post-WWII. Ruled by extremist communist Enver Hoxha, the country was isolated from the rest of the world. Since the end of communism in the '90s, Albania has been on a path of growth and is a NATO member since 2009.
Albania: Life Under Communist Rule
It's hard to imagine living in such isolation. The state controlled all aspects of life.
A local named Gazi told us that travelling abroad, owning a car, and practising religion were all forbidden. Propaganda was a daily routine, painting a rosy picture of life in Albania.
In 1985, Enver Hoxha died, and by 1990, communist rule was coming to an end. He told us that in 1991, he was given his first pair of jeans and had his first taste of what was an unrecognisable fruit — a banana.
Campervanning in Albania — That's a Wrap
Our motorhoming journey took us from Albania to Greece. We drove along bumpy roads, admired the Albania countryside, and encountered locals and animals along the way.
Albania offers a unique road trip experience, blending natural beauty with cultural quirks. Whether you're navigating through its cities or rural landscapes, there's something for every adventurous spirit.
🌟 Grab Our Exclusive FREE Printable Travel Planner
Ready for your Albania roadtrip? Make your trip planning a breeze with our comprehensive FREE Road Trip Planner. It's not just a list; it's your ticket to a hassle-free adventure. Download it here.
Pin and Save for Later
You May Also be Interested in Reading: