Bergen to Trondheim Road Trip
Do the names Trollstigen, Wild Atlantic Road and Seven Sisters Waterfalls sound familiar? These internationally acclaimed bucket list attractions are all found north of Bergen, making this city the perfect launch point for the journey north into scenic Norway. 
Our aim on this part of our Norway road trip, Bergen to Trondheim, was not only to visit the best attractions but to drive as many of the panoramic Norway Scenic Routes as possible. 
This Bergen to Trondheim Road Trip Includes:
Mind-boggling viewpoints
Driving world-famous roads
5 of Norway's sensational Scenic Routes
The intricate architecture and thought-provoking sculptures
An abundance of Norway's stunning landscape and beauty.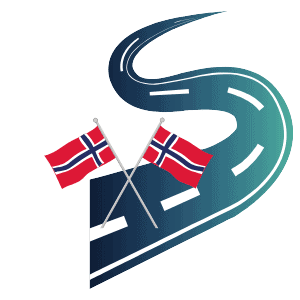 BERGEN TO TRONDHEIM TRAVEL
To be able to drive the Scenic Routes we mention in this article,  you'll likely need to road trip between late spring and autumn when the probability of roads being blocked by snow is less likely.
We've spent over 12 months living and travelling through Norway over the summer and autumn seasons for the last few years, with our base in the historic village of Skudeneshavn, and never tire of Norway's charm.
To help you out, at the end of this article, we've included handy travel information including what to pack, Norwegian emergency numbers, super-handy travel apps for Norway and hire car/hire motorhome options.
This article is No.2 of 4 of a series where we began our Norway road trip in Stavanger and ended in the Lofoten and Vesterålen islands of northern Norway.
#1 Norway 2-week Itinerary: Fjords, Waterfalls and Fairytales
#3 Trondheim to Bodo – Crossing the Polar Circle
#4 Lofoten Road Trip: Seeing is Believing (inc Video)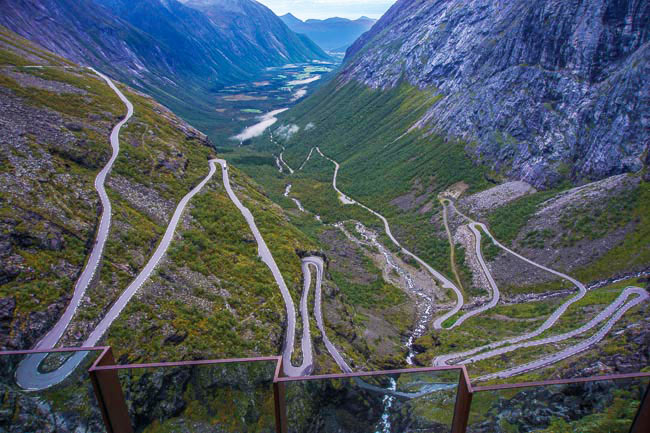 BERGEN TO TRONDHEIM ROAD TRIP: 9-Day Itinerary
We took 9 days to complete this 1100 km trip from Bergen to Trondheim without rushing any of the experiences. You may just as easily extend your stay at any spot based on how much time you have for your itinerary.
Below is the driving route from Bergen, in the south, to Trondheim in the north. A map with a list of attractions and scenic routes can be found further down in this article.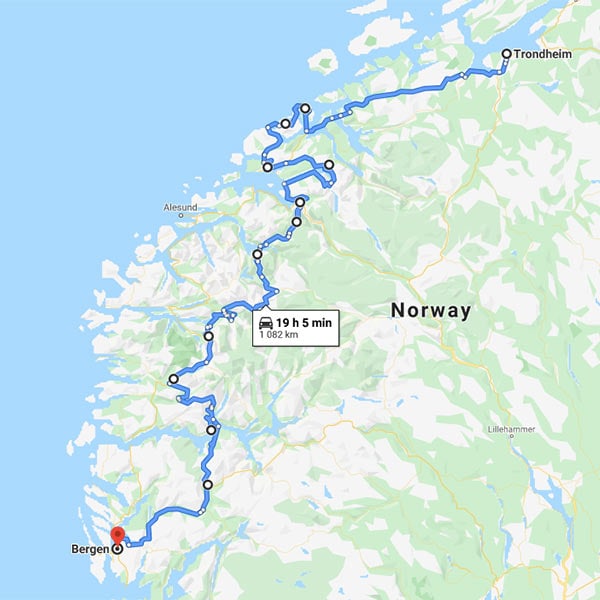 BERGEN TO TRONDHEIM ROAD TRIP ITINERARY: QUICK LOOK
You can jump to a particular day in the itinerary by clicking on any of the icons below.
PLANNING YOUR BERGEN TO TRONDHEIM ROAD TRIP
A summer or autumn Bergen to Trondheim road trip promises the possibility of better weather. It also gives you a lot more daylight. A word of warning though, summer days can still be quite cold so pack to cover all bases – more on this below.
Bergen and Trondheim both host international airports and are major travel centres in their respective parts of the country making these two locations the best start and stop points on your journey. This road trip is best enjoyed as a self-drive and can just as easily start in either of these cities.
If you're visiting Norway to gaze at the Northern Lights, you'll need to head north, as we did, to at least the latitude of the Lofoten islands (66ºN).
This road trip ends in Trondheim but you may choose to continue North in which case there's plenty more to be seen.
Car and Motorhome Rental
Rentalcars.com gave us the best car rental deals in Europe
Motorhome Republic found us the best hire deals for campervan hire for our year-long road trip around Europe. They found better pricing than we could find going direct ourselves, therefore, making the process so much easier.
BERGEN TO TRONDHEIM ROADTRIP MAP: SCENIC ROUTES AND ATTRACTIONS
To use this map, expand it using the square symbol on the top right-hand side and then look to the key on the left-hand side. By clicking each location you will find the corresponding position on the map. 
Red lines denote the different Norway Scenic Routes;
Blue circles with a star denote an attraction;
Green circles denote waterfalls;
Black circles denote hikes;
Purple circles denote main towns;
Yellow circles denote alternative options.
NORWAY EVENT CALENDAR
There are many different festivals and events in Norway, especially in the Summer months.  You can find out more by clicking on:
Keep your eye open for these events: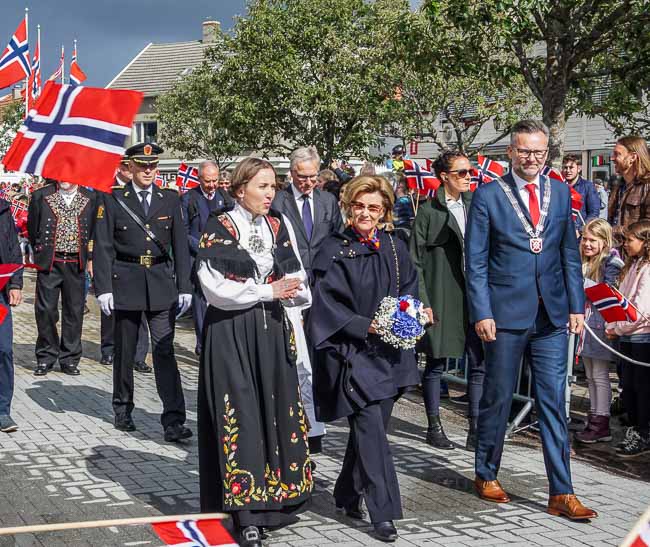 ROAD TRIP ITINERARY – BERGEN TO TRONDHEIM
Travelling ever more north from Bergen, the villages become more remote, the traffic thins, the landscape takes on a wild untamed look and you begin to feel the vastness of  Norway's panorama.
We road tripped well over 2,500 kilometres of the Norwegian west coast from Skudeneshavn all the way to the magical Lofoten islands and have so many unforgettable moments.
In this article, we not only include well-known attractions, but also some of our hidden off-the-beaten-path discoveries. Additionally, we use the Geocache app which has taken us to amazing places along the way that you just won't find mentioned in any travel guide.
If you're not familiar with geocaching, then check it out because most of the locations you seek are a 'local' knowledge only type of place and there you'll likely see something few other visitors have. Not only is it great fun but also a great travel resource.
DAY 1, 2 – BERGEN
---
Bergen is known as the gateway to the fjords and joining a fjord cruise to experience one of Norway's biggest scenic attractions is the best way to do it. Not only is Bergen the perfect place to launch a road trip north, but also gives you an opportunity to visit numerous attractions both within the city and within a day's drive of Bergen. There's so much to fill your itinerary in this area. 
Within Bergen
Bergen Fish Market
Bryggen
St. John's church
Musikkpaviljongen
Lille Lungegårdsvannet
Mt. Fløyen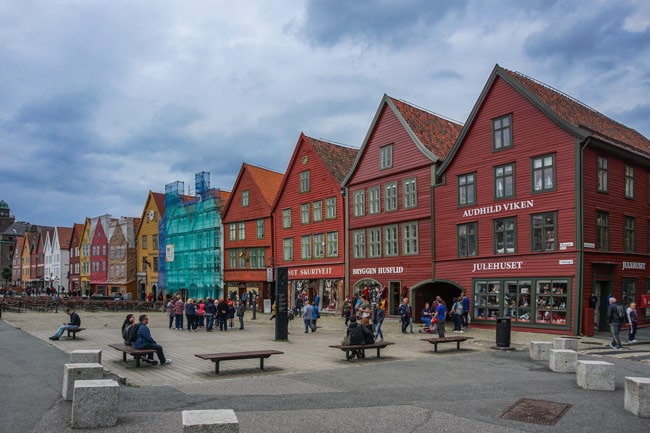 Within a days drive of Bergen
Borgund Stave Church (driving the Aurlandsfjellet Scenic Route along the way)
Kongevegen (King's Road)
Lærdal Tunnel (the world's longest road tunnel)
Hopperstad Stave Church
Vangsnes historic village sites alonside Sognefjord
Steinsdahlsfossen (one of the most visited waterfalls in Norway that you actually walk behind)
Visit the town of Kinsarvik to launch your assault on Dronningstein or HM Queen Sonja's panoramic hiking trail
READ MORE on Bergen : Norway 2 week Itinerary: Fjords, Waterfalls and Fairytales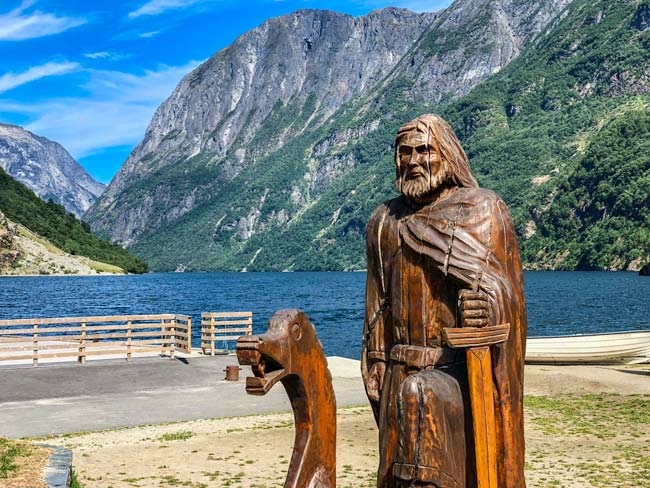 DAY 3 – GAULARFJELLET UTSIKTEN LOOKOUT, VALLESTADFOSSEN
---
On this part of the road trip, you join the Gaularfjellet Scenic Route.
GAULARFJELLET SCENIC ROUTE
Arrival at Dragsvik, on the northern shore of Sognefjord, heralds the start of the Gaularfjellet Scenic Route and an hours drive from here, will place you at the parking bay right by the Gaularfjellet Utsikten Lookout. 
This somewhat futuristic concrete viewing platform reaches out into the void, at a height of 700 masl, offering spectacular views of the winding ascent and the valley far below.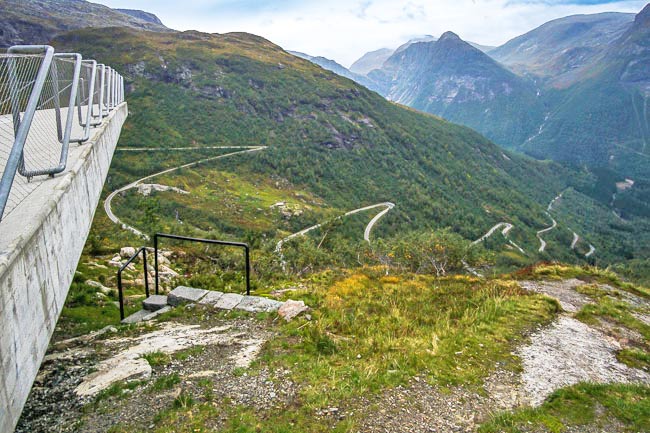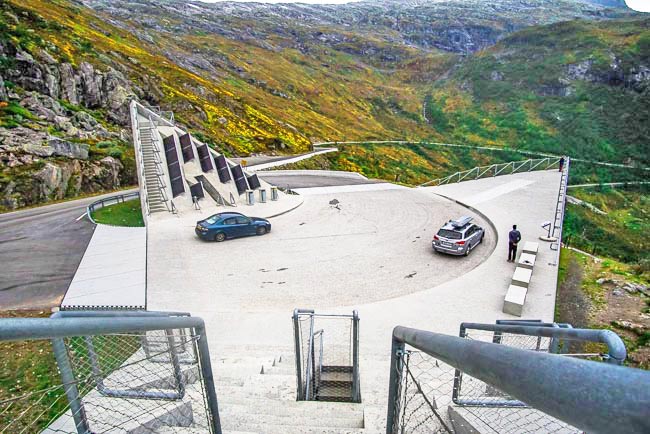 VALLESTADFOSSEN
Surrounded by mountains, you can hardly expect that you won't drive past a waterfall or two. About 30 minutes drive from the Utsiken viewpoint is the wide and powerful, Vallestadfossen, which flows down in a series of cascades and is easily visible from the road.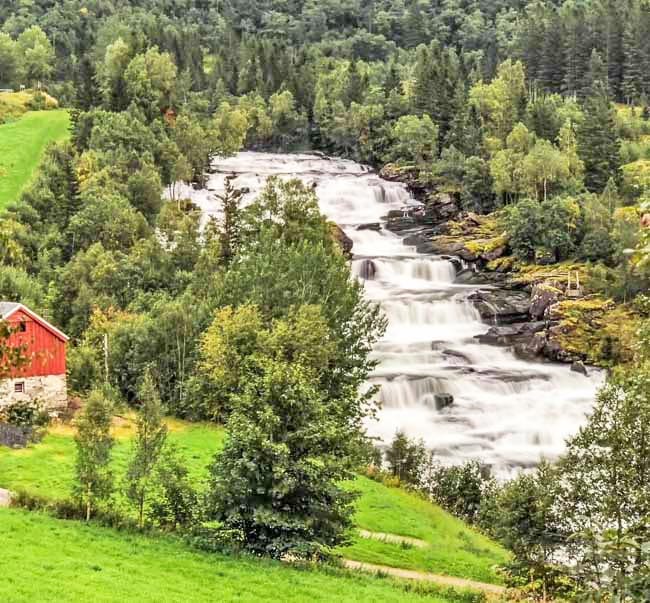 DAY 4 – GLOPPEN SKULPTURPARK, DISPAHOLMEN VIA LOEN
---
BYRKJELO
Byrkjelo is a village lying 20 kilometres north of the town of Skei. Right by the roadside, and impossible to miss, is this interesting and eclectic mix of sculptures in the Gloppen Skulpturpark.
The many sculptures are hand-crafted by only one artist. Adding to its allure is the fact that the park and the sculptures span the bubbling little Storelva river.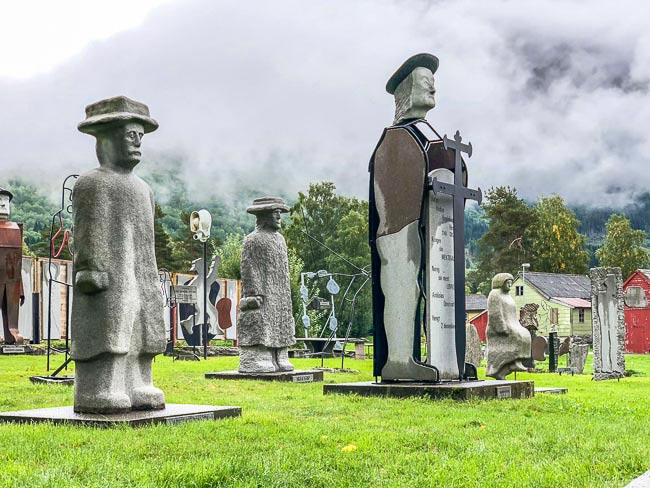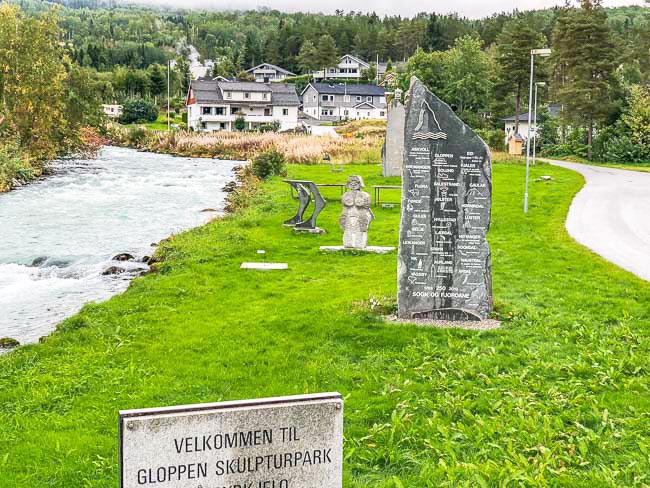 LOEN
Byrkjelo backs onto the Jostedalsbreen National Park and the mighty Jostedalsbreen Glacier. To get the best view of the glacier,  surrounding lakes and mountains, drive further north to the town of Loen.
Here, you can ride one of the world's steepest cable cars to the 1100m Mt. Hoven in only 5-minutes. We didn't treat ourselves to this adventure but if this sounds interesting to you, then find more details here.
STRYNEVATNET
We nearly drove past the unmarked access road to a small rocky islet to Strynevatnet which can be accessed via a narrow stony beach. Be sure to make this a stop in your itinerary. The islet is lightly wooded with a rocky shoreline that plunges into the deep depths of the lake with the mirrored reflections of the surrounding mountains on the water. It is a stunning location.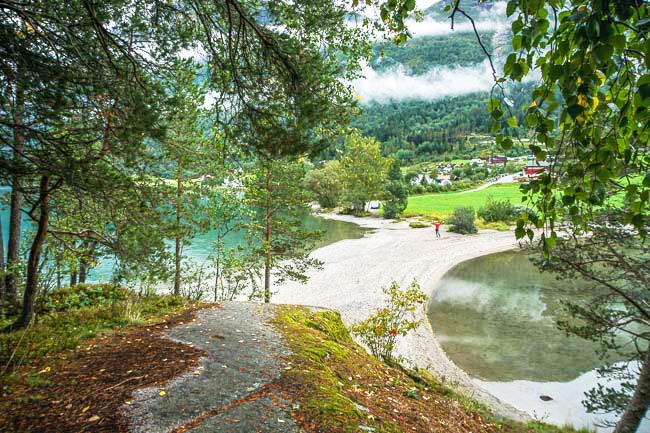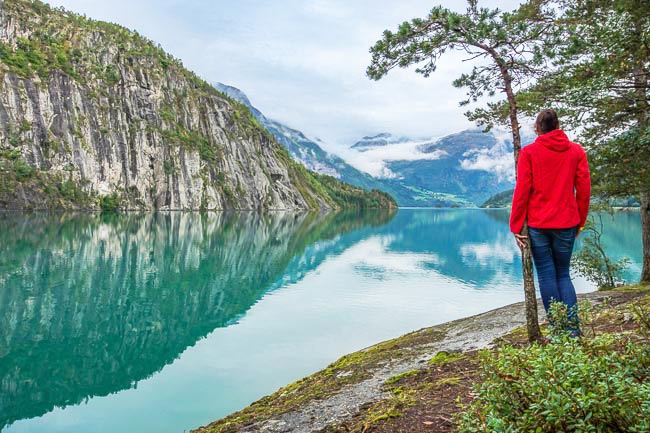 GAMLE STRYNEFJELLSVEGEN
Leaving Strynevatnet, driving a further 26 kilometres will bring you to a decision point. You may be tempted to continue on the main route (road number 15) which swings north and is the most direct route north – but don't miss the Gamle Strynefjellsvegen.  Look for the signed road (road number 258), Gamle Strynefjellsvegen, to start a short but magical 27 km drive of this historic Scenic Route.
Join the Gamle Strynefjellsvegen Scenic Route.
This Norwegian Scenic Route is special.
The road was built in the late 19th century using only manual labour and is distinctive with its rows of guard stones marking the road edges along with the fitted-stone wall barricades.
The initial part of the climb begins on a paved road and later reverts to gravel when nearing the top at around 1100 masl. It's here that you'll pass the gorgeous lake, Langvatnet.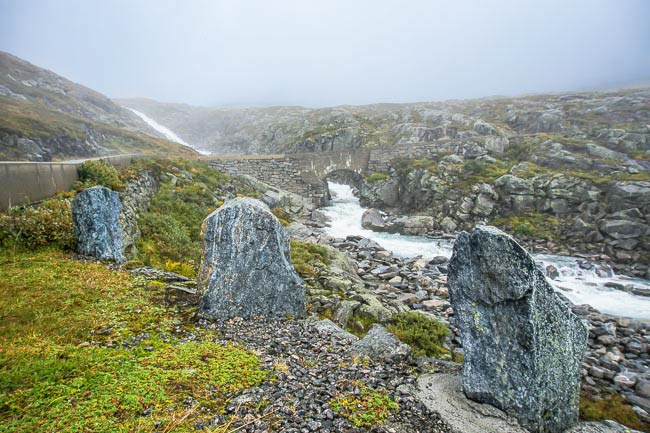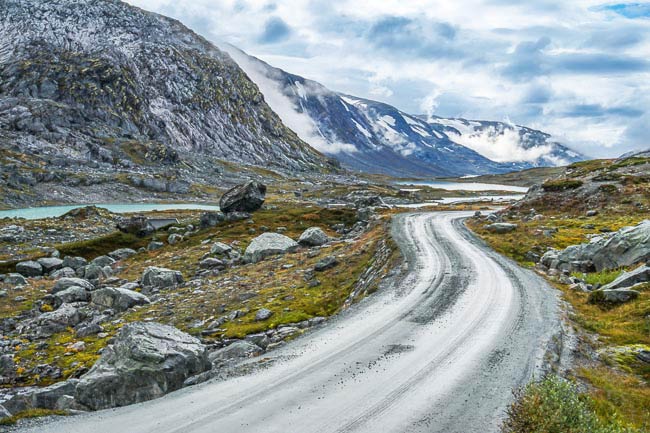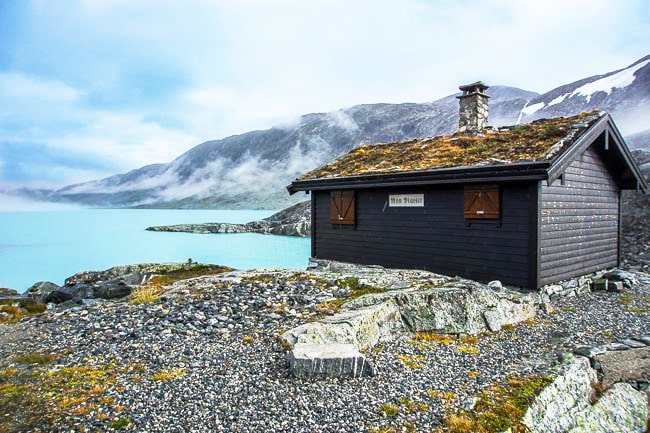 Most of the ascent was driven in fog and mist which created a moody and mystical atmosphere. It wasn't until we reached the summit that we broke through the low cloud barrier and the skies somewhat opened up.
DAY 5 – DALSNIBBA VIEWPOINT, GEIRANGER CHURCH, ØRNESVINGEN VIEWPOINT
---
From the eastern end of the Gamle Strynfjellsvegen Scenic route, you can re-join the main road 15 and head north again. A short 15 kilometres away, is the start of the Geiranger-Trollstigen Scenic Route and right on the doorstep in the Dalsnibba viewpoint and the famed Geiranger Skywalk.
Join the Geiranger-Trollstigen Scenic Route.
DALSNIBBA
A winding, inclined drive with an altitude gain of just over 1000m has you arriving at Dalsnibba, Europe's highest fjord view from a road so you can probably guess that it also comes with magical views of the surrounding mountains. Unfortunately for us, the low altitude clouds hid the panorama but we grabbed a photo on the way up and at the top viewpoint.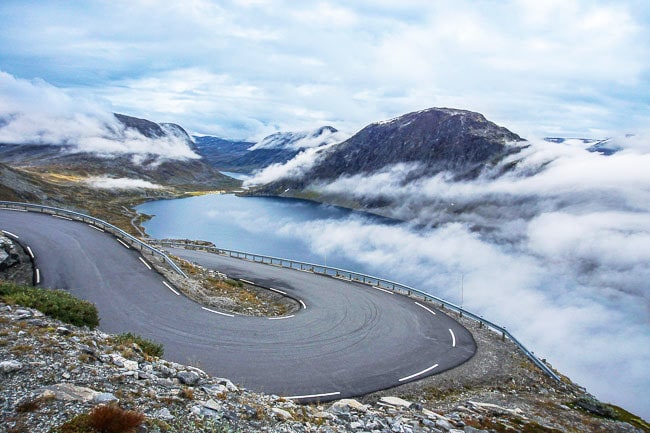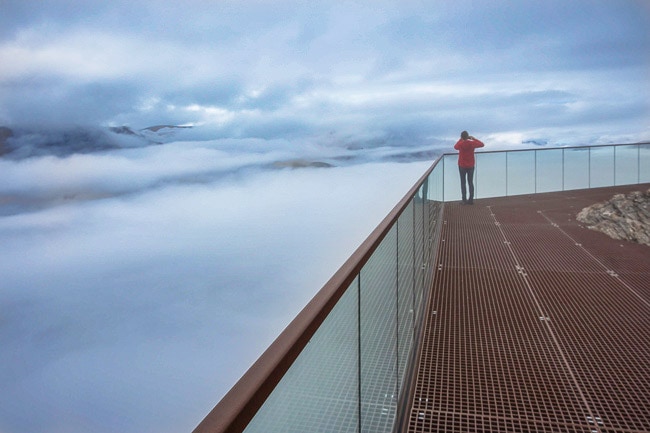 GEIRANGER
Driving into the town of Geiranger, keep a lookout for the turnoff to the Geiranger Church. Built in 1842, this church sets itself apart from others due to its unique octagonal-shaped design. This bright, white, wooden church has claimed the best position on the hill with stunning views down into Geiranger fjord and the many cruise ships that dock alongside Geiranger.
The views here are so good that Geirangerfjord has also claimed a spot on the UNESCO World Heritage List.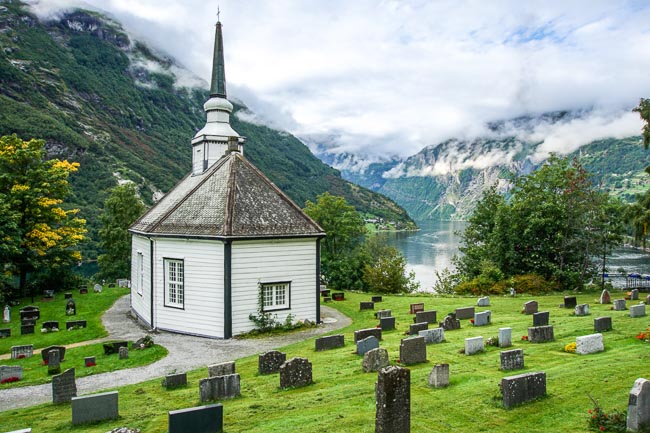 ØRNESVINGEN VIEWPOINT
Heading north from Geiranger on Ørnesvegen (or Eagle Road), named for the eagles that once called the mountain peak home, a twisty ascent through 11 hairpin bends rewards with a stop at the Ørnesvingen viewpoint. From here, you can gaze out onto a magnificent panorama: Geiranger, Geirangerfjord, cruise ships plying the fjords and the famous Seven Sisters Waterfalls.
The Seven Sisters Waterfalls, with an average fall of 250m, were said to resemble the hair of seven women. The image below and on the right shows the Seven Sisters Waterfalls in the background at the farthest point of Geirangerfjord.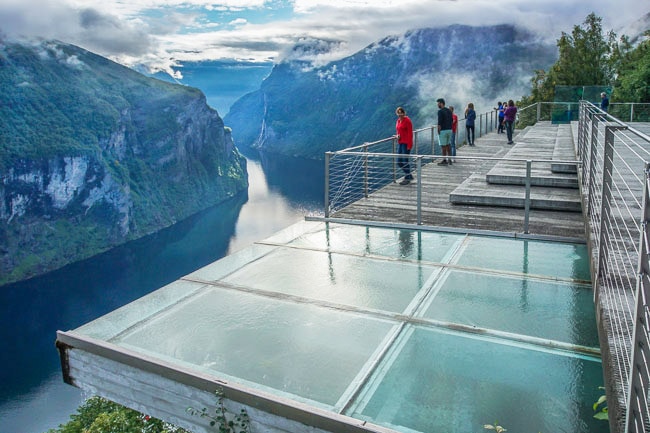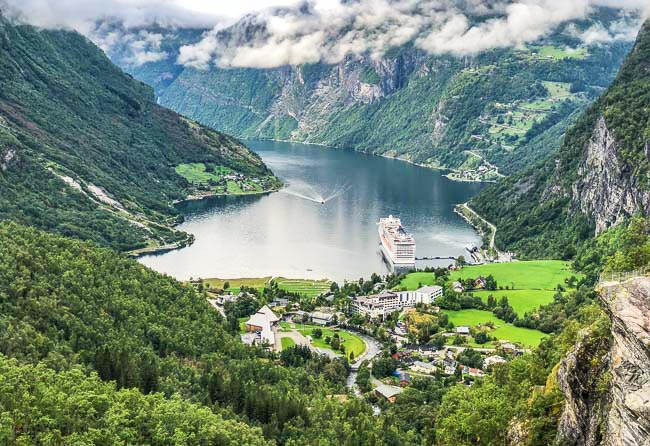 DAY 6 – TROLLSTIGEN, TROLLKIOSKEN
---
Continue on the Geiranger-Trollstigen Scenic Route.
TROLLSTIGEN
It's only a ferry crossing at Eidsdal that breaks up the drive on the world-renowned Trollstigen Scenic Route, Norway's most visited tourist road. You must stop at the top of Trollstigen which disappears between distant mountains and the 11 hairpin bends that ascend to the viewpoint at an altitude of 858 masl.
Adding to the fairytale effect is the Stigfossen waterfall which plunges down the mountainside and is most dramatic when seen during the actual drive of Trollstigen. There is a huge parking area here at the top, a restaurant with huge glass windows, toilet block and souvenir shops that are a testament to how popular this attraction is.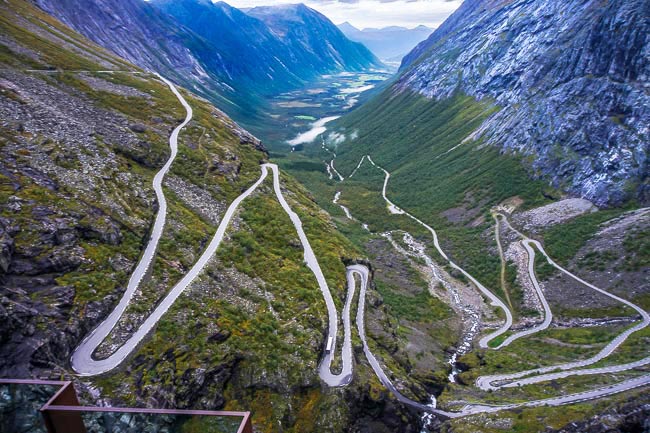 At the bottom of the descent is the Troll Kiosken and camping site where you can grab some great photos of trolls in all sorts of hilarious poses.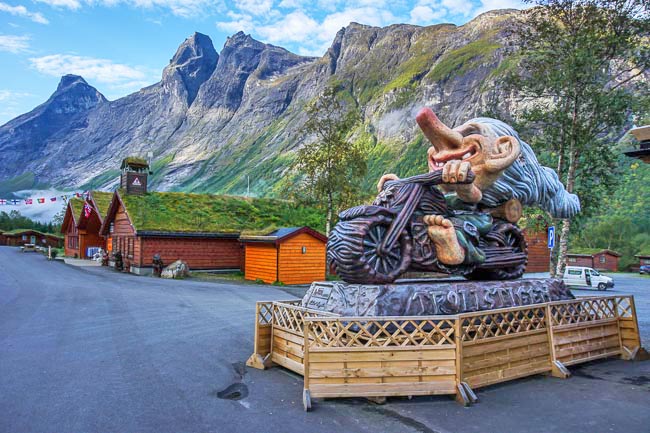 DAY 7 – BIKE ART, STONE AGE ROCK CARVINGS, THE ATLANTIC ROAD
---
Completing the Geiranger-Trollstigen Scenic Route is a  warm-up for yet another of Norway's scenic routes. Heading towards the coastal town of Molde and roughly 100 kilometres away is The Atlantic Road.
SCENIC CYCLES
On the way and before reaching Eidsvåg, you can see a lot of old bicycles that have been brought back to life with bright paint and can be found hanging from street posts, parked close by the road and in precarious positions. It's something different and colourful, adding an artistic touch to the green landscape.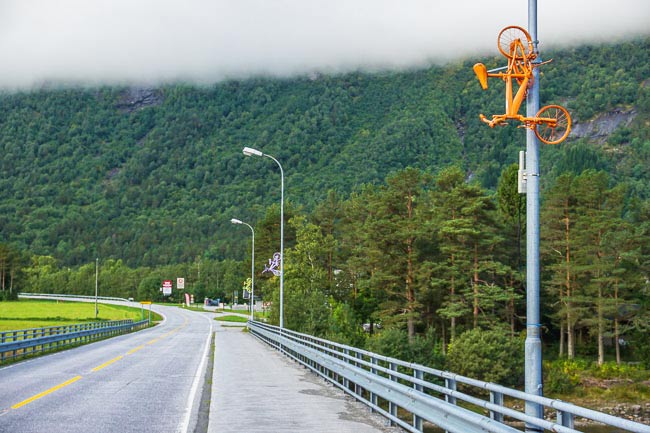 BOGGE PETROGLYPHS
Another surprise is the petroglyphs (signs and symbols) depicting animals and fishing that are painted on a large flat-surfaced rock face near the village of Bogge. These carvings/paintings date way back to the Stone Age.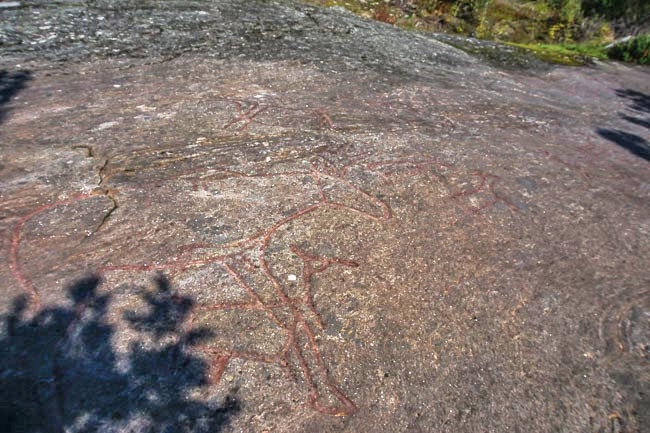 Join the Atlanterhavsvegen Scenic Route.
THE GREAT ATLANTIC ROAD
The Atlanterhavsvegen or Atlantic Road is a 36 km stretch that will have you island-hopping across the Atlantic Ocean, on some beautiful, arching bridges and sweeping stretches of tarmac.
A must is to stop at Eldhusøya island, more or less the central island on this chain, which has an elevated walking path around the island, cafe and toilets.
If you are lucky enough to experience wild weather, then the seas are said to crash into the islands creating a dramatic effect.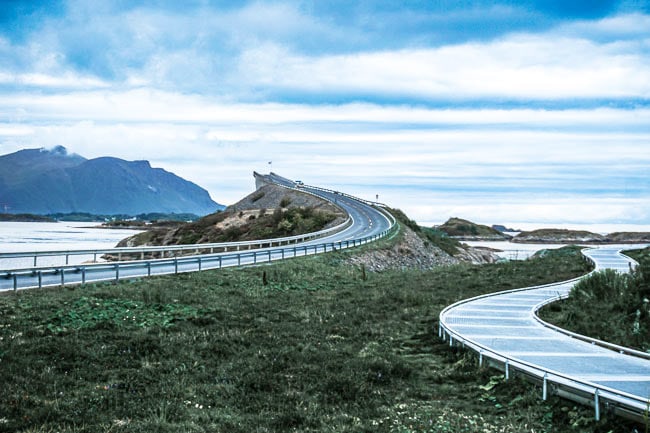 DAY 8, 9 – TRONDHEIM
---
Leaving Atlanterhavsvegen, it's now time to sit back for the 200km drive to the final stop, the charming city of Trondheim. It's best to find parking around the centre of the city as this ensures you are within walking distance of the best sights which are mentioned below.
Tronheim Wharf 
The old colourful wharves date to the 18th century and front each other across the Nidelva River.
Walk the streets and find paths that head to the waterfront for some close-up and grand views.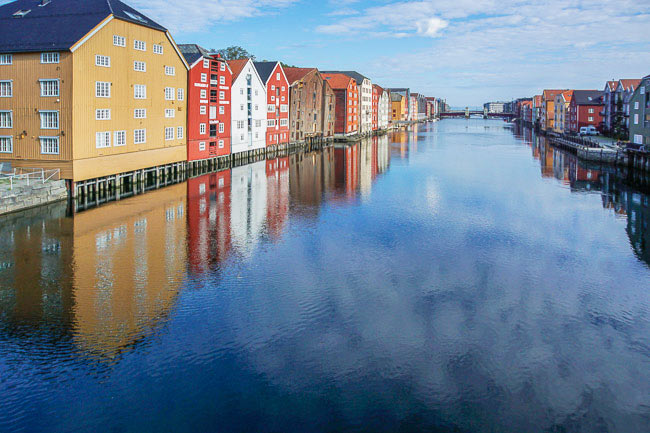 Gamle Bybro
The Old Town Bridge, Gamle Bybro, was constructed in 1681 with sentry posts at each end of the bridge. Locals have nicknamed Gamle Bybro "Lykkens Portal", which means "Portal of Happiness".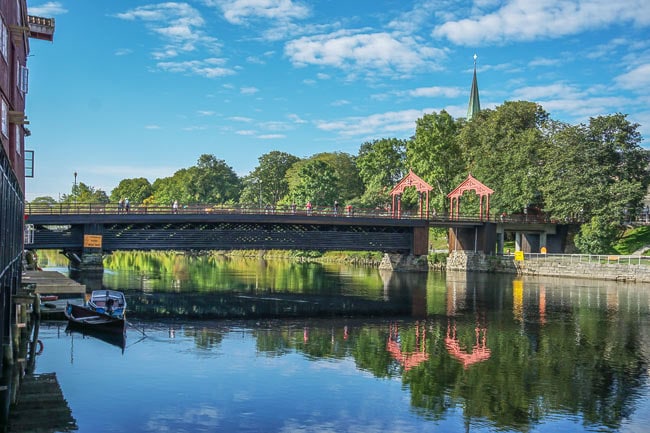 Stiftsgardsparken 
Stiftsgardsparken is the largest wooden palace in Scandinavia and is the king's summer royal residence.
The palace does have gates at the front of the property but you can walk right past the windows of the residence on the adjacent streets. You can't say that about many palaces.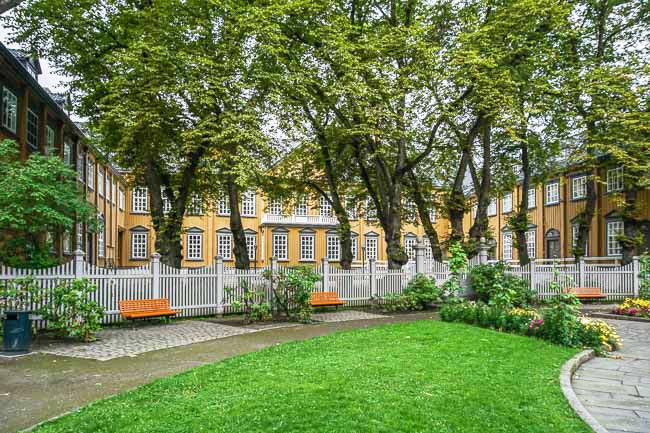 Bakklandet 
Bakklandet,  (the old city of Trondheim) these old 17th-century wooden houses were once the homes of the working class but have since been restored. This popular part of town is a buzzing residential area with boutique shops and cafes.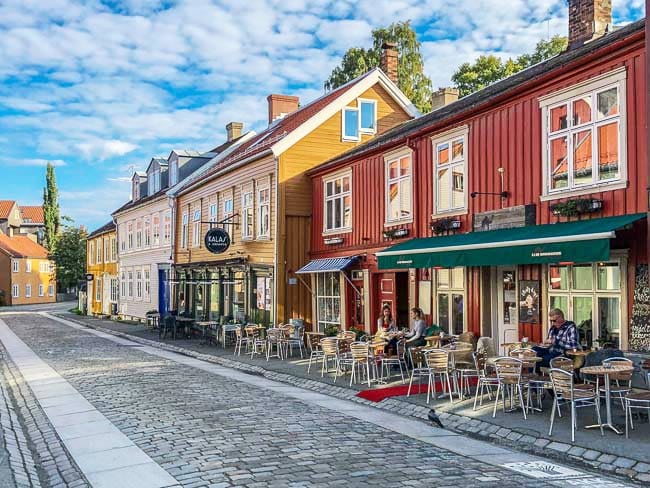 Den Siste Viking 
Den Siste Viking, the Last Viking sculpture, fittingly stands in the centuries-old part of Trondheim port amongst wooden fishing boats, cobble-stone roads and lots of seagulls.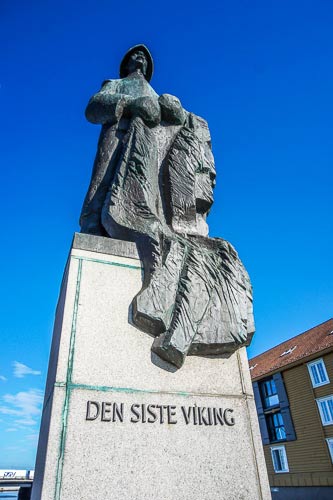 Nidaros Cathedral 
Nidaros Cathedral has its origins dating back to the 11th century and tradition says that the Norwegian King Olav Haraldsson, who was later a saint, is buried under the altar.
The cathedral has been damaged many times and re-built in different styles but this has not affected its attractiveness.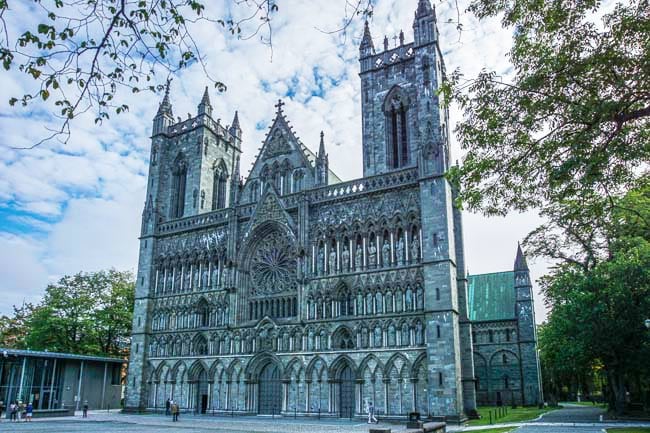 Kongens Gate 
Kongen's Gate is one of the main streets in Trondheim which has many of the old-styled 18th-century buildings.  It's definitely worth a stroll along. 
Var Frue Kirke
 Var Frue Kirke, (Our Lady Church) is located in downtown Trondheim and was built in the 12th century. This stone church has weathered many disasters and undergone many re-constructions which is evident with the different styles and colours on its exterior.
There are some interesting grave-stones on the church grounds.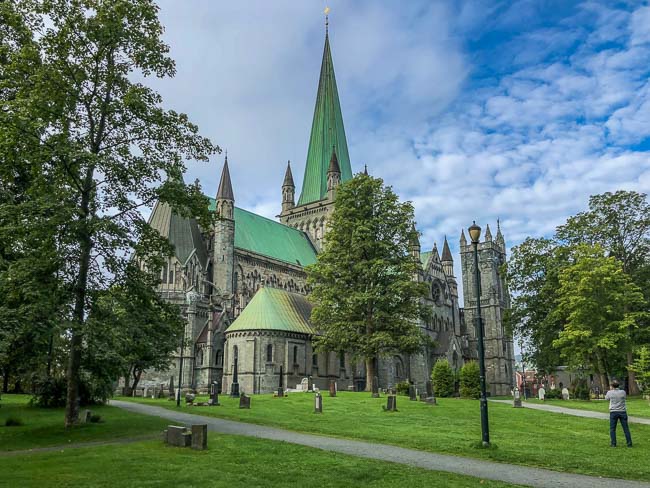 Central Trondheim is also a mecca for street sculptures. They represent nature, important events and mythical creatures from Norway's medieval past. It's all tastefully done and really add to the allure of this beautiful town.
READ MORE: Next Road Trip – Trondheim to Bodo
NORWAY TRAVEL INFORMATION
---
TRAVEL WITHIN NORWAY
Norway is certainly one of those 'wow' countries with its pristine scenery and fairytale landscapes. How you choose to travel within Norway will depend on how much time you have, what you want to see, your budget, your physical state and what creature comforts you require. Although we choose to road trip, there are other travel options available.
Train: Norway has more than 3000 kilometres of track stretching from South to North and this way offer just what you need as an alternative to driving. One of the cheapest ways to book train tickets is directly on Norway's Vy website.
Bus: Norway has an extensive bus network connecting the cities and small towns giving more opportunities than the train and at a lower cost. Norway's Vybuss website and Nor-Way website are just what you need when planning and booking.
Boat: Norway's car ferries will leapfrog you from port to port all the way up and down the coast. Book via Norled is the way to go. Prefer to travel in a bit more luxury? Hurtigruten sounds like it might be for you. Plying the Bergen to Kirknese route, there are multiple stops along the way allowing you the opportunity to explore the small traditional Norwegian towns.
WHAT TO PACK FOR YOUR NORWAY 2-WEEK TRIP
Even in Summer, there is a fair bit of variability in temperatures and the weather can change quite quickly. It can be quite cold and wet in the morning but turn into a blistering hot day. Layering your clothing is the best option and having waterproof top and bottom means you won't have to hike in wet clothes.
We strongly recommend waterproof hiking shoes/boots
If you have weak or sore knees then consider using walking poles to prevent shock loading on your joints. Some of these hiking downhill descents are quite steep and can cause jarring which is not pleasant
A backpack with a waterproof cover is super handy to carry water, food and any camera accessories
We've been on the road since 2017, and have added some useful travel items to our Lifejourney4two page on Amazon.
Check out our Recommended Travel Items Here
DRIVING IN NORWAY
Most of Norway has a maximum 80km/hr speed limit on the open roads. Speed and trip (average speed between locations) cameras are in abundance, so driver beware.
Norway has an electronic road toll system. We owned a non-Norwegian registered car (U.K. plates), so needed to register our vehicle on the Norwegian PLC site with our credit card details. Every 3 weeks to 4 weeks we were invoiced. It's quick to set up and hassle-free.
Summer and Autumn are the busy tourist seasons and the best time to travel Norway as you'll find pretty much all of Norway's roads open and not closed due to snow.
Norway's traffic rules can be found on the Norwegian Public Roads Administration site vegvesen.no or you can make direct contact with the Traffic and Road Information on +47 815 48 991.
To check to see if any of Norway's Scenic Routes are closed, follow this link to the Norway Tourist Routes site.
HANDY PHONE APPS AND EMERGENCY PHONE NUMBERS
yr app (as in the 2 letters y and r) This is an accurate Norway weather app for both IOS and Android devices
outtt app provides detailed trail maps for Norway for both IOS and Android devices
maps.me app is an off-line map for both IOS and Android devices
Smart Parking app is available for both IOS and Android phones and allows you to pay for parking online and not have to worry about carrying around coins or credit cards
Emergency Phone Numbers – Fire: 110; Police: 112; Ambulance: 113
WHERE TO STAY IN NORWAY
When booking accommodation in Norway, some of the cheaper places do not include sheets and pillowcases as part of the standard booking and these need to be added at an extra charge. Therefore, make sure to check the booking details carefully.
To help plan your Bergen to Trondheim road trip, here are the places we stopped overnight on the route.
We have included links to the accommodation we used at the below stops, but some nights we slept in the car to save money.
  Knowing where we stopped though will give you an idea of the distances travelled each day so you can book your accommodation stopovers.
I have also added them to the map above for easy reference (Marked with red House icon). 
Stop 1: Bergen (Hotel we stayed in is now closed)
Stop 2: Lunde, Skei i Jolster (Lunde Turiststajon)
Stop 3: Trollstigen (Slept in the car)
Stop 4: Varmbu (Slept in the car just before Trondheim)
BOOK YOUR ACCOMMODATION
We use Booking.com as we can find a variety of cheap and budget accommodations such as local guesthouses and cheap hotels.
BERGEN TO TRONDHEIM ROAD TRIP … That's a Wrap
We hope you enjoyed this trip of attractions along many of Norway's Scenic Routes. Sure, Bergen to Trondheim involved a few kilometres of driving but to see the best of what Norway has to offer, a bit of time has to be spent at the wheel.
The timeline for the trip is a week but you could easily expand this to give yourself more time at the places that you fall in love with.
If you have discovered any places or attractions on your travels on the Bergen to Trondheim route that we haven't included then we'd love to hear about them.
Have you travelled to Norway before?
What's on your Norway bucket list?
Are you following us on Social Media? Come join us on Facebook or Instagram.
This post may contain affiliate links. This means that we may earn a small commission from purchases you make through our links, at no extra cost to you. Thank you for supporting us. For more info, read our Disclosure Policy.
Pin and Save for Later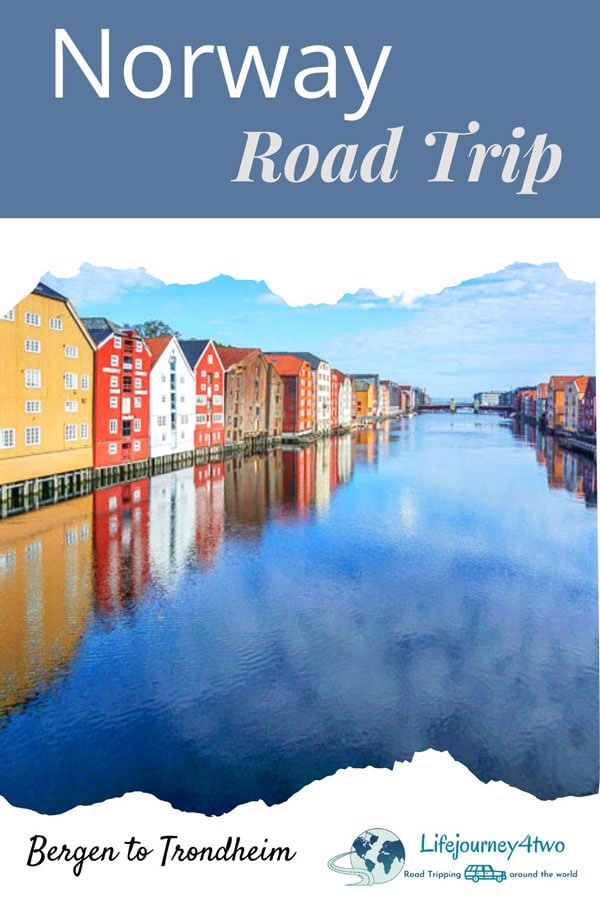 READ MORE: 
---
PLANNING YOUR TRAVELS?
These are some of the travel resources we use when planning our trip and can recommend:
For a more thorough list visit our Travel Resources page here.