Ryten Lofoten Hike
A trip to the magical Lofoten Islands of Norway, made famous in the movie Frozen, really should include some serious thought to include hiking Ryten Lofoten. As Lofoten hikes go, this one, you'll be happy to hear, is one hike that ticks all the boxes and is one of our best hikes in Norway. There was no way we were going to miss out on this spectacular hike on our Lofoten road trip.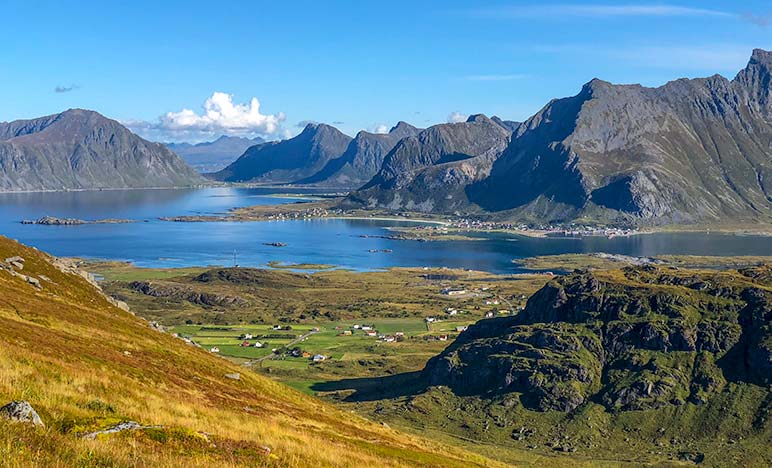 Fjord views on the Ryten Lofoten Hike
Ryten Lofoten Hike Details
Total hiking time (round trip) you can expect 3.5 to 5.5 hours. A bonus if you have limited time. We took 1 hour 45 minutes up and 1 hour 30 minutes down. That was at a steady paced walk.
Elevation gain is an impressive 680 metres.
Ryten Lofoten hiking distance (round trip) is a total of 8.7 kilometres.
Degree of difficulty rating is 'medium' or a 'blue' grading as scored by the Norwegian Tourist Association meaning that anyone with basic fitness and skills could attempt this hike.
The best Ryten Lofoten hiking is between May and September. Expect snow on the ground in the colder months which will make the trail challenging to follow.
The views, the views, the views! You'll be treated to a bit of everything on this hike – views of Kvalvika Beach, mountain peaks, bays, islets, rocky outcrops … I won't go on, you're starting to get the picture.
Photography Tip: Time your climb carefully – we arrived at the top at mid-morning in September and had the sun directly in our eyes which doesn't make for the best photos when capturing Kvalvika Beach.
Where to Start the Ryten Lofoten Hike
Ryten is a mountain on the northern part of the island of Moskensoya, Lofoten in northern Norway. Head towards the northern town of Fredvang. From there, follow the 814 road north, and then head west for about 1 kilometre. This will bring you to a road named 'Strandveien' and it's here on the corner that you turn into a fenced, dedicated Ryten hike parking area (see map).
This is the nearest parking to the Ryten Lofoten Hike trail. The owner of the land, who lives in the closest home nearby, is vigilant to new arrivals and will ensure that you have paid up before starting your hike. It's a cash-only deal and costs 100Kr (approximately 10Euro) for a day's parking.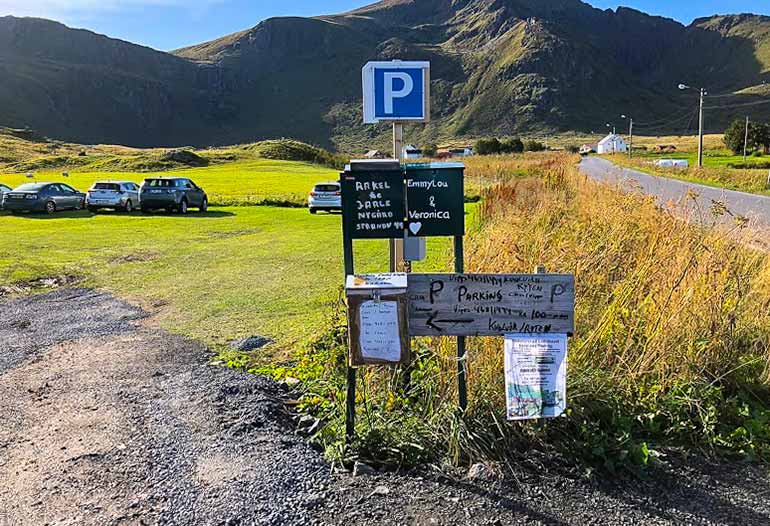 Handy Hiking Tips
As with any hike in Norway, it's always wise to have the latest updates on weather and we exclusively use the free weather app 'YR.no' which is updated by the Norwegian Meteorological Institute.
Another super handy free app we use is 'maps.me' which works off-line and has the added bonus of having hiking trails marked on it which means you can also log your route for later scrutiny.
Plan your route, pack plenty of drinking water, wear hiking shoes and if the weather is marginal, pack some waterproof clothing.
Ryten Lofoten Hike
Leaving the parking lot, the official trail start is about 100m further down the road to the west. From here the early part of the trail leads you gently up a single lane farm track where you eventually veer off onto the trail proper and continue to gain altitude.
The paths can be boggy in places but luckily in the worst spots, there are wooden planks placed over the ground to keep those pinkies out of trouble.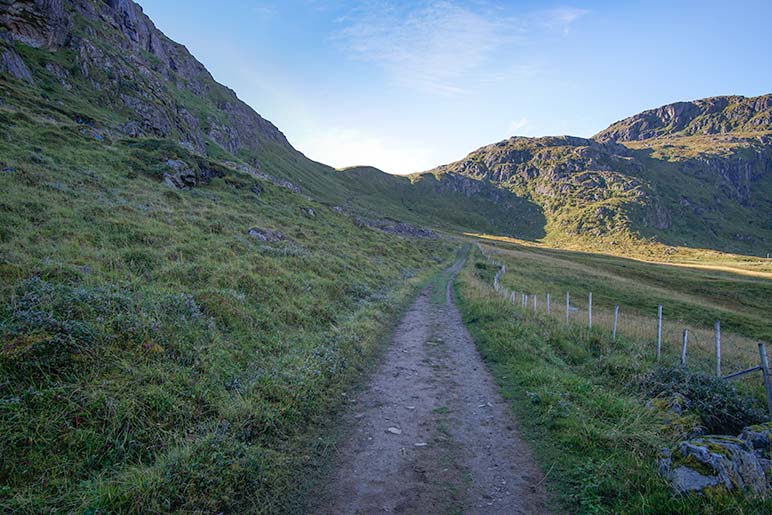 Farm track at the beginning of the Ryten Lofoten hike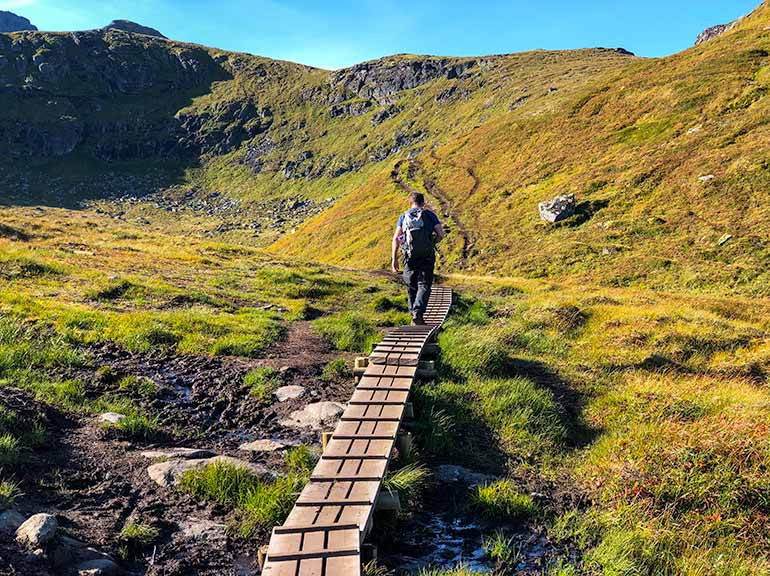 Boarded walkways help transit some of the boggy ground during the hike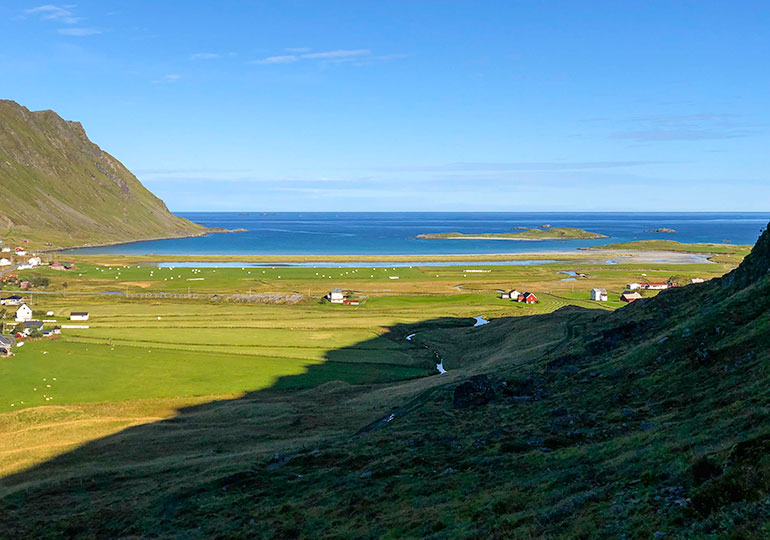 Views of Sandbotnen Bay during the early part the hike
This first part of the Ryten hike is more of a gentle climb and after reaching the top of the first line of hills, it flattens out for a time. Here you'll find twin lakes with the largest of the two, named Einangsvatnet.
At this point, you are roughly about one kilometre from the car park. This spot also makes for a good photo stop as there are great views to be had down into the valley and out to Sandbotnen Bay.
At Einangsvatnet you can probably consider about one-third of the upward part of the hike to be completed.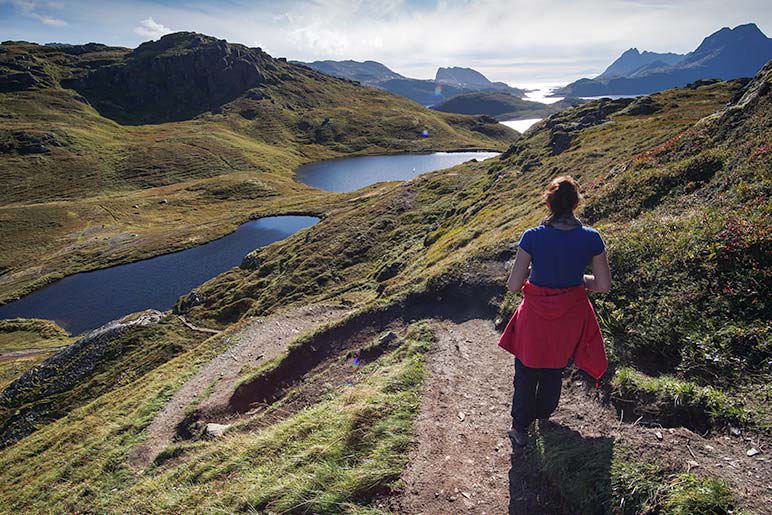 Twin lakes on Ryten Lofoten hike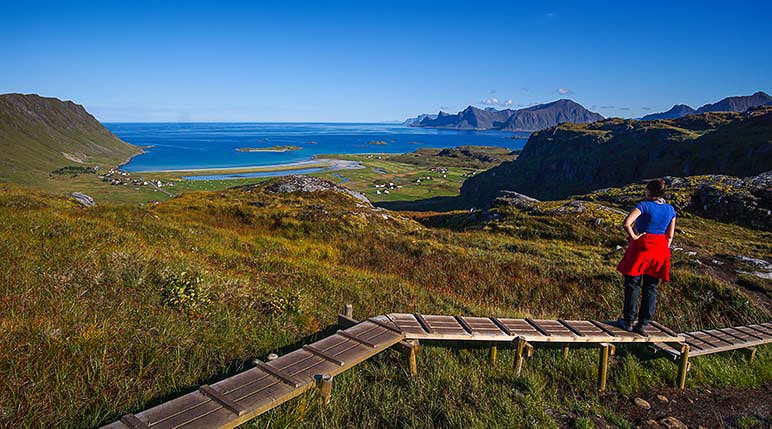 Views over Sandbotnen Bay on Ryten Lofoten hike nearby the twin lakes
From here, the going gets a bit tougher with the incline steadily increasing as you pass over a series of small rises. By now you've climbed high enough to be able to see above the closest hills and actually see above some of the distant mountain ranges giving some panoramic views.
It's a good place to take a break, give those legs a breather and let your camera do some work. This more or less marks the two-thirds point of the upward part of the hike.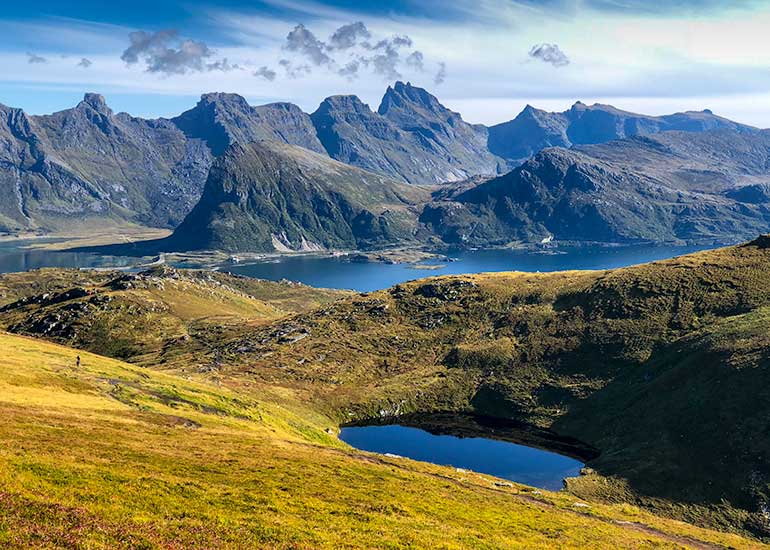 Fantastic views everywhere you look on this Ryten Lofoten hike!
Following the trail another 800 odd metres will bring you to Forsvatnet, a lake with pristine waters (below). Here is a decision point. Either take the path to the right ascending to Ryten or follow the descending trail to Kvalvika beach. The choice is yours.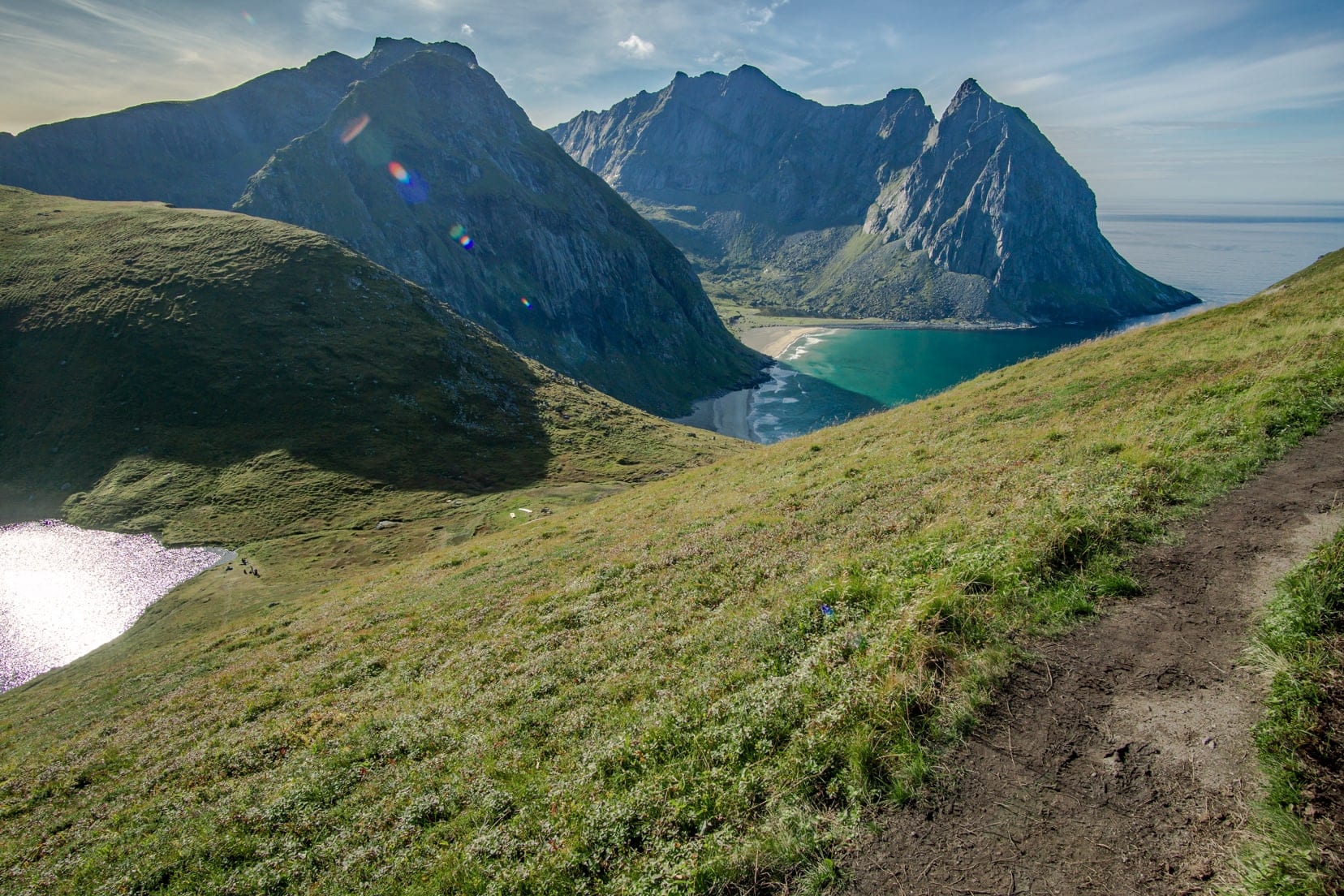 Forsvatnet, the secondary path on the right of the lake leads down to Kvalvika Beach
We continued to the top and soon found that the trail rises rather steeply. However don't despair, as this incline is the last push to the top. Kvalvika beach views await. I won't lie to you, it's a bit of a thigh burner but those views soon have you forgetting about any feelings of discomfort. A bit of grit and determination will see you through;)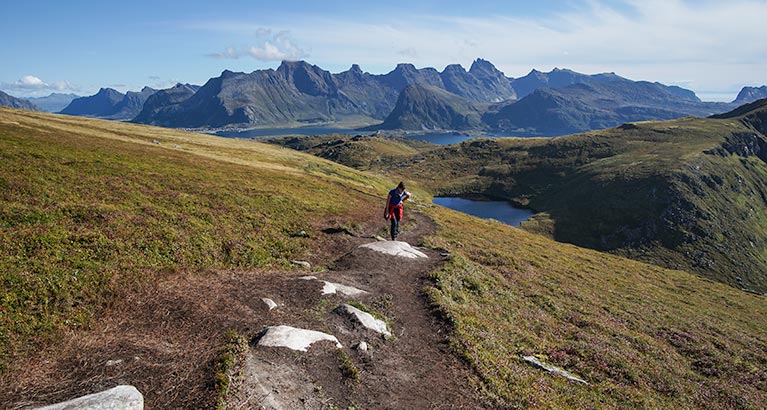 The final uphill part of Ryten Lofoten hike – take a peak over your shoulder for that view!
Kvalvika Beach Views Revealed
The objective for most on the Ryten hike is the famous viewpoint which is a rocky outcrop that mimics Trolltunga of sorts – a mini version. Here you can overlook Kvalvika Beach and grab yourself some fabulous photographs.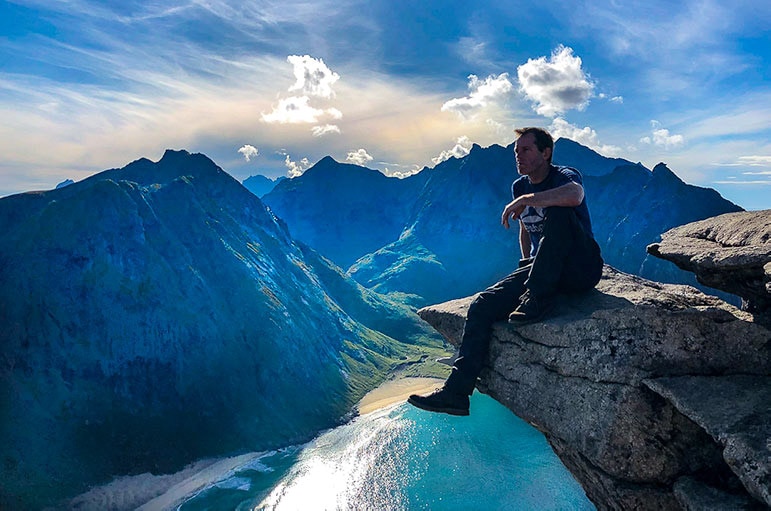 Sitting at the Ryten Lofoten viewpoint overlooking Kvalvika Beach
You may have seen seen some photos from this epic spot (image above) on the rocky outcrop at the top of the Ryten hike that overlooks Kvalvika Beach. 
The image is quite deceptive and the good news is that you won't have to risk life and limb to grab this photo opportunity.  There's no sheer drop and it's much safer than it looks but you can make that call. Check out the image below showing the guy standing on the rocky outcrop – yep, it's the same rock.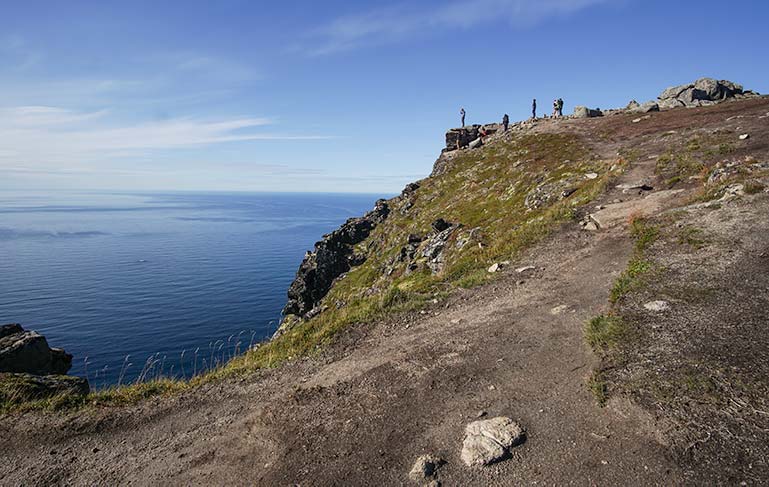 Ryten Lofoten viewpoint overlooking Kvalvika Beach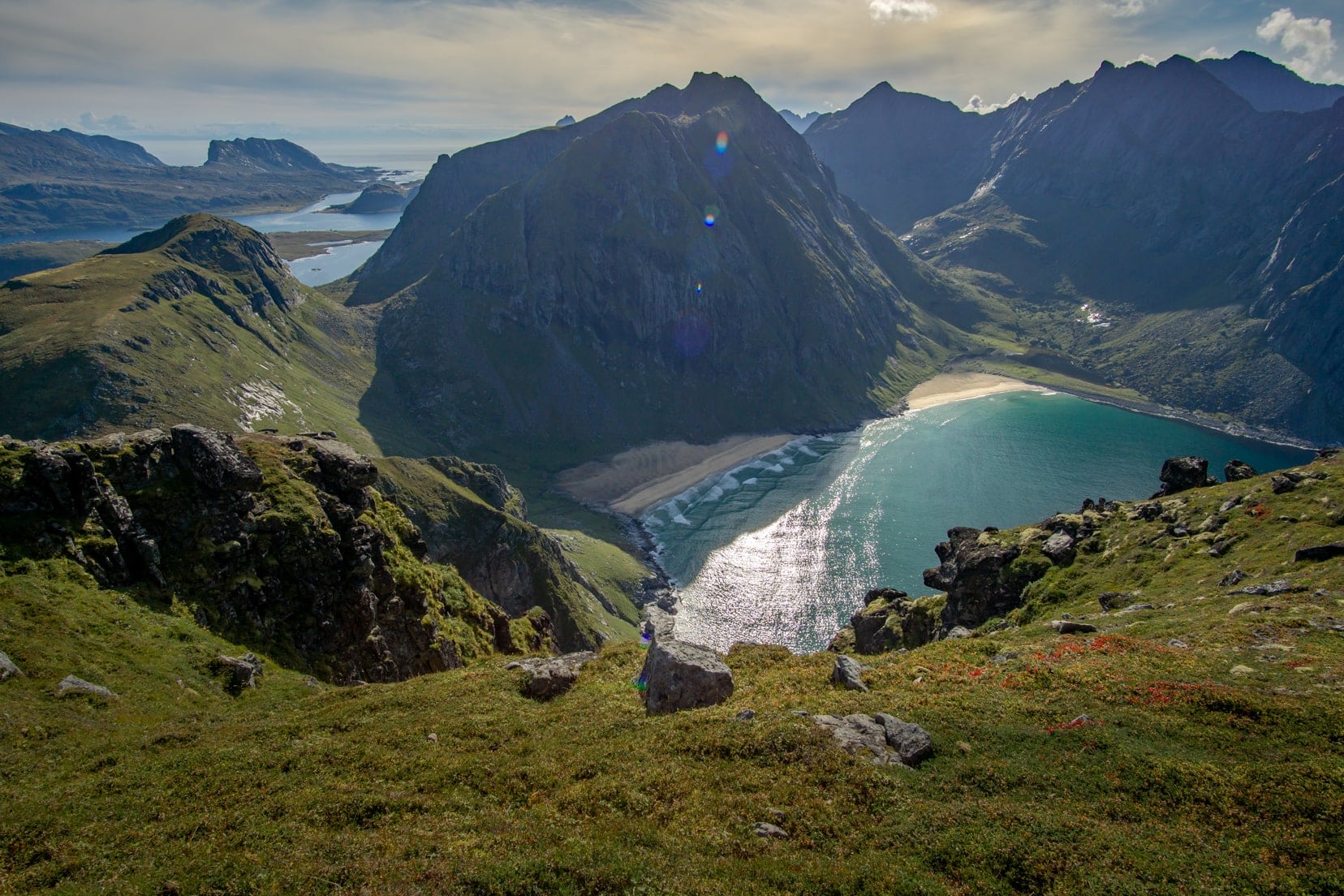 Kvalvika Beach has a beautiful setting
At first sight of Kvalvika Beach we were a little confused – two beaches? But no, it's all the same beach. On a rising tide, the headland causes a division making for some captivating photos.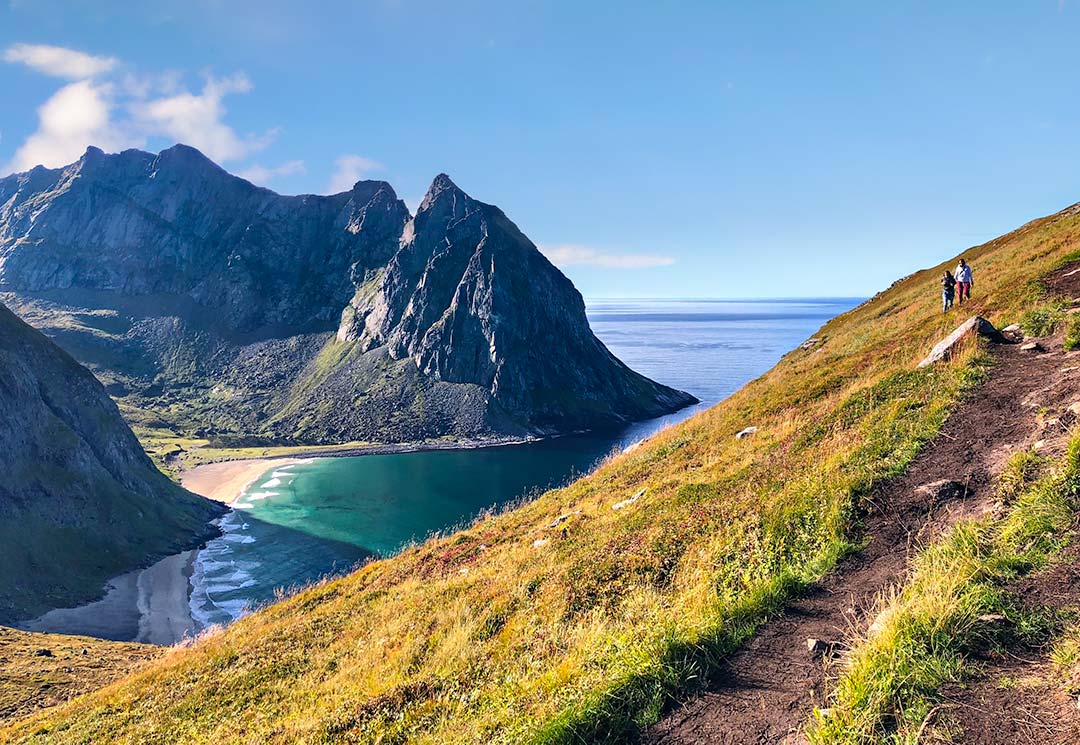 No, it's just one beach split in two on a rising tide … Kvalvika Beach!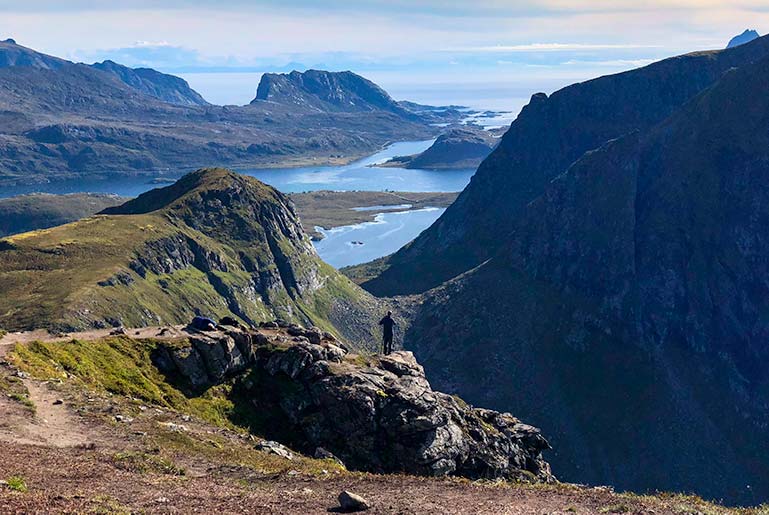 Views from the top of Ryten Lofoten
Ryten Lofoten Return Trip
The downward journey is sometimes more difficult than the climb up and that's the case here. Especially the first part of the descent which is pretty steep and quite slippery due to the well trodden path turning muddy.
There are plenty of amazing photo opportunities on the descent. The sun has shifted, revealing a whole lot more 'oh wow' moments.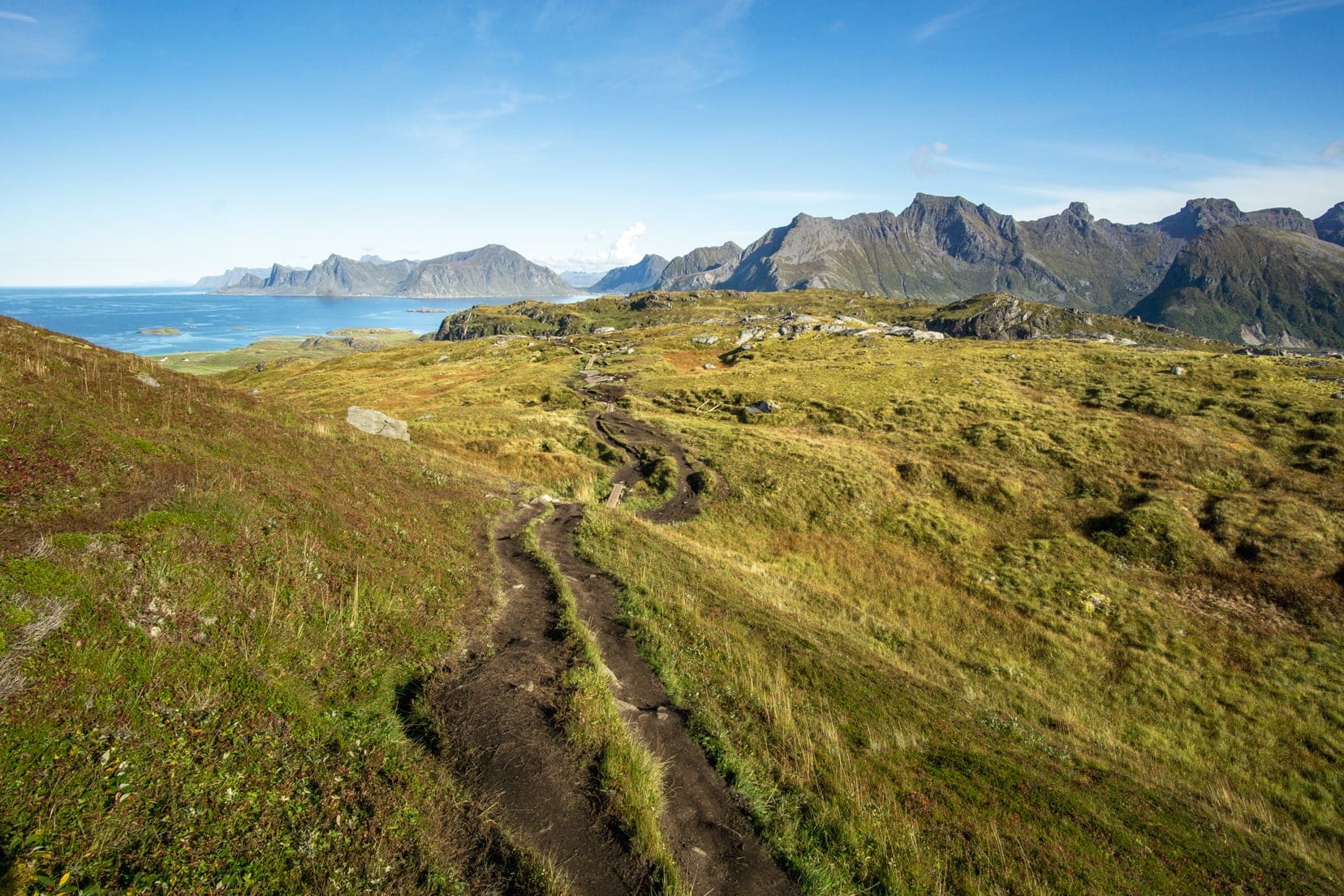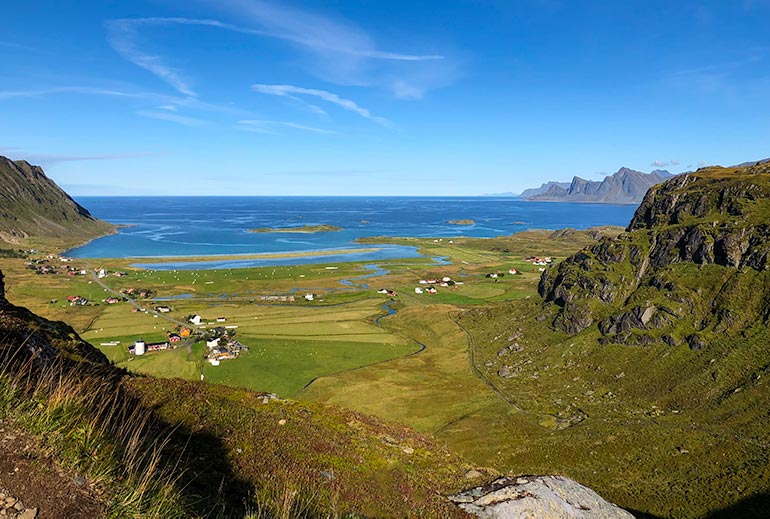 Midday view of Sandbotnen Bay on the return leg of the Ryten Lofoten hike
Ryten Lofoten Hike RoundUp
Since you've made it to Lofoten, then we strongly recommend adding this hike to your Norway itinerary. This Ryten Lofoten hike has everything going for it. Spectacular views throughout the hike, the trail start is close to parking and you won't need to set aside the whole day or require a high level of fitness to complete it.
The hike could be completed in either a morning or an afternoon, meaning it won't compromise a tight schedule. Surprisingly, the hike wasn't overwhelmed by tourists. We guessed we passed about 50 other hikers during the busy part of the day in mid-September. Remember that September is the month that the Northern Lights in Lofoten begin their dance – something you just have to see for yourself.
We hope you have the opportunity to enjoy this Ryten Lofoten hike as much as we did! Oh, and while I remember, if you're the type who enjoys epic hikes then a 4.5 hours drive north of Ryten lies the Dronningruta Hike – The Queen's Route. Happy hiking!
Accommodation near Ryten Lofoten
We stayed in Reine at the Lofoten B&B which is 25 kilometres from Fredvang or roughly a 30-minute drive so a great location as an overnight stop.
For more accommodation options check out other deals in Lofoten on Booking.com.
FAQs – Frequently Asked Questions (Ryten Lofoten)
Would this be a suitable hike for families? Yes, most definitely. The trails to Ryten and down to Kvalvika Beach are both suitable for families.
Can I see Northern Lights in September in Lofoten? Yes … and we did. The months of September to April are the best months to view the Northern Lights however be mindful that this period falls over the Winter period and is prone to wet and windy conditions.
Do I need any special hiking gear to hike Ryten Lofoten and Kvalvika Beach? No, however hiking footwear and a small backpack to carry food and water is recommended.
Can you use a drone in the Kvalvika and Ryten area?

No

I have a dog, can I bring him to Ryten and Kvalvika Beach? Yes, but under strict conditions. From the 1st of April to the 15th of November your dog will need to be on a leash. Your pooch is able to drink from the lakes along the way.
How much time do I need to hike Ryten? Set yourself aside a morning or an afternoon.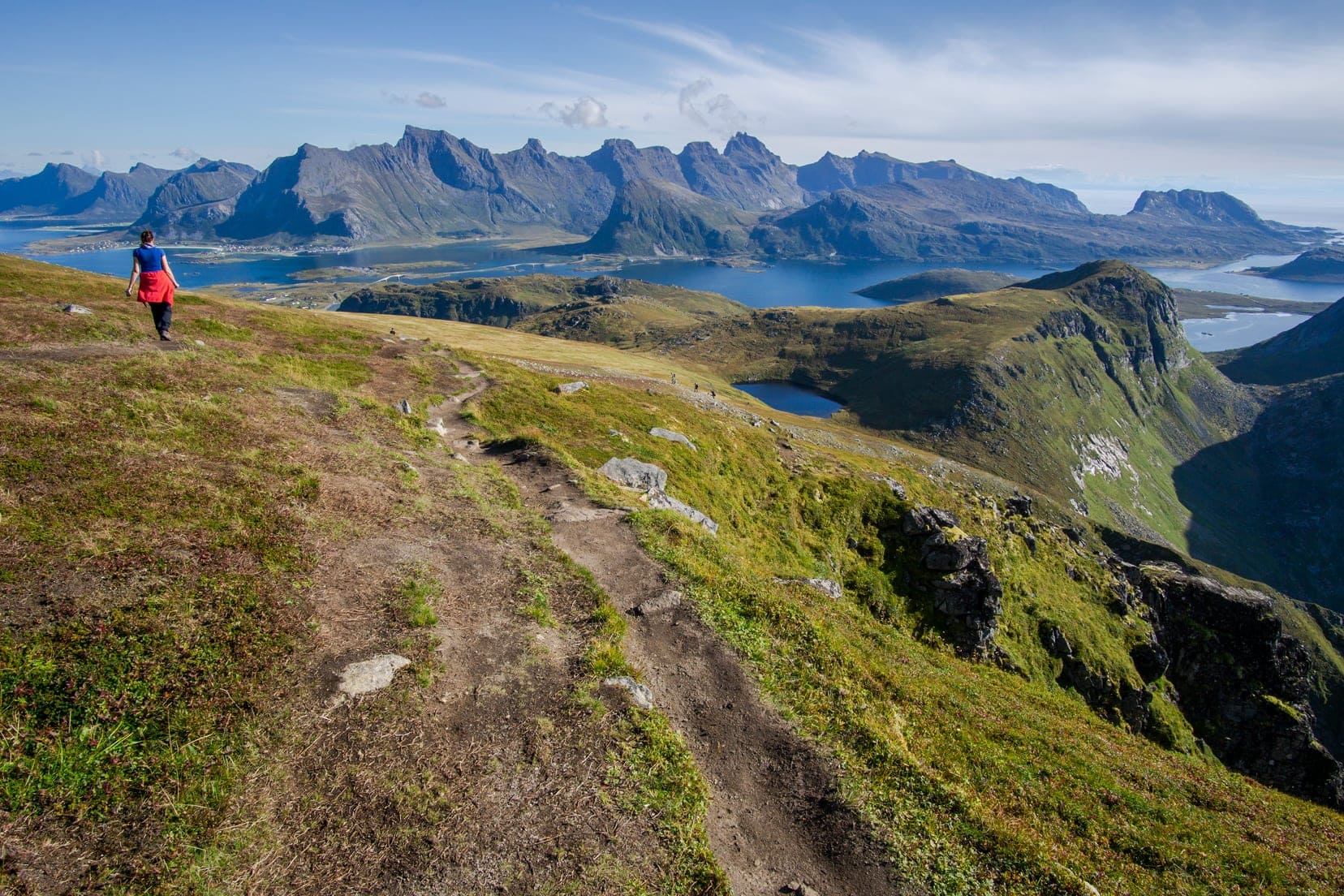 Levels of Hiking in Norway
Norway classifies its walks and hikes depending on the difficulty as follows:
Easy

(

Green

) – Novice Hikers/ No experience necessary

Medium

(

Blue

) – Intermediate some hiking experience /average fitness level

Demanding

(

red

) – Experienced walkers/high fitness level well equipped with good hiking boots/ basic navigation skills /map and compass.

Expert

(

Black

) – Longer and more technical hikes /Experienced hikers/ high fitness level well equipped with good hiking boots/ basic navigation skills/map and compass
Pin and Save for later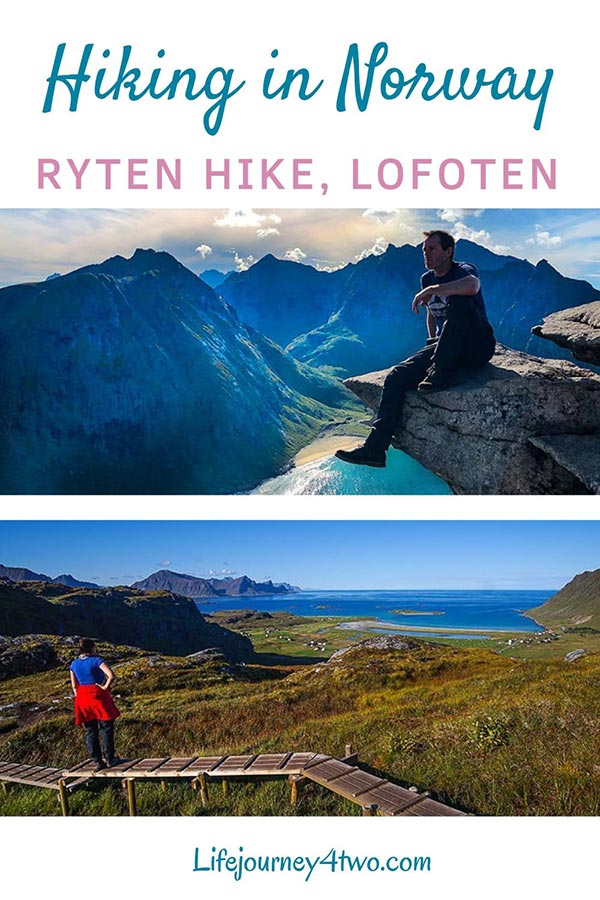 Arrange Your Travel Insurance
Get a quote from World Nomads - one of the best options for travellers. Find out why here.
Book Your Accommodation
We use Booking.com and Tripadvisor to find accommodation that suits our budget and to get a great overview of available specials and deals. 
Travel Gear and Accessories
We've been on the road since 2017 and have added items we've found useful to our Lifejourney4two page on Amazon  
Car Hire
We use  Rentalcars.com to find the best car rental deals.
Motorhome/Van Rentals
If you are looking for a motorhome or van rental - we highly recommend the Motorhome Republic who can find the best deals worldwide.
Finding Activities to do
We use Get Your Guide and Viator to get ideas of what to do in a place - sometimes it's best to get tickets online and jump the queues.
Flexible Accommodation Options/ Or Finding someone to look after your pets
We often use house/petsitting as it really makes our travels much more affordable - as accommodation is FREE
Get 25% off  Trusted House Sitters by using our link here: Join Trusted House Sitters either as a house sitter or if you want to find a house sitter.
Photography Prints and Products
Shop our ETSY store for digital downloads of our best photos and our unique photographic designs.