Some posts on this site contain affiliate links, meaning if you book or buy something through one of these links then we may earn a small commission. Read our Disclosure Policy here.
SOUTH AFRICAN WILDLIFE PHOTOGRAPHY
Wildlife presents amazing photographic opportunities and truly unforgettable scenes. You don't need world-class wildlife photographer status to capture fantastic photos.
You will, however, need patience.
The patience to remain still, the patience to listen to the sounds of the bush, and the patience to wait for nature to play its part.
Many wildlife scenes evoke emotion. The challenge of African wildlife photography is to capture those emotions, as diverse as they may be and to look for ways to tell that story.
Some of the photos included in this article are taken within the confines of special animal sanctuaries, where you have more time to plan your photograph and capture your subject, compared to in the wild, where the window of opportunity diminishes.
The caption under each of our images below includes the location where the image was taken.
In addition to visiting the sanctuaries, we were fortunate to stay for six weeks in a bush camp deep within Klaserie Private Game Reserve. Klaserie forms a part of the Greater Kruger area.
Immersing ourselves in bush life and being surrounded by these wild animals of Kruger gave us respect and a much better understanding of the habits of these wild animals. There were no fences between us and the animals in Klaserie Nature reserve.
We've written a separate article on An Australian Take on Life in the South African Bush which you might find interesting and Shelley also had a close encounter with a leopard in Klaserie.
READ MORE: Rhino and Lion Nature Reserve, Safari in the Suburbs
SOUTH AFRICAN WILDLIFE PHOTOS – OUR FAVOURITES
Overlanding Africa in a 4WD offers unbelievable opportunities to discover the beauty and rawness of Africa's nature and its amazing wildlife.
Owning our own 4WD has allowed us the freedom to enjoy the journey at our own pace, taking the time to immerse ourselves in some great self-drive safaris and many a national park. And yes, our South African wildlife photography has rewarded us with thousands upon thousands of magical moments.
READ MORE: Want to know how you can own your 4wd in South Africa as a foreigner? Take a read of our article '4×4 South Africa – Top Considerations when Renting or Buying
You can't script wildlife.
As mentioned before, the watching and waiting game is a skill you'll want to master as well as an understanding of wildlife behavioural patterns.
Of course, nothing is guaranteed.
Wildlife is unpredictable. This adds to the excitement and also opens up opportunities for rewarding African wildlife photography opportunities.
It's not all about stumbling around in the bush. We had some great tools which were our essential Kruger safari accessories, including detailed Tracks4Africa maps and an atlas to show us the way when overlanding Africa. There are many great products that any adventurer should consider. Take a look in the Tracks4Africa shop.
HERE ARE OUR FAVOURITE SOUTH AFRICAN WILDLIFE IMAGES CAPTURED BY US … SO FAR.
SEE MORE: Bird Photos from Prince Albert
READ MORE: Monkeyland, Plettenberg: Furry Friends Afoot
READ MORE: Rare Pangolin Sighting – Not Once, but Twice
SHOOTING WILDLIFE PHOTOGRAPHY: WHAT CAMERA DO WE NEED?
During our first two and a half years of travel in Europe, we relied on our trusty and faithful Sony a6000 APS-C camera and iPhones.
Further down the track, with a plan for long-term travel in Africa, we needed cameras that had faster and more accurate auto-focus, telephoto lenses to capture distant landscapes and weatherproofing to handle whatever harsh weather conditions Mother Nature chose to throw at us.
African wildlife photography would certainly require something special.
I did a good amount of research prior to buying our cameras and equipment. With so much choice, it certainly wasn't a rushed decision, but we finally, in 2019, settled on expanding our Sony family with the inclusion of the Sony a7III, Sony RX10IV and the Sony a6100.
Read More: Essential Tips for Road Trip Photography
Fast forward to 2021 and it was time to upgrade to cameras with increased performance.
We said farewell to all three cameras and welcomed four Sony A9s along with these extra Sony lenses: 100-400mm, 20mm and Sony 90mm Macro. We already owned the Tamron 70-180mm and Sony 200-600mm.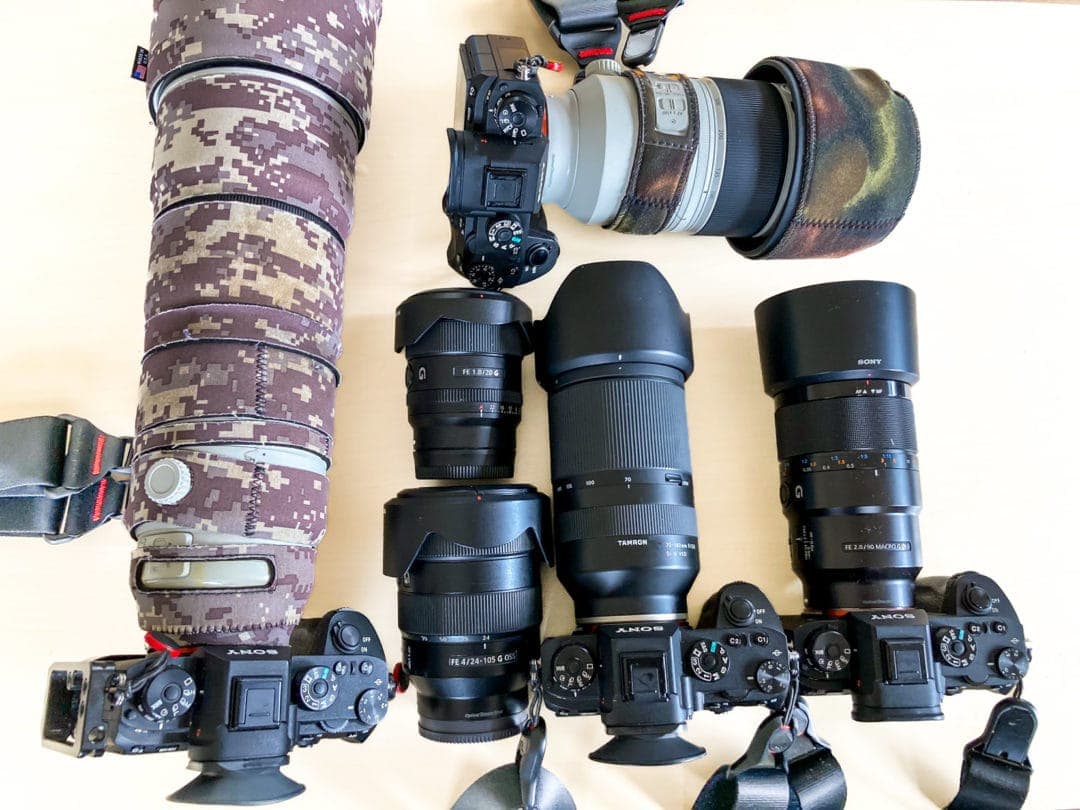 WHY WE CHOSE SONY CAMERAS FOR OUR SOUTH AFRICAN WILDLIFE PHOTOGRAPHY
Sony cameras had attracted us from the start. We wanted equipment that would allow us to reliably capture fast action and shoot in low light. The immediate plusses for us were that Sony cameras offered super-fast auto-focus capability (which would increase our chances of capturing 'keepers' or in-focus sharp shots), the new Animal-Eye auto-focus feature (to automatically detect and track the animal's eye) and the weather-proof construction.
Below I touch on each of our cameras and the major selling points that attracted us to it that would enhance our African wildlife photography.
(Note: unfortunately, we have no affiliation with Sony… c'mon Sony!)
SONY ILCE-9 (a9)
This action camera hosts a full-frame stacked CMOS sensor meaning blackout-free shooting with a maximum of 20 frames per second and electronic shutter speeds up to 1/32,000 seconds. It has a silent shutter selection for noise-free shooting, plus 693 phase-detection and 425 contrast-detection auto-focus points across the image area.
The a9 also has 5-axis image stabilisation with a 5-stop shutter speed advantage along with a standard ISO range of 100 to 51,200.
You can see why we chose the Sony a9, it makes for a perfect wildlife photography action camera. The Sony a9 is no longer manufactured so I have included below, the similar Sony a9II.
The main Sony a9II improvements over the Sony a9 are a thicker camera grip, the buttons protrude more, the mechanical shutter on the a9II has an improved frame rate of 10 frames per second (up from 5 fps), anti-flicker mode adjusting for fluorescent lighting, Eye-AF video and both memory card SD slots having compatibility with UHS-II cards.
WILDLIFE PHOTOGRAPHY: OUR CAMERA LENSES
I decided to stick with mostly native Sony lenses to mate with our Sony cameras ensuring the fastest focus times and seamless functionality between the two. The new standard set-up for wildlife photography is to keep the Sony 200-600mm on one Sony a9 with the Tamron 70-180mm on the other Sony a9. My wife, Shelley's, setup is the 100-400mm on one a9 and 24-105mm on the other. So if I need to go wide in a hurry then I grab the a9 with the 24-105mm. This avoids exposing the sensor to any dust when I change to the 20mm f1.8 lens.
Below I briefly talk about what I use each lens for and the benefits of this for me.
If you want detailed specs and information on each of the lenses, I've added links to the Sony US site to the titles.
a) Sony 24-105mm f/4 G OSS – this is my widest full-frame lens and is used a lot for landscape shots. It has a constant f/4.0 with a handy 24-105mm focal range and is super sharp. It comes with a weather-resistant lens, fast and silent auto-focus is coupled with optical stabilisation. I shoot constant f/4.0 video.
b) Sony 200-600mm f/5.6 to 6.3 G OSS – this ultra-telephoto full-frame lens has an internal focusing meaning that as you rotate the focus ring, there is nothing that moves or extends from the lens body. That in itself is a fantastic feature for avoiding dust in the lens body. The lens is lightweight, stabilised and focuses ultra-fast. The 200-600 spends most of its time on my Sony a7III, ready for a good portion of my wildlife photography!
c) Sony 100-400mm F4.5-5.6 GM OSS – the GM or G-Master signifies this is the best quality glass that Sony offers. This lens is superb for action and wildlife photography and features lens stabilisation. The lens physically extends when zoomed and is dust and moisture-resistant. Great for our Africa travels.
d) Sony FE 90mm f2.8 Macro – this is a fun lens with a minimum 28cm focal distance. The lens has a clutch on the end of the lens that is manually activated and switches focus mode between auto and manual.
e) Sony FE 20mm f1.8 G – this wide prime lens is great for capturing landscapes and Astro scenes. Produces supersharp images and is dust and moisture resistant.
CAMERA ACCESSORIES
Having the camera and lenses are just a part of the wildlife photographer's arsenal. We travel quite light and so have included just the minimum but still essential gear. These are:
The bean bag has been such a handy accessory for us. On a self-drive safari, the camera bean bag sits on the window still and supports the camera and/or lens.
Not only does the bean bag relieve the burden of holding your camera equipment but it also absorbs any vibrations that might be coming through the vehicle.
The bean bags we bought were empty and we just filled them with rice, otherwise, you can buy a pre-filled camera bean bag. Look for bean bags that sit with flaps that extended down on each side of the window sill for better stability.
I would class this as an essential item. Lugging the sony camera mounted with Sony 200-600mm for hours starts to take its toll on the arms. The strap and anchor connectors are rated to 90kgs so definitely fit for purpose.
This multi-segmented neoprene set of covers keeps the lens essentially dust and dirt free. It's worth protecting this expensive asset.
Shooting on fast continuous mode, then you" need a fast memory card to capture your images as fast as possible. This card will do the trick.
We travel with two of these tripods which are small enough to be hand-carried on a plane or tucked away in your luggage. It can be adapted to different terrain with different footings. It is rated for a maximum 8kg payload which is perfect for the camera with Sony 200-600 lens.
Shop for the Manfrotto Mini Tripod on Amazon
This small Manfrotto Mini has a 1 kg payload and is small enough that it tucks into my pocket. It features a ball head with a 1/4-inch screw and is a very solidly built unit. It weighs 190 grams. I have included my iPhone 6 in the image to give an idea of the size up against the tripod.
Shop for the Nicama Camera Carrier Chest Harness on Amazon
This has been a brilliant addition to our photography equipment. After a walk, my wife's neck was quite sore caused by the weight of the camera pulling on the camera strap.
This camera holster twist locks the camera into place and is fully adjustable. It provides excellent support for the wearer as it tightens around the small of the back and over the shoulders plus it comes with a securing strap that clips onto your camera if you don't want to use a camera strap.
OUR SONY CAMERA SETTINGS FOR OUR WILDLIFE PHOTOS
These are the 'general camera settings' for capturing wildlife that we have selected on all our cameras.
AF-C: Autofocus continuous;
Lock-on AF: Focus Area set to Lock-On AF: Wide for tracking moving subjects and Lock-on AF: Expandable Flexible Spot when there is only a little movement for tracking of the subjects;
Hi (High) frame rate (the Sony a9 when set to electronic shutter captures compressed raw images at 20 frames per second – that's plenty fast enough for me)
Multi Metering Mode (I keep at this setting and adjust the Exposure Compensation and monitor the camera's histogram to ensure I don't blow out the highlights/ lowlights in the image);
ISO Auto (100 to 6400): I let the camera choose the ISO but I try to keep the shutter speed as low as possible so the ISO doesn't climb too much;
Raw File Format.
As we are shooting wildlife most of the time, I keep 'Face/Eye Priority in AF' off. This is one less function the camera has to then carry out so hopefully speeds up the auto-focus capability. I've not had much success with Eye-AF on the a9 and find that AF-C works just fine without this activated.
WHAT LENS DO I USE FOR WILDLIFE PHOTOGRAPHY?
This will very much depend on how open the bush is. If there are a lot of large, open spaces then I bring out the thumper, Sony 200-600mm and stretch its legs. Otherwise, it's the Sony 24-105mm or Tamron 170-180 mid-range telescopic lenses when the bush is close to the vehicle and where the game is relatively close to us.
HABITUATED GAME
We've seen the difference between habituated game, tolerant of the noise and activity from cars and people and non-habituated game, experienced during our stay at Klaserie Private Game Reserve. Klaserie borders Kruger National Park without any fences to restrict game in between. At Klaserie, the animals are allowed to roam mostly undisturbed except for the odd landowner driving by.
It's here that the game has the opportunity to return to their natural wild state. This can make game unpredictable in their behaviour and so we've learnt to keep animals at a safe distance and respect them in their own environment.
We've had some close elephant encounters during our night-time river crossings that put a bit of a scare into us. I've written about our trials and challenges during our first 2 weeks in the Klaserie Private Game Reserve and how our perspective has changed on life in the South African bush.
SPOTLIGHTING WILDLIFE ON NIGHT GAME DRIVES
Spotlighting at night is fun. Unlike daytime games, night drives rely on the illumination from the headlights and spotlight, therefore, reducing your chances of spotting animals. Without being able to see much of the bush, it's hard to get a feel for what's around you.
We have experimented with different types of spotlights. If your goal is to spot and view wildlife (no photography included) then you could opt for an LED hand-held torch. Or, one of the runner's head-mounted lamps that give both good range and beam spread.
If you want to photograph wildlife on a night game drive, then hitting the animal with the harsh white spotlight is not only startling to the animal but trying to get a decent photo that isn't over-exposed by all the white light reflection is tough.
A good option is to use a filter over the light source. We invested in some red cellophane which we tied around the lamp body using a rubber band and tape. It's a simple, effective and cheap solution that works well.
SOUTH AFRICAN WILDLIFE PHOTOGRAPHY … That's a Wrap
South Africa really is a mecca for wildlife photography and with such diversity and abundance on offer, you're guaranteed to be enthralled, amazed and lusting for more. I hope you've enjoyed our images and reading a bit about our decision-making processes.
If you see us on some back road in Africa, we'd love it if you said hi!
Do you have a preference for a particular camera and lens? A favourite wildlife photo or special moment? It would be great to hear about it so please drop us some words in the comments section below.
(If you're a Sony a6000 shooter, as I used to be, then you may be interested in an article I've written on my challenges of capturing the blood moon eclipse with the Sony 55-210mm f/4.5-6.3 lens whilst we were in Norway.)
Pin and Save for later
READ MORE PHOTOGRAPHY POSTS: