Embarking on a Botswana photography safari is a dream for many photographers. During our extensive self-drive journey through Botswana's major National Parks, the untouched wilderness provided a unique canvas for our lenses.
As seasoned travellers, and Lars being a recognized photographer, with his images featured in Africa Geographic, we bring a wealth of firsthand experience.
Unlike the arid expanses of Namibia and structured safari trails of South Africa, Botswana's diverse landscapes offer a rich tapestry of photographic opportunities.
In this post, we've curated a list of photography safari tours and shared practical tips from our journey.
Whether joining a guided tour or venturing solo, we'll help you capture Botswana's majestic wildlife and breathtaking vistas.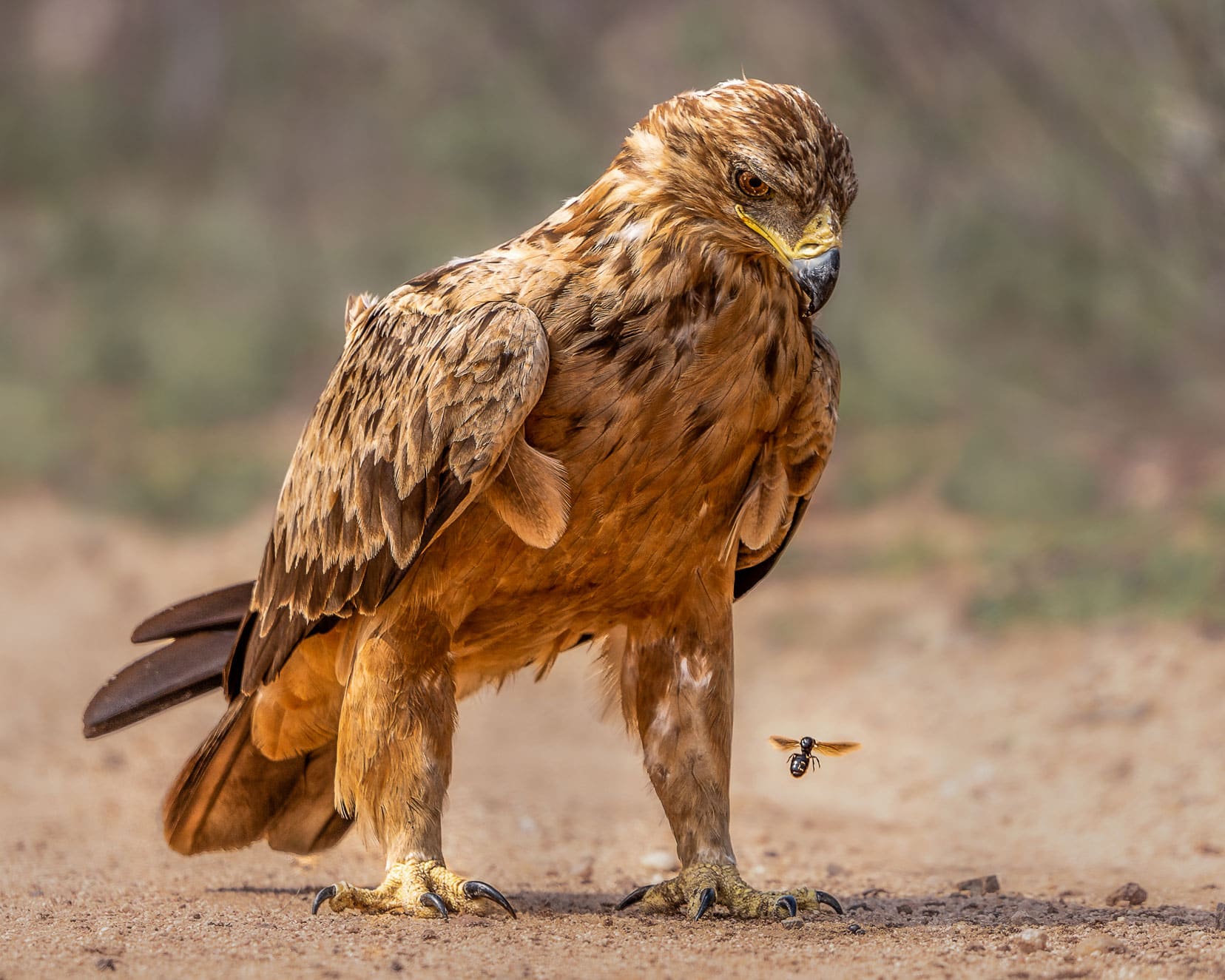 Curated Photography Safari Tours: Botswana Explored
If you are in a hurry, here's a quick summary of some of the best Botswana photography tour packages and also a Chobe River Cruise not to miss out on.
Our trip through Botswana offered numerous photographic opportunities. Leveraging our expertise, we've handpicked these Botswana photo safari tours that showcase the diverse wildlife and landscapes of this region.
Botswana isn't a cheap destination. The government has a strict policy on land management to ensure the protection of its pristine wilderness. This low-impact policy means prices are higher, but once you visit, you'll see why the protection of this environment is crucial.
Affiliate Disclosure:
We have affiliate relationships with five of the six tour operators listed at no extra cost to you. This partnership helps us keep sharing our African adventures with all of you.
Quick Summary: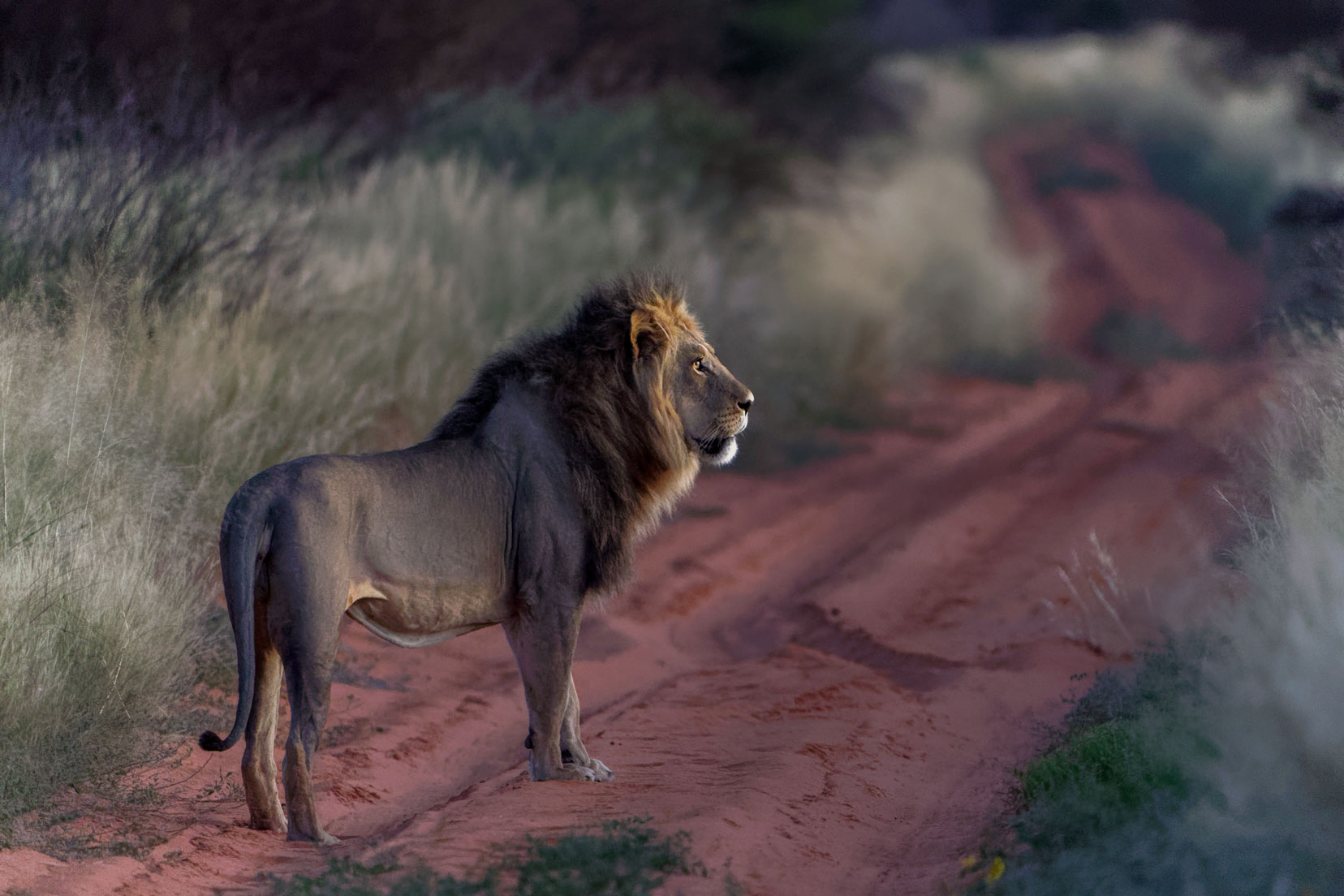 In-depth Tour Insights:
Embarking on a photo safari in Botswana is like stepping into a living canvas. Each tour listed here unveils a unique facet of Botswana's wild allure.
From the ripple of waters in the Okavango Delta to the arid beauty of the Kalahari, these tours are your gateway to capturing Botswana's diverse ecosystems.
Duration: 10 days
Cost: Starts at around USD $8,000
Tour Operator: By G Adventures with National Geographic Journey & Jane Goodall Collection
Unique Features:
Exclusive Nat Geo experiences: Painted Dog Conservation and Okavango Wilderness Project visits
Open-vehicle wildlife safari drives in Hwange and Chobe National Parks
Exploration of Victoria Falls, Chobe boat safari, and Okavango Delta excursions by boat and foot
Value to Photography Enthusiasts:
Rich photography potential across varied landscapes and wildlife habitats.
Unique Nat Geo experiences provide exclusive photography opportunities.
Our Take:
This tour brings a blend of wild adventures and exclusive Nat Geo insights, making your photographic journey through Botswana and Zimbabwe distinctively enriching. Being able to visit the Wild Dog Conservation Center and doing a deep dive into the Okavango Project are unique gems.
The Okavango and Chobe provide a rich diversity of wildlife and plenty of photographic opportunities. But the extras included in this tour take it to the next level.
🐘🐆🦛 10-Day Botswana and Zimbabwe | |🧍🏻‍♀️🧍🏻🧍🏼‍♂️ Small group tour | 📆 10 days | Find out more here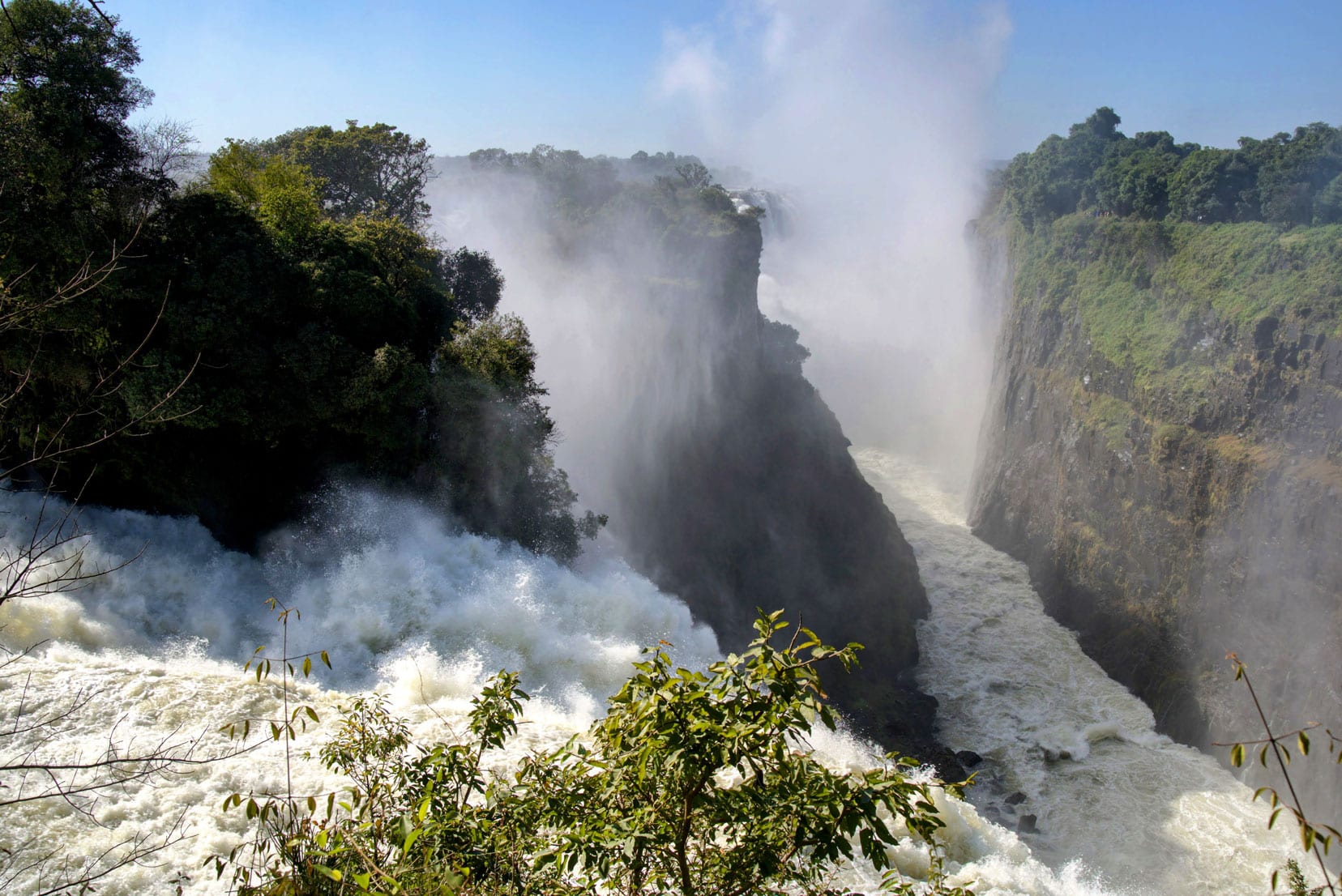 Duration: 13 days
Cost: Around USD $30,000 per person
Tour Operator: Go2Africa
Unique Features:
Diverse photography landscapes from the Kalahari Desert to Okavango Delta waterways.
Cultural interaction with the San people.
Stargazing and photography sessions in Makgadikgadi Pans.
Mokoro rides and helicopter sky safari in the Okavango Delta.
Value to Photography Enthusiasts:
Venture beyond wildlife photography to capture diverse landscapes and night skies.
Private tour ensures personalized attention and flexibility, enhancing photography opportunities.
Although priced higher, the unique experiences and photography vistas provide a comprehensive visual narrative of Botswana's diverse landscapes.
Our Take:

This tour uncovers Botswana's multifaceted beauty, extending beyond wildlife to include night photography and cultural photography. The private nature of this tour allows for unhurried photography sessions, ensuring you maximise your chances of the perfect shot.
As a private tour, this option probably gives one of the best photo safari opportunities, but it also comes with a hefty price.
🐘 🌌 🚁 Guided Bush, Photography & Stargazing | Varied Landscapes |🙋🏻 Private Tour | 📆 13 days | Find out more here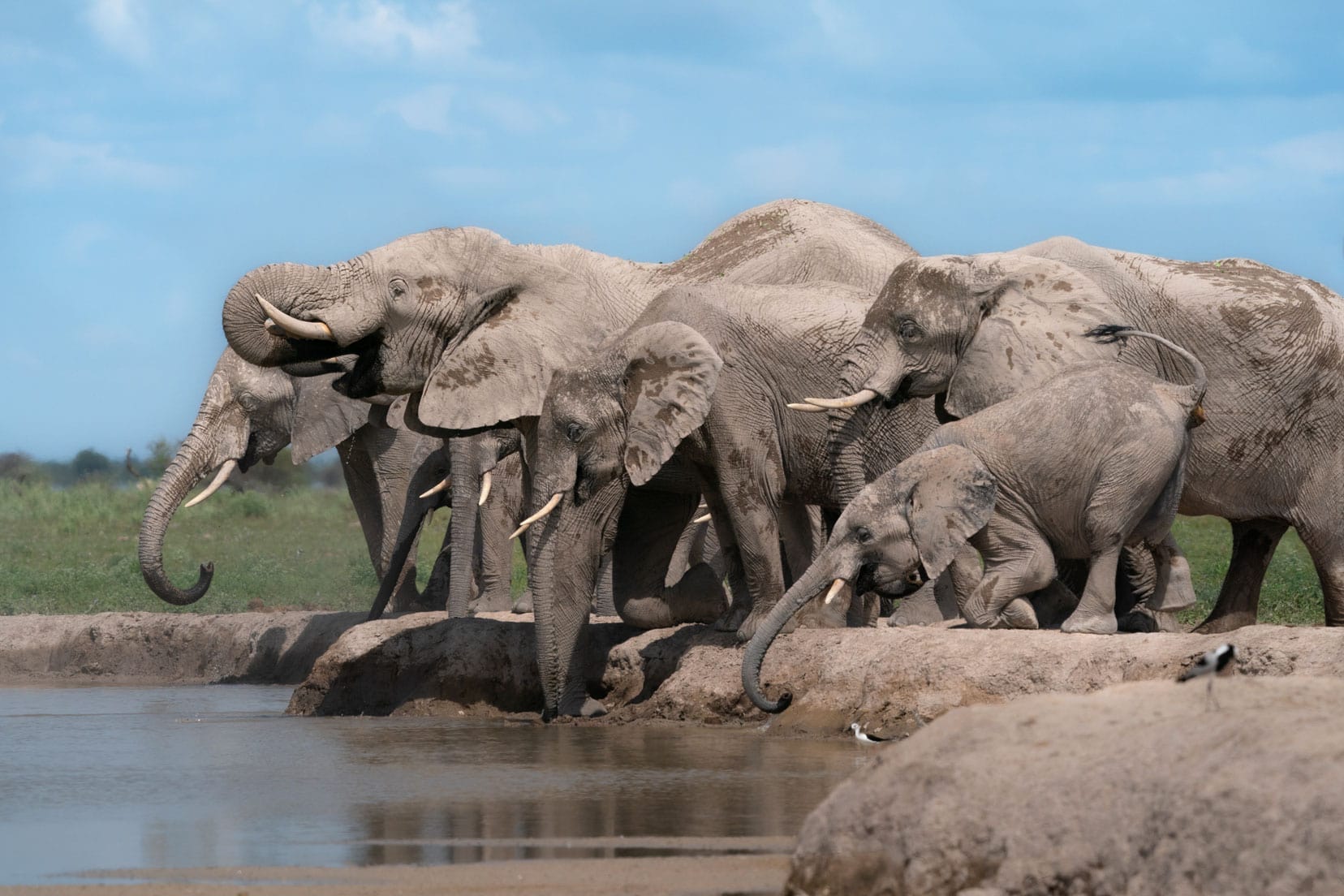 Duration: 9 days
Cost: From around USD $8,000
Tour Operator: Global Base Camps (Through Travelstride for extra support)
Unique Features:
Exploration of Victoria Falls, Chobe National Park, and Okavango Delta.
Variety of photography landscapes from waterfalls to wildlife.
Game drives, bird watching, and river cruises.
Photography Value:
Abundant photo opportunities of diverse wildlife and stunning landscapes.
Our Take:

This tour covers the major attractions in Botswana, appealing to many, with excellent photo opportunities from the incredible Victoria Falls to the rich wildlife in Chobe National Park and Okavango Delta.
🐘🐆🦛 Botswana Focus Tour | |🙋🏻 Private Tour | 📆 9 days | Find out more here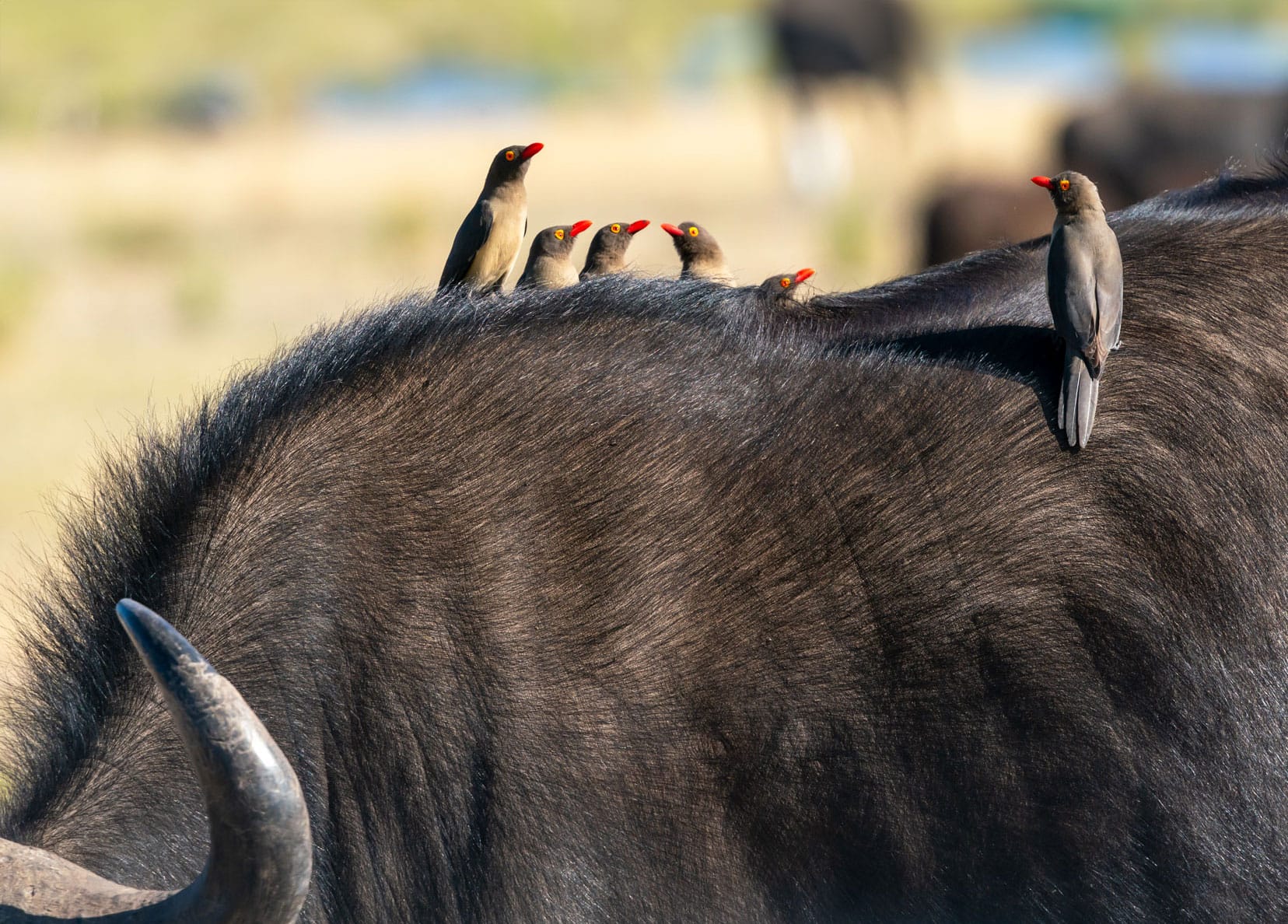 💡This tour and the one listed below are listed on Travelstride, and becoming a member, which is free, allows you to save trips you like to your wish list. You'll also receive personalized recommendations, and best of all, you can save up to $700 on Select Trips.
Travelstride makes it easy to browse other Botswana tours – that you might be interested in. Click this link for a selection of 10-day Tours in Botswana.
Duration: 9 days
Cost: Around USD $5,000 per person
Tour Operator: Ker and Downey (Through Travelstride for extra support)
Unique Features:
Journey through Moremi Reserve (Khwai area), Savuti, and Victoria Falls.
Tailor-made luxury safaris focusing on sustainability and adventure.
Photography Value:
Varied wildlife and landscape photography opportunities in pristine natural settings.
Our Take:

The private nature of this tour allows for flexible time at each wildlife spot, enhancing your photography safari experience. We had spectacular sightings in Moremi Game Reserve, and our adventure in the Khwai area was particularly exciting, with memorable encounters with African Wild Dogs and numerous elephant sightings.
Despite us missing out on big cat sightings in Savuti, Chobe National Park, the area is well known for big cat encounters. We met many other travellers recounting their tales of lion encounters on their game drives.
🐘🐆🦛 Ultimate Botswana and Vic Falls Tour | |🙋🏻 Private Tour | 📆 9 days | Find out more here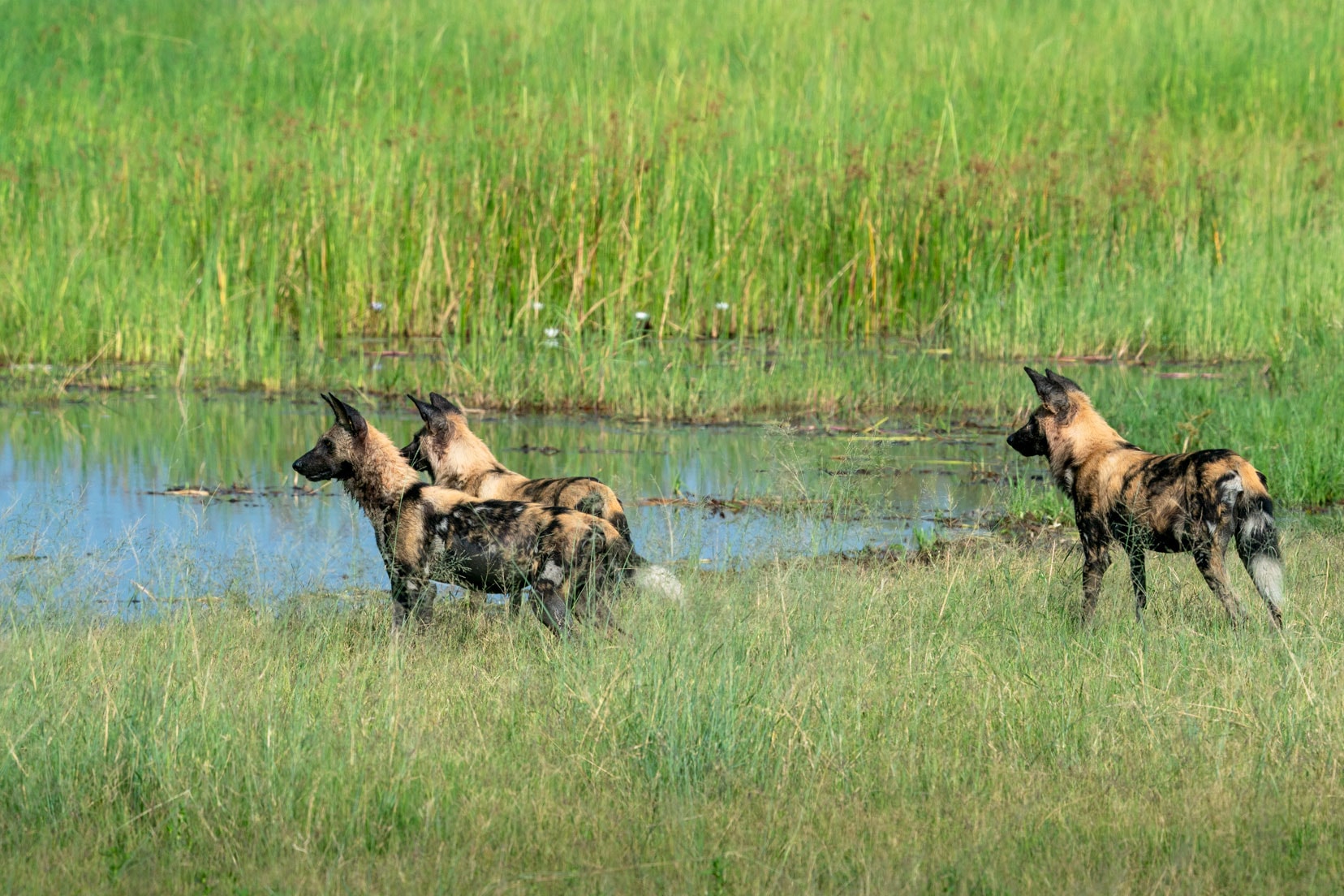 5. Best of Botswana Pangolin Photo Safaris
Duration: 11 days
Cost: Ranges from about USD $9,000 to $14,000 depending on season
Tour Operator: Pangolin Photo Safaris & Ker and Downey
Unique Features:
Group Editing at Pangolin Chobe Hotel
Exploration of Khwai Private Concession and Central Kalahari
Photography Value:
Ideal for those with their own photography equipment and basic photography knowledge, with editing workshops at the beginning of the tour.
Our Take:

This non-hosted safari suits those who are fairly self-sufficient with their photography, offering a chance to refine editing skills initially.
For a more tutored experience, Pangolin Safaris offers hosted safaris. These include specific photo tuition provided by a photographer who accompanies you throughout the entire trip, along with camera usage, editing, and photo workshops.
For their hosted Chobe, Delta and Kalahari Photo Safari – prices range from about $10,000 to $13,000, depending on the season.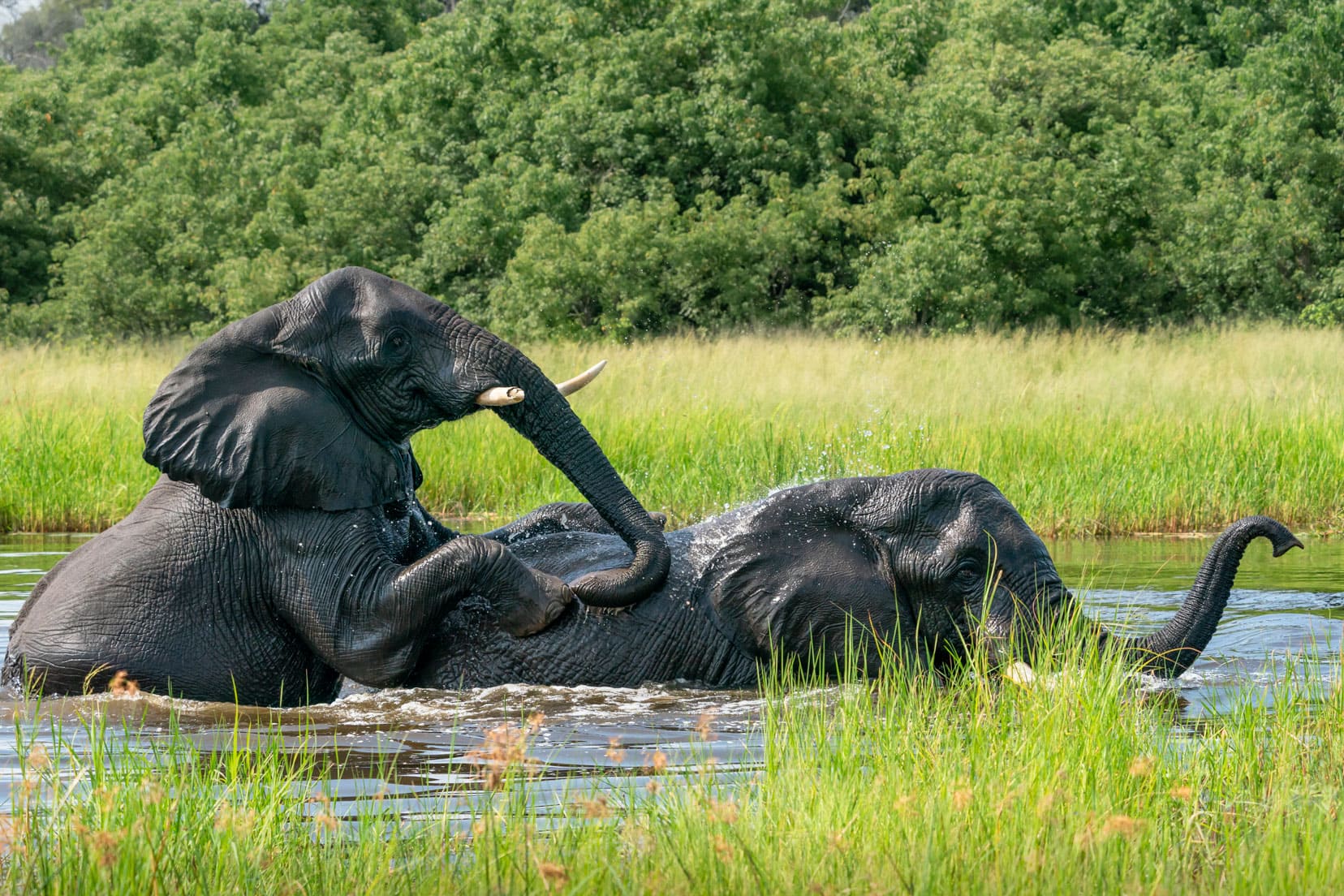 Duration: 3 hours
Cost: From USD $40
Tour Operator: Afrinature Safaris (Through Get Your Guide)
Unique Features:
Sunset cruise in Chobe National Park
Wildlife viewing opportunities: elephants, buffaloes, hippos, and more
Hotel pickup and drop-off for convenience
Photography Value:
Captivating wildlife and sunset scenes for photography
Our Take:

This cruise offers intimate wildlife encounters and a serene sunset experience on the Chobe River. A wonderful chance for both photography enthusiasts and nature lovers to capture and enjoy Botswana's picturesque scenery.
A sunset cruise on the Chobe River came highly recommended by fellow travellers, and it was a great tip. Our sunset cruise became a cherished memory from our Botswana journey. Being on the water, up close with swimming elephants and hippos, opened up a realm of photogenic moments.
As the African sun cast a golden glow over the serene landscape, the emotional impact was profound. We were nearing the end of our trip, and it was a poignant and visually stunning farewell to our adventure.
So, whatever you choose to do in Botswana, do jump on a sunset guided tour in the Chobe River. It'll be a Botswana photo safari you won't forget.
🐘🦛 3 Hour River Cruise in Chobe |⏳ 3 hours | Book Here (reserve now and pay later)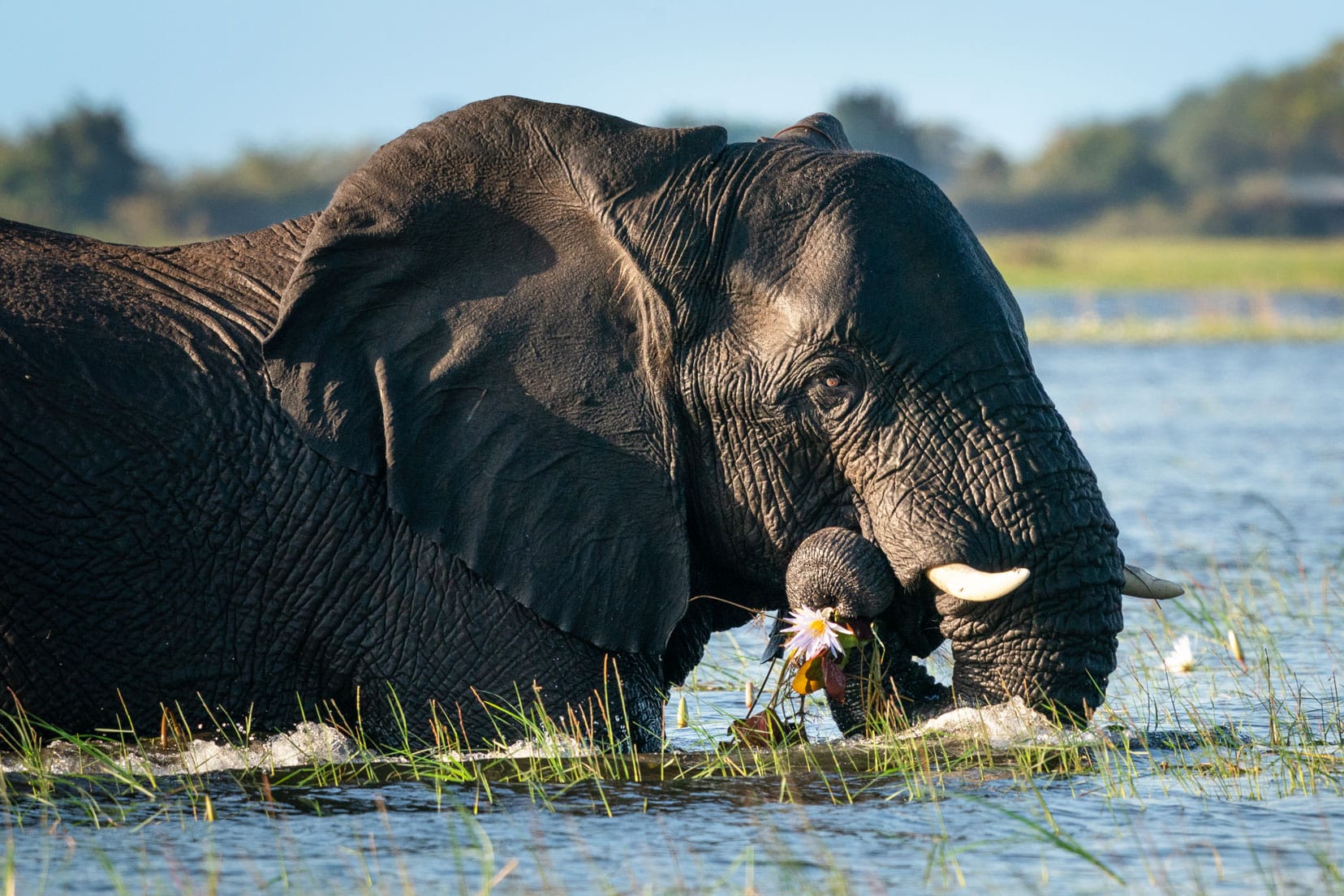 Botswana Photo Safari Packages and Costs
Botswana offers a variety of safari photographic opportunities, thanks to its unique landscapes and abundant wildlife.
All of these tours listed above are around 9-13 days. Wildlife sightings are never guaranteed, and the longer you can explore the wilds, the better your photography safari will be. So, we wouldn't recommend spending any less time in Botswana.
The safari tour costs vary, and for a 9 -13 day period, prices range from around USD $5,000 to $30,000. These costs reflect a variety of factors:
Season (peak season is May-Oct)
Accommodation standards
Private or shared group tours
Inclusions, e.g. meals, transfers, entrance fees
Therefore, always check what you are getting for your money. To save money, consider a tour in the shoulder seasons or in the green season (summer) for the lowest prices.
Guided tours will likely result in more wildlife sightings than self-driving expeditions. But if you have more time to explore the country and you are open to camping, it may work out cheaper to hire a camper and explore the National Parks, as we did.
You can also plan a combination of self-drive and guided tours to maximise photo opportunities and keep costs down. If you stay in Maun, the gateway to the Okavango, there are several tours available— check out the best day tours from Maun here.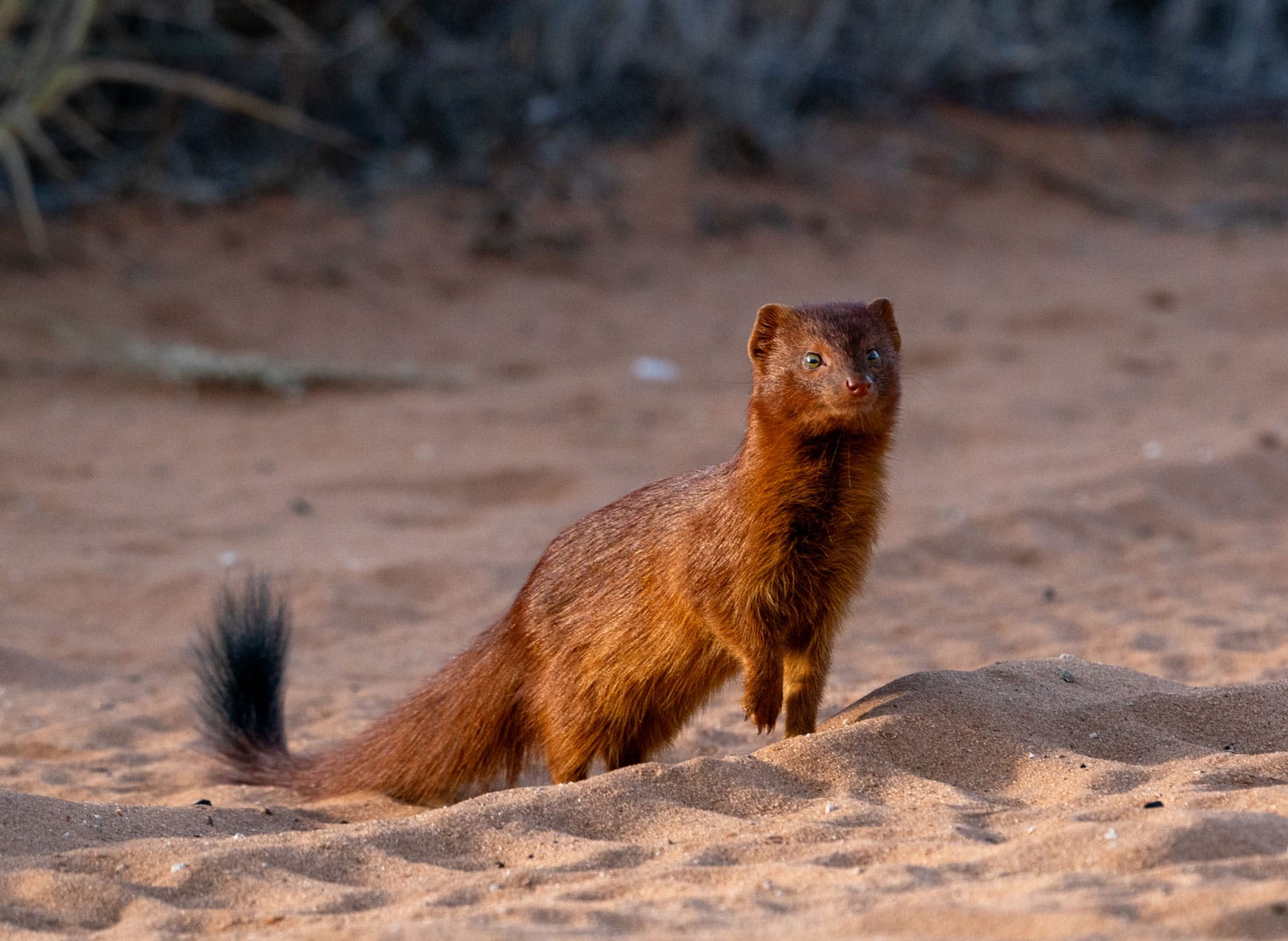 Why Venture to Botswana for a Photo Safari?
1. The Wild Beauty of Botswana
Botswana is a country of diverse landscapes, where sprawling savannas, shimmering salt pans, and lush wetlands create a captivating canvas for nature's greatest masterpieces.
With its unfenced National Parks, you also enjoy the surprise element of wildlife on the open roads. We encountered elephants, giraffes and zebra on main roads whilst driving through Botswana.
Each corner of Botswana presents unique photography opportunities.
Whether it's the famous Okavango Delta waterways, a UNESCO World Heritage Site, the remote wilderness of the Central Kalahari Game Reserve, the shimmering salt pans at Makgadigadi or the Chobe River in Northern Botswana, teeming with wildlife and photographic opportunities.
This wildlife haven provides endless opportunities for wildlife photographers to frame stunning shots of Africa's iconic wildlife, such as elephants, African Wild Dogs, hippos, hyenas, cheetahs, leopards and lions.
And let's not forget the more common, but no less photogenic, giraffes, zebras, and the seemingly endless array of antelope species.
There is nothing quite like an African Safari to provide a plethora of perfect photo opportunities. And as a safari destination goes, Botswana offers some of the best photographic wildlife viewings.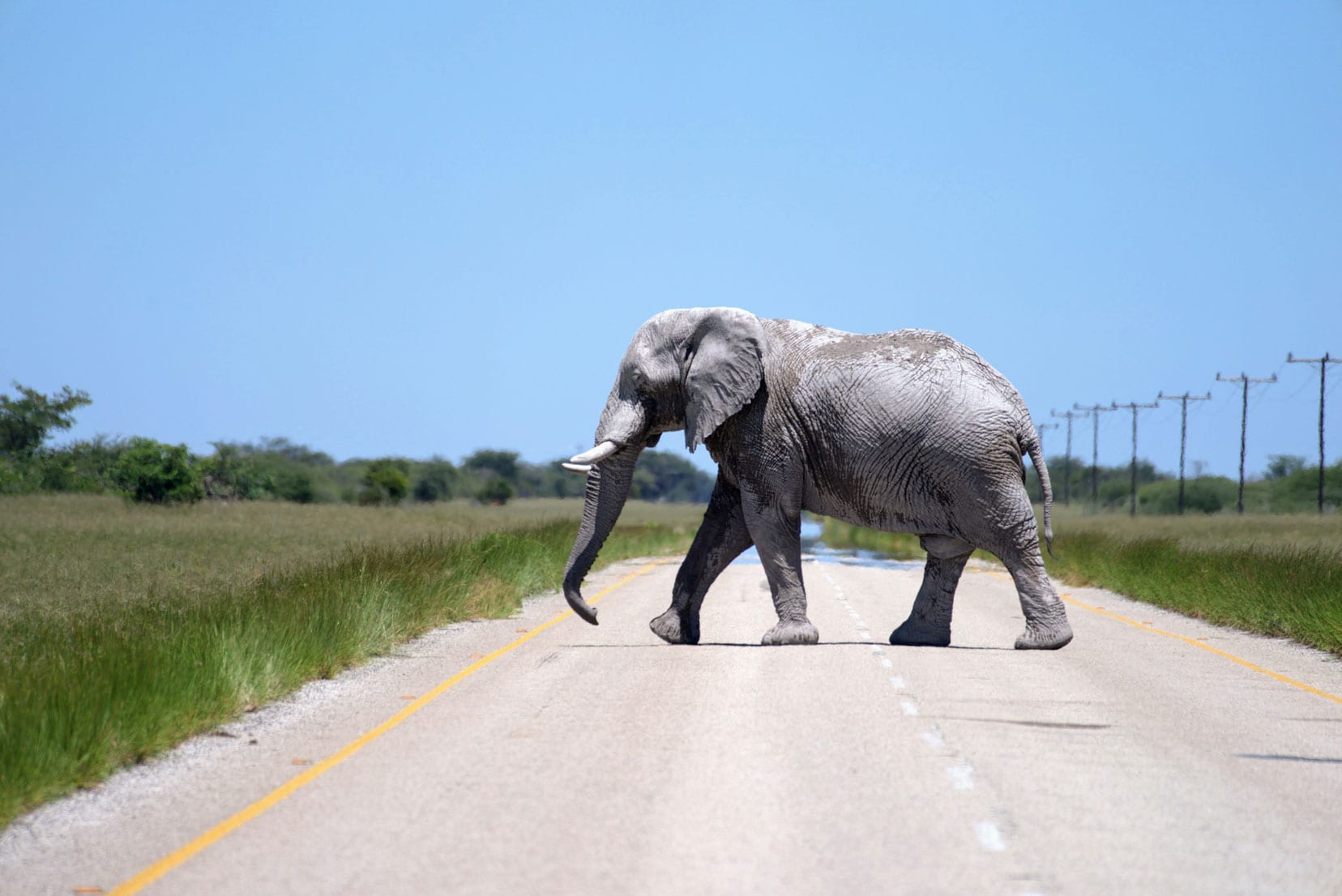 Why Choose an Organised Botswana Safari Tour?
1. Professional Guides
On an organised wildlife photo safari tour, you'll have expert guides by your side, ready to share their wealth of knowledge about wildlife and the landscape.
These safari guides have an uncanny ability to track wildlife, ensuring that you have the best chance to capture those incredible moments on camera.
When we have been on guided safaris, it has always completely amazed me that the guides can track down elusive cats by following their prints ( on Safari with Ndhovu Lodge in Namibia) or spot the tiniest creatures, such as a chameleon in a tree at night, (that was our guide, Craig, when we stayed at Ivory Wilderness Safari Lodge in Klaserie, South Africa).
Whether you're a seasoned photographer or just starting out, your guides will gladly offer tips and tricks to help you refine your skills and make the most of your photographic journey.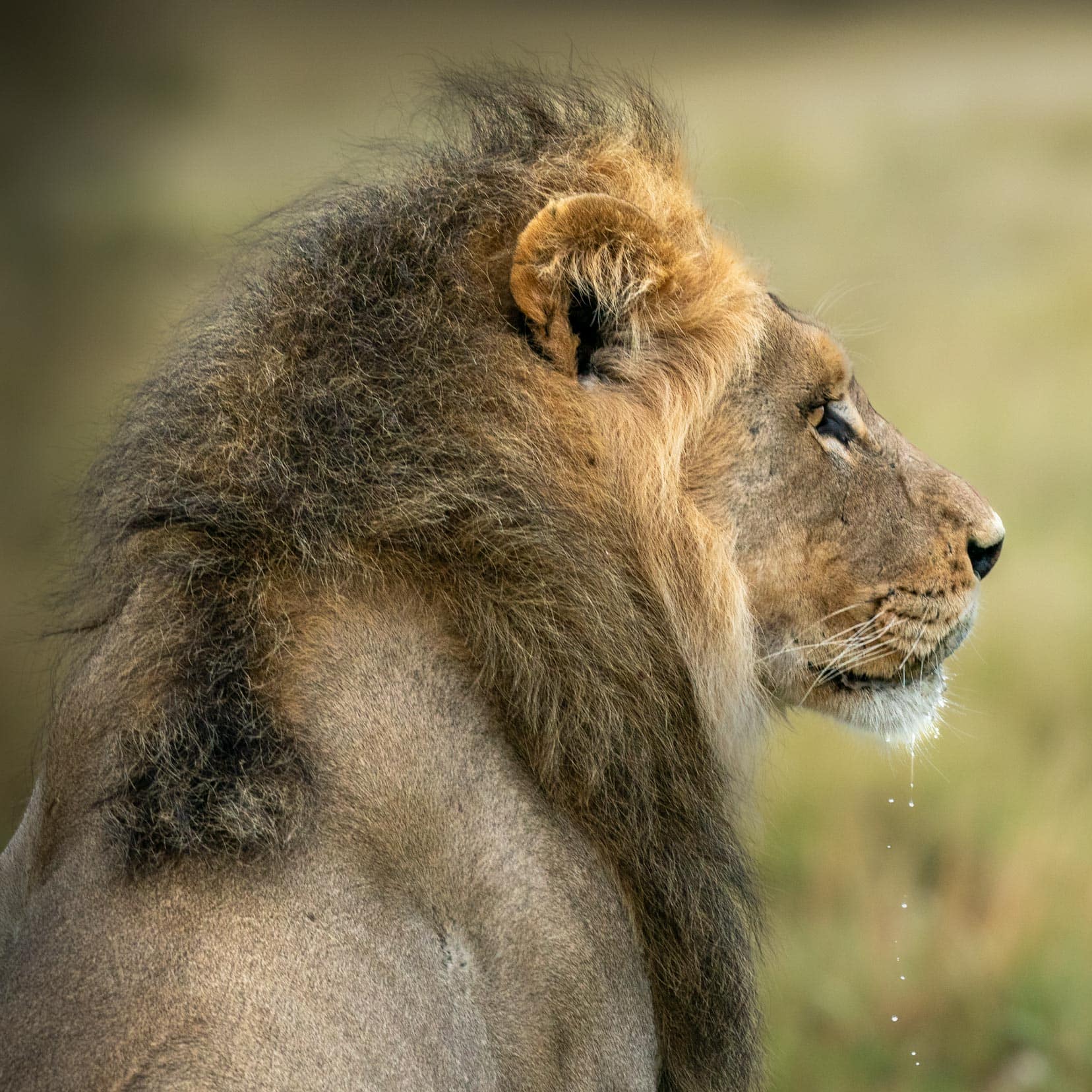 2. Exclusive Wildlife Encounters
The carefully planned itineraries of photography safari tours often take you to exclusive and remote locations, providing you with intimate wildlife encounters.
Although we had plenty of those as we camped our way through Botswana, we were in the country for a much longer time than most visitors. Therefore, if you have limited time, booking guided tours will ensure that you maximise any potential sightings.
Tour guides are not only excellent trackers, but they often share information with each other, so if one vehicle spots that elusive leopard, then they can radio each other and give location details.
Picture yourself surrounded by a pride of lions on a private game drive or capturing the heartwarming moments of a newborn elephant learning to walk. These extraordinary experiences are the heart and soul of a photography safari, and in Botswana, they come alive in abundance.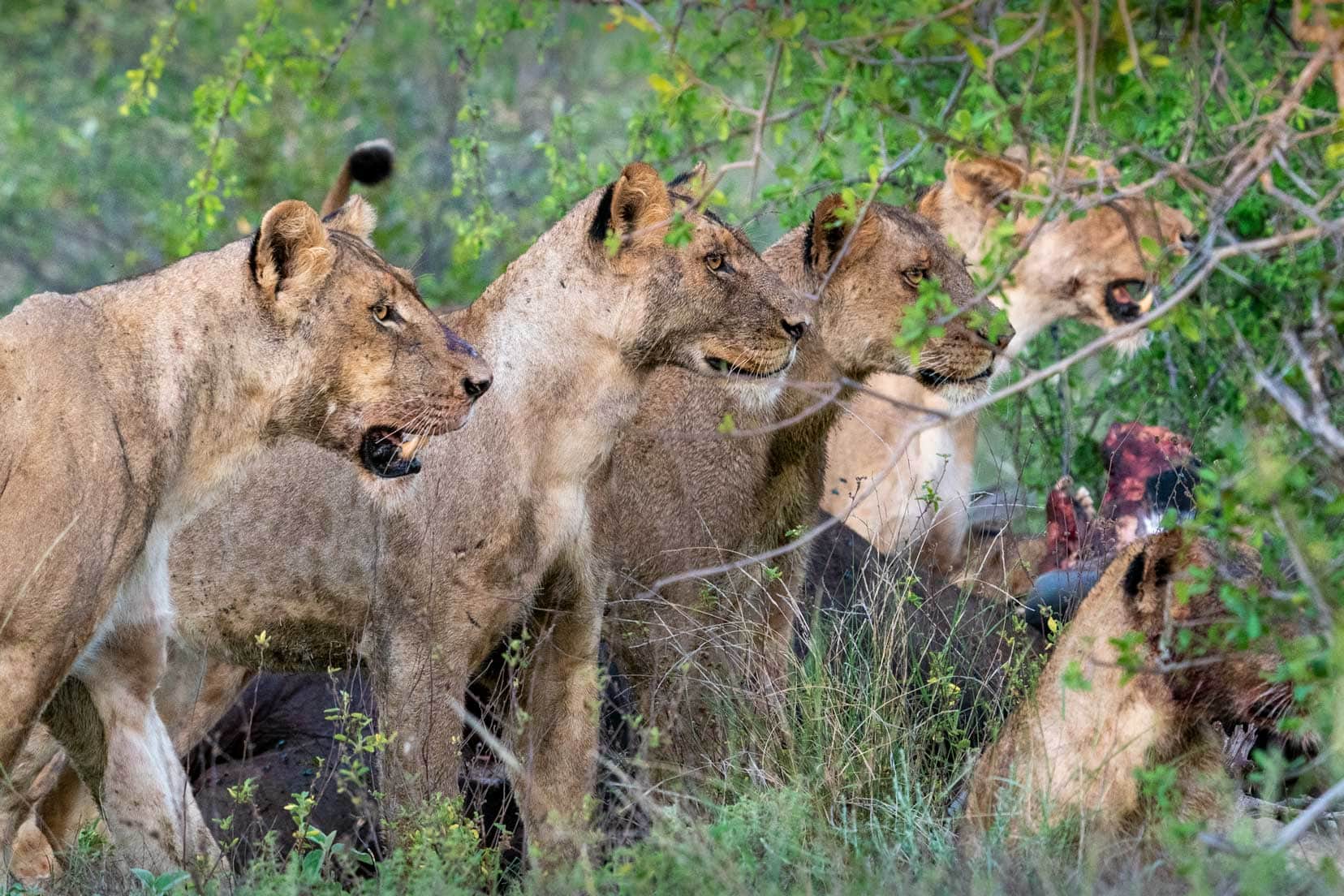 3. Sustainable Tourism & Conservation
Botswana has a strong commitment to sustainable tourism and wildlife conservation. By participating in a photography safari here, you actively contribute to preserving the country's pristine ecosystems and supporting local communities.
This way, you become not just a witness to the wonders of nature but also a guardian of its future.
What Camera Equipment Will You Need For a Botswana Photography Safari?
Have at least two camera bodies with different lenses fitted (We use Sony A9s)
A 100-400 lens is a versatile and efficient option
A wide angle 24-100 mm is good for up-close encounters (we have Sony Lenses)
Spare Batteries and lots of memory cards
When travelling on our photo safaris, we have four camera bodies between us. This means we don't have to change out our lenses when on a game drive or in the field. Surprisingly, African wildlife isn't very accommodating in hanging around while you pick your optimum lens.
If you only have space for one camera – go for the 100-400, as it will give the best flexibility. Most of us have mobile phones that can take pretty good images of close encounters if too close for the 100mm to capture.
Lars often shoots with a 200-600mm lens, which gives that extra bit of reach.
If you are really gung ho, you might like to bring along a macro lens. We have one in our camera bag but rarely use it on our photo safaris.
If you are on an organised tour and have light aircraft transport as part of the trip, check with the company about aircraft weight limits. Typical allowances are one backpack with a 15kg limit and a day bag.
💡❌ Note that the use of drones in national parks in Botswana and Southern Africa is prohibited.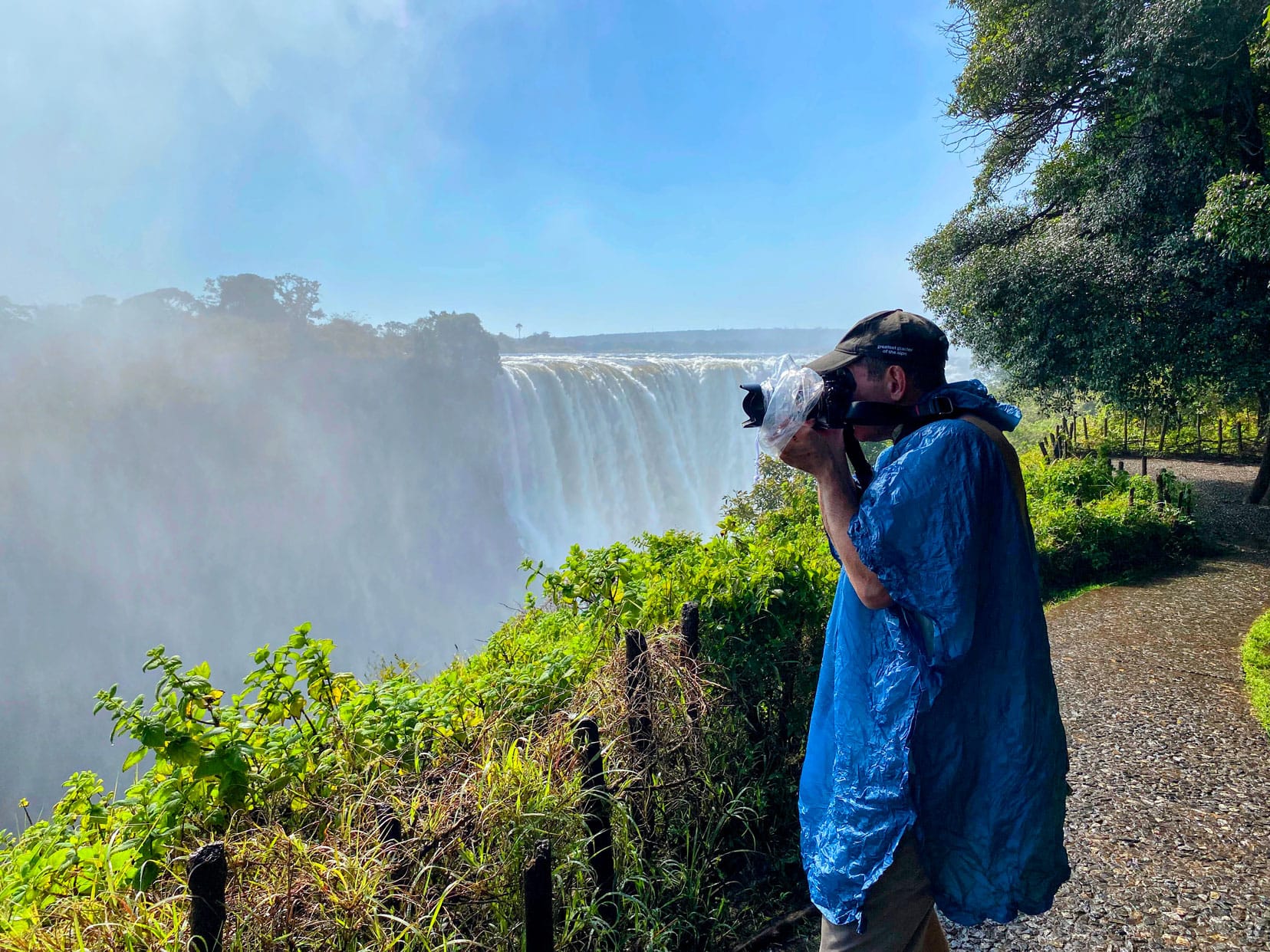 What Will You Need to Take on a Photo Safari?
Other than your camera equipment, discussed above, you will need to pack the basic safari equipment and clothes depending on the season.
Safari Basics:
Binoculars (one of the most important items for a safari)
Sunscreen
Mosquito Spray
Filtered water bottle
Personal medications
Sunglasses
Sun hat
The winter months of June, July and August will likely be warm (around 25 degrees) during the day but can drop to below freezing at night. Game drives start very early – sometimes around 5 a.m. and in the open drive vehicle, you will really feel the cold. A woolly beanie and extra layers will be invaluable.
Even in summer, you will sometimes need a warm jacket as the early mornings can be chilly.
The wet season, in summer, is between November and March, though it doesn't rain all the time – often just thunderstorms with quick downpours. So you'll also want a raincoat or poncho for those times.
Our article on the best safari equipment for Africa will give you more in-depth information.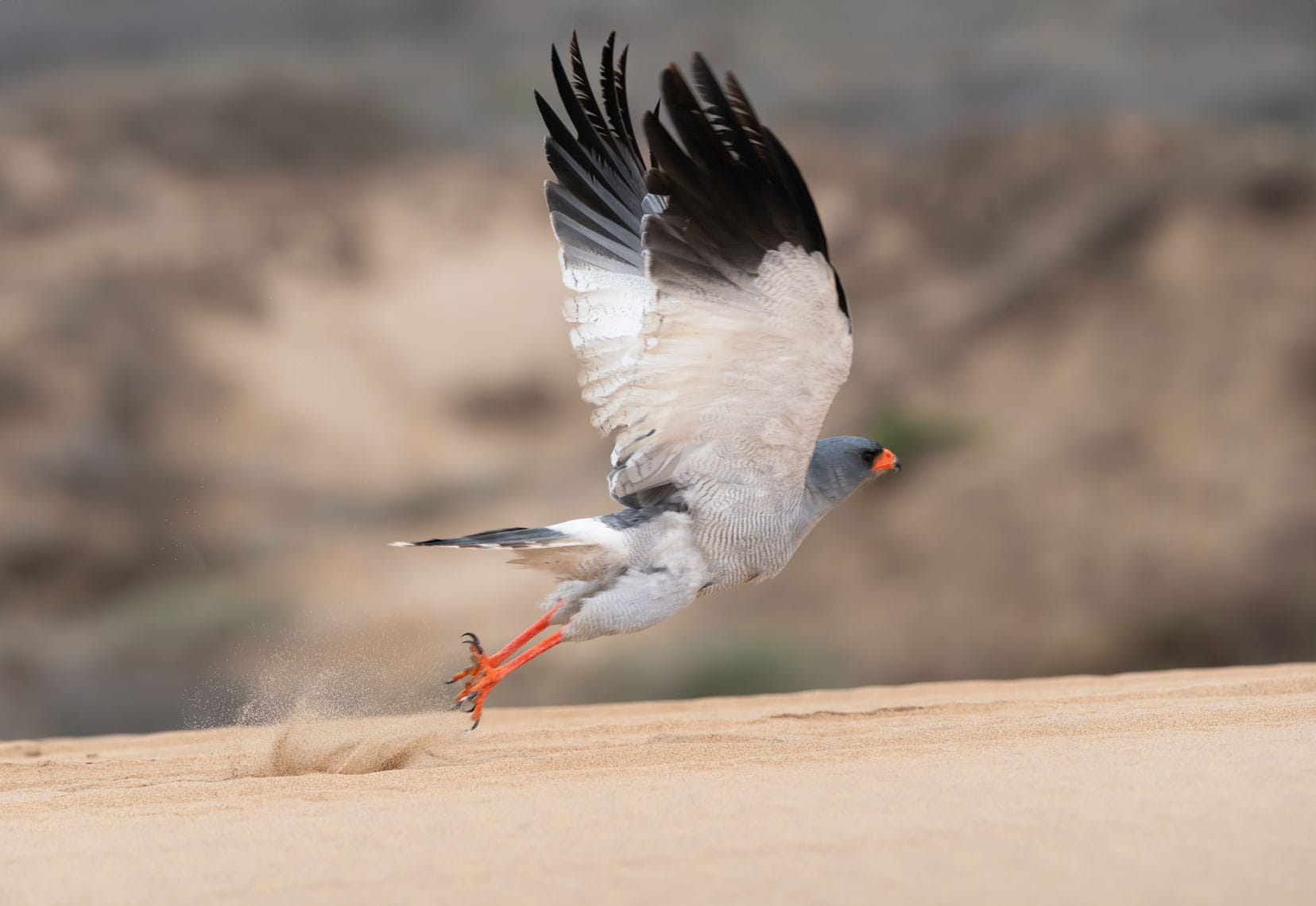 Botswana Wildlife Photography
The three most important factors you will be considering while taking photos in Botswana, other than how quickly you can aim your camera, are:
Lighting
Angles
Composition
Time
Botswana's diverse landscapes and abundant wildlife offer a rich canvas for photographers. Whether you're amongst the bush in Chobe National Park or the open plains of the Central Kalahari, knowing the basics of wildlife photography can significantly enhance the quality of your photos.
Here, we share insights gleaned from our own experiences in Botswana, focusing on four critical elements: Lighting, Angles, Composition, and Time.
Our Photography Tips: Lighting:
One of the most incredible aspects of Botswana photo safaris is the fantastic light conditions. The golden hues of sunrise and sunset cast a magical glow over the landscape, creating a breathtaking backdrop for your wildlife shots.
The soft, diffused light during these times allows for stunning images, and the clear, starry nights offer an ideal opportunity for astrophotography.
We were looking forward to shots with the night stars at the famous Baines Baobabs when we were camping at Nxai Pan, but unfortunately, the summer rains meant we couldn't cross the salt pans to get to the camp there.
And if you have never seen an African sunset, you are in for a very special surprise. With such natural beauty on an African photo safari, you won't be able to put your camera down.
Summary:
Golden Hours: Like in many places, the golden hours—shortly after sunrise and before sunset—are the best times for wildlife photography in Botswana. The soft, warm light during these hours casts a beautiful glow on the landscape and the wildlife.
Harsh Light: Avoid shooting in harsh midday light as it can cause overexposure and strong shadows. However, if that's when the wildlife is active, try to position yourself where the light falls on your subject.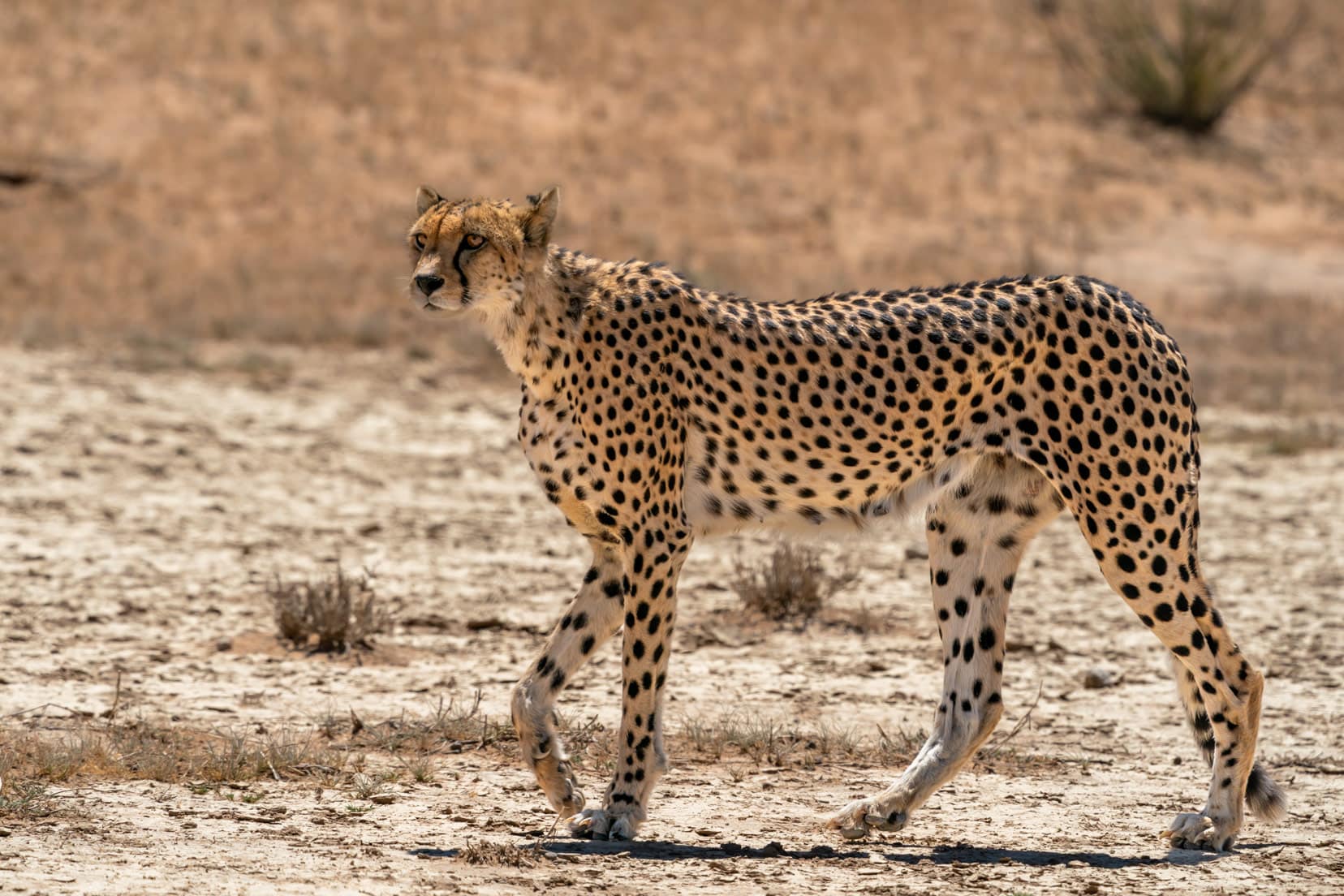 Our Photography Tips: Angles
Changing your angle can dramatically alter the mood and narrative of your photo.
Summary
Eye Level: Whenever possible, shoot at eye level with your subject. This creates a more intimate and engaging image.
High and Low Angles: Experiment with high and low angles to capture unique perspectives, especially when photographing herds or landscape vistas.
Our Photography Tips: Composition
Practice patience and wait for wildlife to enter the perfect spot in your frame for a compelling composition.
Rule of Thirds: Employ the rule of thirds to create balanced, appealing and atmospheric compositions. Position your subject along the lines or at the intersections of this grid.
Leading Lines: Use natural leading lines like riverbanks or trails to draw the viewer's eye into the image.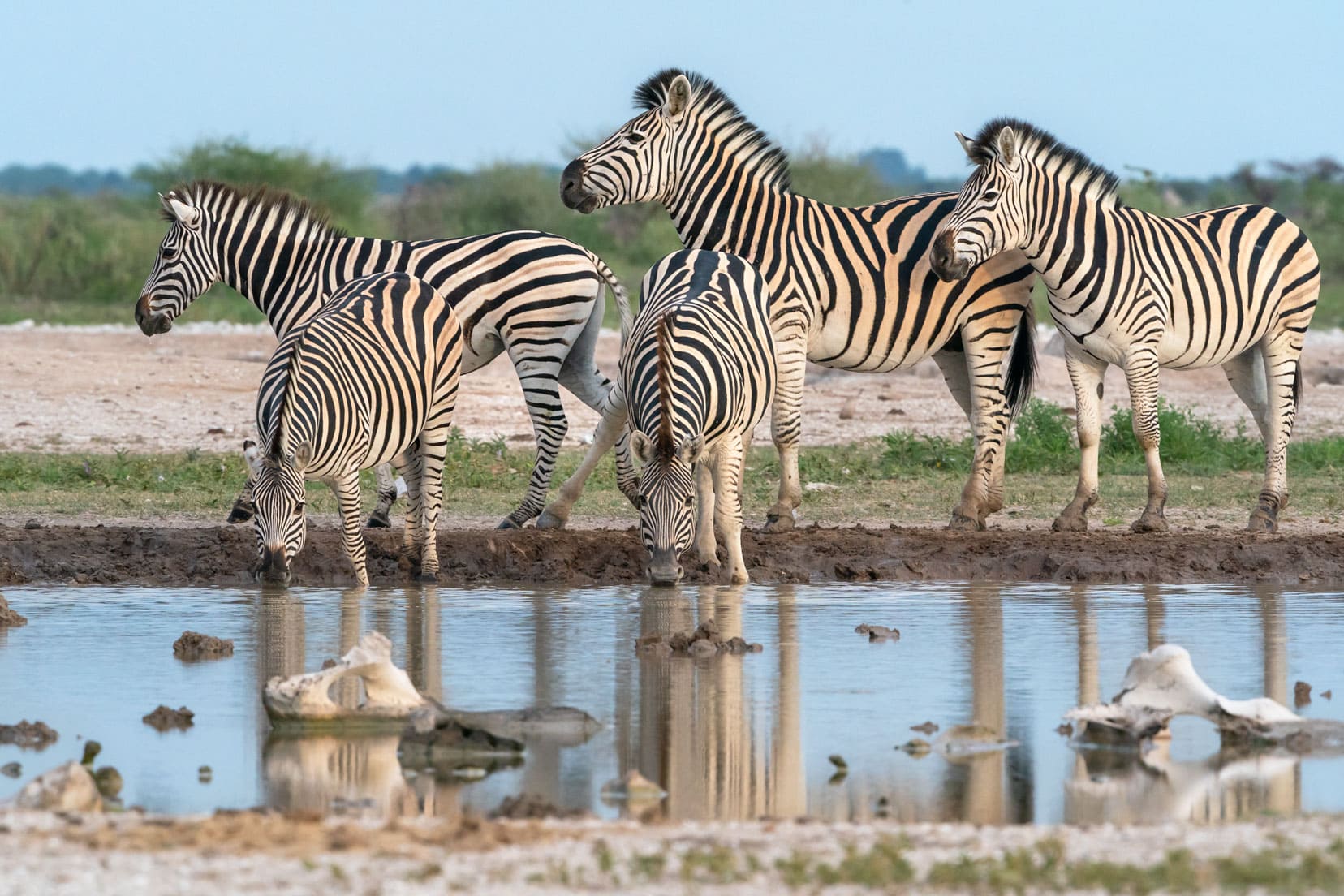 Our Photography Tips: Time
Planning your photography around the time of day can significantly impact the quality and variety of your shots.
Animal Activity: Animals are most active during the cooler hours of early morning and late afternoon. Plan your photography sessions around these times for the best action shots.
Long Exposure: Experiment with long exposure during the twilight hours to capture stunning star trails or the movement of water.
By honing your skills in these four areas, you'll be better prepared to capture the magical moments that Botswana's wildlife and landscapes provide.
Our time spent in Botswana, experimenting with different lighting conditions, angles, and compositions, was invaluable in creating memorable photographs that we treasure to this day. So grab your camera, head out into the wild, and let Botswana's nature be your muse.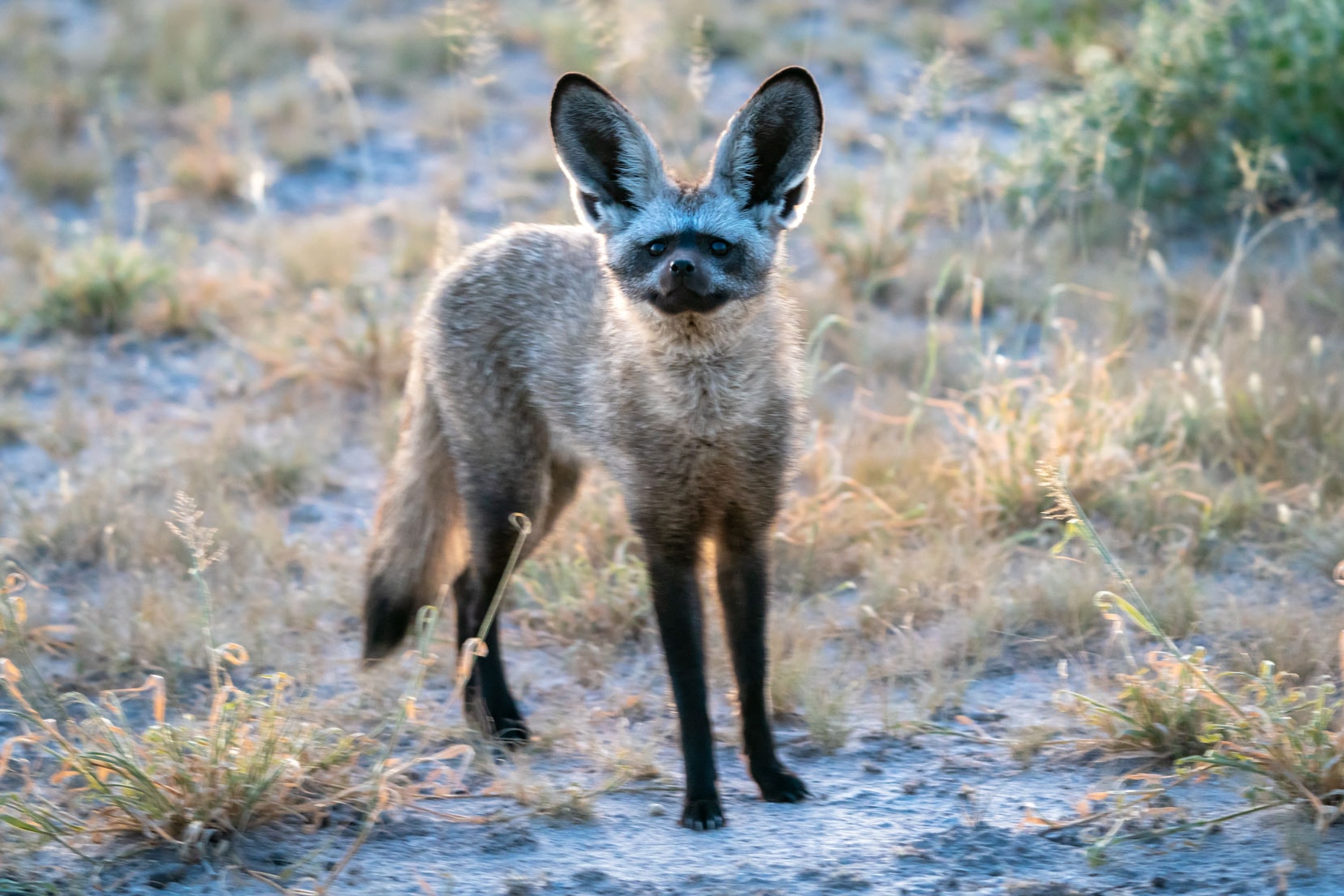 What's the Best Time for a Botswana Photo Safari?
The best time for a photography safari in Botswana would be during the dry season, particularly from May to October, when wildlife congregates around water sources, making them easier to find and photograph. The clear skies and lower humidity also provide excellent lighting conditions for photography.
However, the wet season, also known as the green season, can also offer great photography opportunities. The dramatic skies during the wet season can provide unique lighting opportunities, and the lush vegetation gives a vibrancy to your photos.
Summer is also a great time for bird lovers due to the arrival of many migratory birds in Botswana.
We travelled through Botswana in February, March and again in May and loved each and every moment – even the thunderstorms. So, I wouldn't fret if the only time you can visit is in summer. The tour prices will be cheaper in that period too.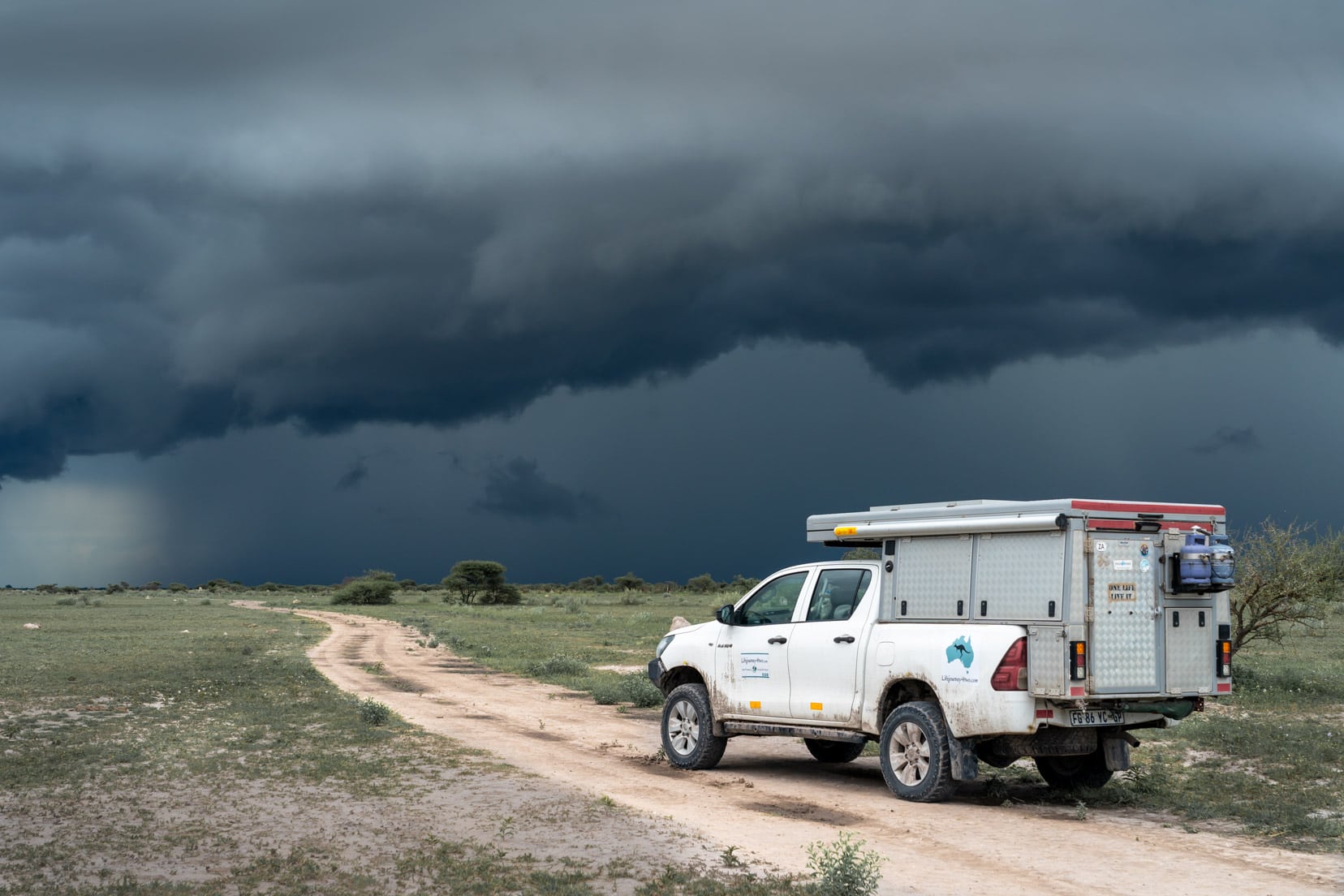 To better plan your photography safari, it's essential to know the climate and weather conditions, as they significantly impact wildlife behaviour, vegetation, and, of course, your photography.
Here's a breakdown of the climate in Botswana throughout the year and insights on how it might affect your photo safari experience.
Dry Season (May to October) – Winter
During the dry season, there's little to no rain, and humidity ranges between 20% to 40%.
Wildlife tends to concentrate around waterholes and rivers as other water sources dry up.
This time is generally considered the best for wildlife viewing and photography due to the scarcity of water, which makes wildlife more predictable in their movements.
Fewer mosquitoes and less mud to contend with.
Wet Season (November to April) – Summer
Lush landscapes and dramatic skies offer diverse photographic opportunities.
The birdlife is prolific, with migratory birds arriving, adding to the wildlife diversity.
Newborn animals can be seen and photographed, particularly from December to February.
High temperatures and humidity can be challenging.
The rains decrease in March and April, with lovely clear weather and few clouds, making this period also a good time for photography.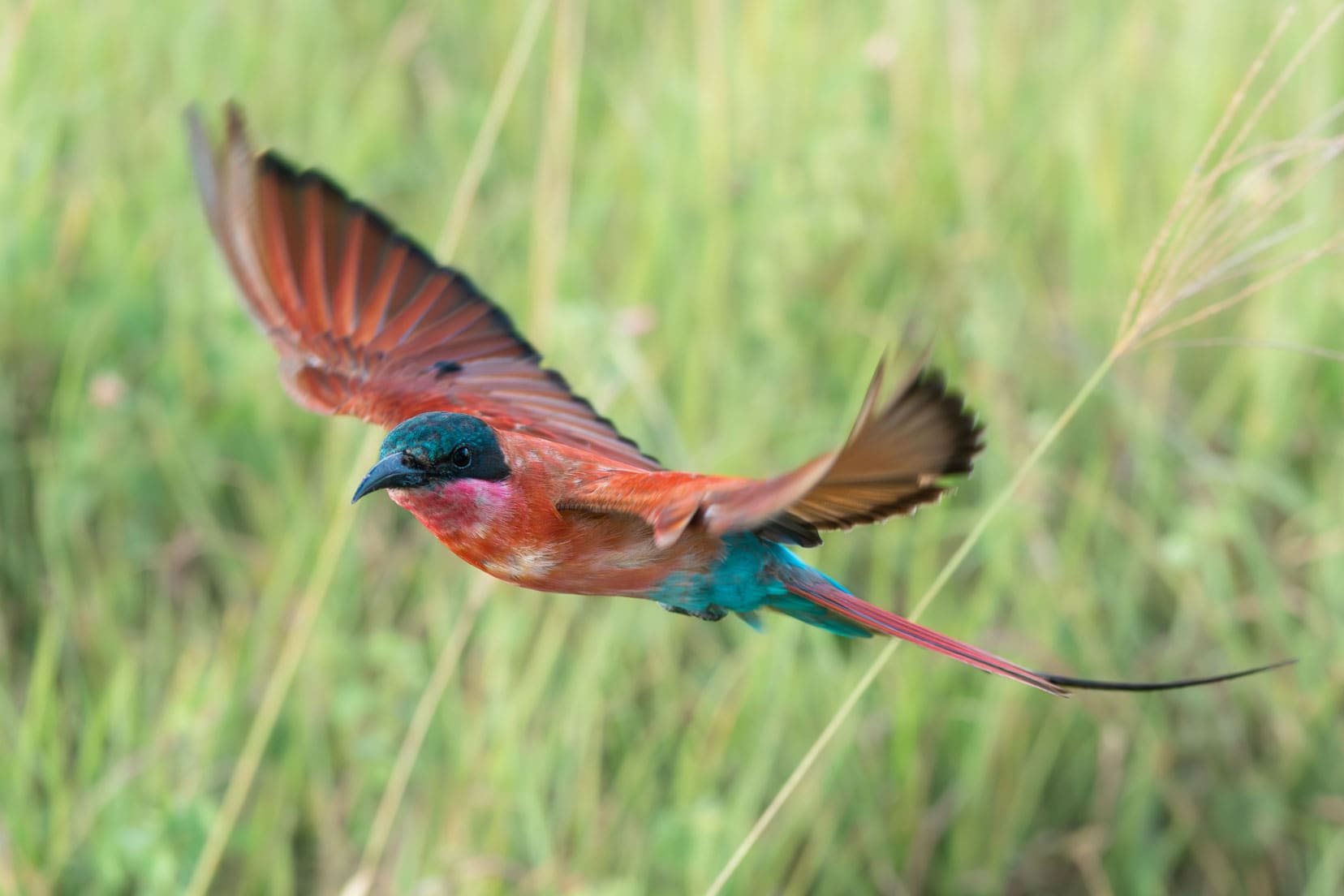 Botswana Monthly Climate Tables
Average High and Low Temperatures in Botswana
Average Monthly Botswana Rainfall
Botswana Photography Safari … That's a Wrap
Embarking on a Botswana photography safari is an invitation to immerse yourself in a visual adventure that will ignite your passion for photography and deepen your appreciation for the beauty and diversity of our planet's incredible wildlife.
The choice between a guided photography tour or forging your own path leads to a treasure trove of photographic moments awaiting capture.
To explore more of Botswana, head over to our Botswana Page for extra inspiration and guides.
Pin and Save for Later
PLANNING YOUR TRAVELS?
These are the travel resources we recommend and use when planning our trips.
For a more thorough list, visit our Travel Resources page here.