PELOPONNESE ROAD TRIP
Embarking on a Peloponnese road trip in the autumn or winter is the perfect time to enjoy this southern jewel of Greece. Honestly, we could have just kept driving around and around the Peloponnese if our time frame had allowed.
This Peloponnese road trip article highlights all of the places we recommend visiting, many of which are off the beaten path, and all include an option of where you can park a campervan each night.
Even if you are driving a car on your Greece road trip, this post will be valuable. You can use the same Peloponnese itinerary, but book accommodation at each stop instead.
PELOPONNESE ROAD TRIP MAP
How to Use This Peloponnese Map
To use this map, expand it using the square symbol on the top right-hand side and you will find the key on the left-hand side. By clicking each location you will find extra information.
For example, all Campervan overnight stops on the map are highlighted in orange and gives you the exact coordinates.
The Motorhome overnight stops are marked with an orange circle with a motorhome icon and the places we visited are marked with purple icons.
READ MORE: Reasons to Visit Greece
PLANNING YOUR PELOPONNESE ROAD TRIP
We motorhomed through the Peloponnese, which meant we could make use of the ample opportunities for free parking and wild camping, including those on beautiful isolated beaches.
Travelling through the Peloponnese in November and early December (late Autumn/winter) enabled us to avoid the crowds, but we still had many days of sunshine.
MOTORHOME RENTAL IN PELOPONNESE, GREECE
We highly recommend the Motorhome Republic — they can search for the best deals for you with various pick-up points around the world. When we used them they were incredibly helpful and we saved more money going directly to them rather than to individual rental companies.
CAR RENTAL IN PELOPONNESE
However, you could also choose to hire a car and tour the Peloponnese staying in the many villas and taverns that offer accommodation.
Find the Best Accommodation Deals in the Peloponnese here:
We always use Discovercars.com to find us the best deals – click below for a quote today.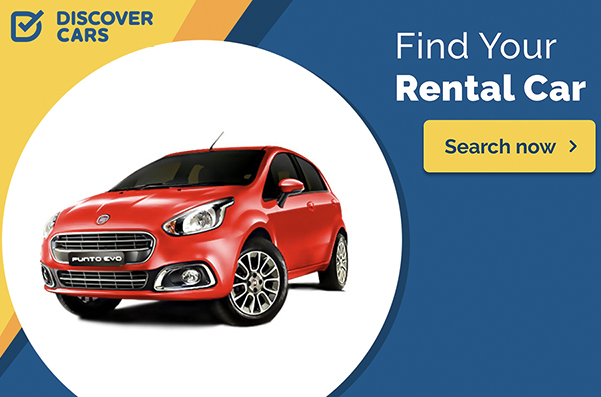 CAMPERVAN MOTORHOME OVERNIGHT STOPS
We have included all of our motorhome overnight stops in our map above (each stop has the coordinates and is marked in orange on the map.
We used many of the PJ Greece Stopovers and found some of our own wild camping spots.
We found the PJ Stopovers to be really useful and have included their link here.
PLACES TO VISIT ON YOUR PELOPONNESE ROAD TRIP
---
STOP #1 PATRAS
If you are arriving in Patras via the ferry you won't have a need to cross the Rio Antirrio Bridge.
However, if you are driving from the Greece mainland you will cross this impressive multi-span cable-stayed bridge that connects Rio, on the Peloponnese peninsula, and Antirrio, on the mainland over the Gulf of Corinth.
The toll fee is about €13.70 for cars/campervans under 2 metres high and €21.00 for those over. For recent prices click here.
We arrived in Patras late afternoon and found a free site on the shoreline. From here you get a spectacular view of the Rio-Antirrio bridge.
STOP #2 KALOGRIA BEACH
Kalogria Beach is one of the longest sandy beaches in Greece, stretching for about 9km. In winter it is quite deserted and feels like an off-the-beaten-track destination. I'm not so sure it would have the same vibe in summer.
On the way, we passed this picturesque scene of this chapel on the edge of the Prokopou Lagoon. The door of the chapel was tiny but it was locked so we didn't get a look inside.
We stopped at Kalogria Beach for a few days while a storm passed by. We were quickly joined by a gorgeous stray puppy who took refuge underneath the van as the thunder bellowed above and the heavens opened.
We shouldn't have named him – but with his ribs protruding through and his adorable puppy dog eyes, we immediately fell in love.
We didn't let 'Buddy' in the van, but desperately wanted to every time he hit his head on the bottom of the van when a thunderous boom came from above.
We knew we couldn't take him with us but for those few days at least we gave him some food to build up his strength a little. Needless to say, when we drove away we were heartbroken.
We sent a photo of him and a note to PJ Camperstops for any other campers who might stop by the area.
We parked at a small car park right near the beach – and although the signs state no camping, as long as you are parking here out of season and keep a low profile you should be ok. Especially as the local campsite isn't open in the winter months.
STOP #3 OLYMPIA
The number of visitors to Olympia took us by surprise as, up until now on our campervan trip through Greece, we hadn't encountered too many other tourists. There were many tourist buses and we dread to think how busy this place must be in the summer.
Olympia is the place where the first ancient Olympic Games took place and it is here you will find the Temple of Zeus, the God to which the ancient Greeks paid homage before the games took place.
You can explore the Olympic Stadium and the Temple of Hera where the Olympic flame is lit every four years. There is also an archeological museum and a museum of the history of the Olympic Games.
STOP #4 – DIMITSANA AND LOUSIOS GORGE HIKE
We stayed at a car park near this cute chapel in Dimitsana and then went for a fantastic hike in the Lousios Gorge, passing the incredible Prodromou and Philosophou monasteries.
This was one of our favourite hikes in Greece and whether or not you like ancient ruins, you cannot fail to be impressed by these monasteries that have been seemingly impossibly built into the hillside.
STOP #5 – KARYTAINA
The village of Karytaina dates back to the middle ages and sits at the top of a hill around the 13th-century Karytaina Castle.
The houses are made of stone and with its cobbled streets and wild scenic views, Karytaina is worth a visit.
STOP #6 – MEGALOPOLIS AND SPARTI
Just before you arrive in the town of Megalopolis you will pass ancient ruins – these were free to enter and we were the only people there.
We much preferred this archeological site to Olympia because you have the chance to contemplate your surroundings without hordes of people abruptly reminding you that you are well and truly in the present.
SPARTI
About another half hour further south and you will arrive in Sparti – a town built beside ancient Sparta.
Here – in pride of place stands the statue of Leonidas and behind the town are the ancient ruins of the Acropolis of Sparta.
Ancient Sparti was known for its courageous soldiers and their tough way of life. A theme that runs through the memento shops of the modern-age town.
STOP #7 – KALAMATA
When you are travelling in a motorhome it is nice to stop at a paid site occasionally to charge the second battery and have access to electricity, internet, washing facilities and a long hot shower.
This campsite in Kalamata, right beside Kalamata Marina, was perfect for that.
What did we do in Kalamata? We tried lots and lots of olive varieties of course.
STOP #8 – AG NIKOLAOS AND KATAPHIGI CAVE
Near Pantazi Beach, just past Ag Nikolaos, you'll likely find a few cats lounging around. We met Sue Lilley while she was feeding the local feral and stray cats.
She dedicates her time to looking after them – you can find out more on the @Manicats Facebook page.
But it wasn't the cats that we were there to see – we were on the hunt for a geocache hidden in the ancient Kataphygi cave. Unbeknown to us it wouldn't just be a geocache that we would be finding …
KATAPHYGI CAVE
Kataphygi in Greek means 'refuge' and the cave was said to have been used as a refuge in the Greek Revolution. The cave is about 3.5km long and the 4th longest in Greece.
Although the cave is long it is not recommended to go further than about 100m into the cave – and pay close attention to the arrows that you follow. Some parts are quite narrow and tight so don't enter if you do not like enclosed spaces.
About 30 metres into the cave you'll come to the 'white table' as pictured above with Lars beside it, and you will see numerous other stunning cave formations.
BEWARE of creepy crawlers though. At one point in the cave, you need to crawl through. Lars had gone through and as I was following I felt something dropping from above.
Looking upward, I shone my head torch onto the cave ceiling just above me. To my horror, there were hundreds of huge spiders jumping down onto me.
I must admit that a few expletives were uttered by me as I struggled to get through this narrow piece of rock as speedily as possible.
Emerging into a more open area, much relieved but somewhat shaken, and brushing myself down as if my life depended on it – I realised that I was going to have to go back that way too!
Later we found out that these enormous (well they seemed enormous at the time…) creepy crawlies were cave crickets or otherwise known as spider crickets because they crawl like a spider until they are frightened … and then they jump!
Funnily enough, the author of this post jumps when frightened too and cracked her head on the rock on the way out when thousands of gigantic spider crickets landed on her yet again.
Lars took it all in his stride of course.
Note:
Never go into the cave alone.
Leave a message about your planned return time.
Take at least two independent light sources per person.
STOP #9 – DIRIOS
A little further south of Kataphygi Cave you'll come to the Diros Caves which are more well-known and charge an entrance fee.
This is a perfect opportunity to see these amazing cave formations if you don't want to go clambering into Kataphygi Cave.
The tour of the cave takes about 25 minutes, with 1300m of the 1500m cave being by boat on the lake.
For more information click here.
STOP #10 – TIGANI CASTLE AND ODIGITRIA CHURCH, TAINARON LIGHTHOUSE
The sign points you towards Tigani's Castle, however, don't expect to find a castle. It is a rocky peninsula with ruins of what was once thought to be a castle abandoned in the 7th century.
The Peninsula is easy enough to spot, jutting out from the land as its name suggests – Tigani means 'frying pan'.
This is one of the main reasons that we love geocaching. We would never have found this hidden Byzantine church along the Tigani Coast if we hadn't gone searching for its geocache.
The name of the church is Agia Odigitria (Panagia's Church) which means "Holy Precursoress" and this little 12th-century Church was important for seafarers going back a couple of centuries since as it can be seen from far out at the sea.
This ancient church is made from the surrounding rocks and although now in disrepair, the old frescoes are still partially visible.
Further south, on the southern tip of the Mani Peninsula, (the first finger of the Peloponnese), is Cape Tanero (or Tainaron/Tainarios/Tenaros/Taenarus), which was the site of the city Taenarum said to be founded by Taernarum who also built the Sanctuary of Poseidon.
On your way, you'll pass through the interesting, mostly abandoned village of Vathia – known for its stone tower houses.
The lighthouse at Tainaron is at the southernmost point of mainland Europe and the hike out to it is worth it for the rugged landscape and view.
STOP #11 KAMARES BEACH
Our next stop was the beautiful Kamares Beach. The route there took us through row upon row of orange and olive groves. We stopped on the roadside and bought fresh oranges picked off the tree in front of us.
This was one of my favourite beach stops – right on the edge of the shallow waters in this stunning cove.
A fresh bread van drove by each morning making this a great place to stay for a few days just relaxing and enjoying the view. At the time, (end of Nov) we were the only camper on the 1km stretch of beach.
STOP #12 – ELAFONISOS ISLAND
The drive from Kamares to the ferry across to Elafonisos Island took about 2.5 hours. On the way, we passed the Dimitrios Shipwreck and climbed the mountain where there was once a 13th-century castle, Castro Rampano.
The climb is quite steep but there is an ancient path with a handrail at parts. The view at the top is magnificent.
Remember to check out the map above for the coordinates and notes on all of these destinations.
The ferry across to the island cost €21.50 each way for the campervan. On the island, you'll find beautiful bays and plenty of places to take long walks in nature.
One of our favourite spots was near the place where we found a camper stop (see map) and the spectacular Simos Beach.
STOP #13 – MONEMVASIA
Monemvasia has to be one of the prettiest towns in Greece and visiting in winter meant we could explore it in its natural state without crowded alleyways.
We have written a whole separate article on our route from Monemvasia to Nafplio as it deserved much more detail than we could give in this post.
STOP #14 – SAMBATIKI
Sambatiki is a classic Greek harbour where you can watch the comings and goings of the local fishermen – with a free camperstop in the car park overlooking the harbour.
STOP #15 – NAFPLIO
Nafplio is rumoured to be another of Greece's prettiest towns – however personally we preferred Monemvasia and didn't warm to Nafplio. Many sing its praises though, so it's worth a stop and a wander.
STOP #16 – ACORINTHE AND CORINTH
With Corinth firmly in our sights, and Nafplio disappearing behind us, we continued the day's drive with no solid plan for our campervan overnight stop. But hey, this is Greece – it's full of beautiful parking possibilities.
With the day's light rapidly fading we decided to take a shot at the parking lot at the ancient ruins of Acrocorinth. It was a pretty steep but scenic drive up the mountain and yet again we found that we had a spot to ourselves.
We arrived just in time to watch the sun setting majestically over the surrounding mountains. With the remaining light, we took a brisk walk around the Acropolis.
The wind chill had temperatures plummeting though, so it wasn't long before we retreated back to the warm confines of the van.
The next morning, we headed off to take a look at the Corinth Canal. It was only a short 20-minute drive to the Isthmus Bridge (avoiding the toll road to Athens) and we parked up at a vacant area right by the canal.
As the canal is quite narrow, you have to get close to get a good look. However, be warned, that there are no fall barriers in place so be careful.
With 21 metres width at the canal base and steep canal walls rising at an acute 80-degree angle – it was quite a feat of engineering for its length of 6.4 kilometres.
A fall from our viewpoint would have amounted to a drop of about 90 metres.
STOP #17 – PATRAS TO BARI (ITALY)
You would think that this would be the end of our Peloponnese road trip, but there is one more story to tell before leaving the Greek shores.
Being forewarned and having awareness of the situation may help you if you are subjected to a similar experience at a Greek port.
PATRAS PORT AND THE MEN IN BLACK
We arrived early at Patras and parked at the outer port car park. There were many trucks parked around us, some with drivers present and others not.
After an hour, we saw about five men, who we thought were inspecting a trailer. However, this number soon swelled from five to about thirty. Something now seemed odd and out of place.
The mob of men, mainly dressed in black, then proceeded to try to open and climb onto many other trailers and containers nearby. Although they weren't inflicting any damage, their intention was suspect.
Our gut feeling told us things weren't safe anymore so we started the engine and headed for an early check-in to the ferry.
By this stage, we had guessed what was going on. Immigrants and refugees were looking to stow away.
Passing the customs check, we parked in the secure dock area about 100m from the water and the security fence, to await the call for the ferry boarding. Parked close by, were a couple of other campervans and a few trucks.
POLICE, SIRENS, ACTION STATIONS!
We thought that we would be away from the illegal stow-away attempts once inside the secure dock area. However, this wasn't the case.
Many more men were just on the other side of the fence and were constantly trying to climb over. Even the police sirens and security cars with flashing lights didn't seem to deter the men in black.
Although the security vehicles were driving on each side of the fence perimeter, the men were unperturbed. Around thirty of them were attempting to scale the security fence, all at different locations and at the same time.
They all had the same goal in mind – to breach the dock area and board the departing ferry. It was an all-out en-masse assault. Now we were really on our guard!
Some did breach the razor wire, and sprint across the tarmac and around our campervan in a desperate attempt to find refuge. Each time they were shepherded back over the fence by port security.
We were quite surprised at this 'cat n mouse' type play but were relieved to observe that there was no outward violence displayed from either party and all without physical force or injury.
A DANGEROUS GAME
We found out later that these desperate men are refugees and migrants from war-torn countries. The migrants camp in makeshift tents in an abandoned factory directly opposite Patras ferry port.
Each day, a few hours before the ferry departure, they scale the port security fences in an attempt to board the ferry. If captured by the port police they are given some form of punishment.
The article, 'A Dangerous Game' by Fahrinisa Oswald highlights the plight of these refugees and their desperate grasp of 'hope' to get to a better life.
DRIVING TIPS FOR YOUR PELOPONNESE ROAD TRIP
In Greece, you drive on the right
Seatbelts are compulsory
Horns are not to be used in towns unless to avoid an accident
Have the following documents to hand:

Driver's licence (and an international driver's licence if necessary)
Vehicle insurance
Vehicle registration document
Passport

You are also required to have the following in your vehicle:
The main motorways have tolls. To avoid them you can program your navigator to avoid tolls.
Speed Limits are as follows unless otherwise signposted

130 km/h (80 mph) on motorways
90/110 km/h (50 mph) on National roads
50 km/h (31 mph) in urban areas.

Emergency Number: 112
PELOPONNESE ROAD TRIP … That's a Wrap
So we left the port of Patras, and the terrible plight of the refugees behind us, and set sail towards the western horizon. The promise of new adventures awaited us as we continued our road trip onwards through Europe. Next stop Italy…
We hope this road trip through the Peloponnese gives you plenty of food for thought and helps you in planning your own Peloponnese Itinerary.
We'd love to hear about any of your Peloponnese road trips and please drop us a line to tell us your favourite spots.
As always, let us know if you have any questions or queries and we'll do our best to help you out.
Interesting Read: 15 Best Road Trip Tips for Couples
Pin and Save for Later
READ MORE HERE:
---