Some posts on this site contain affiliate links, meaning if you book or buy something through one of these links then we may earn a small commission. Read our Disclosure Policy here.
Driving Personas: LADY PENELOPE AND PARKER – A LIFE OF INTERNATIONAL MYSTERY
Who is Lady Penelope?
A lady possessing great intellect, quick wit, and impeccable character with a distinct disdain for the mediocre.
Her personal mission is to venture forth where few have gone before.
To explore the little-known off-the-beaten-track locations and chronicle her global adventures to inspire others to do the same.
She is resolute in her quest. Thriving in the face of adversity, she rises with gusto to any challenge.
And Parker?
Always at Lady Penelope's side, accompanying her on each and every mission, is her trusted and loyal driver, Parker.
Committed to a life of service, Parker shadows Lady Penelope; anticipating her needs, diligently following her instructions and maintaining all in a high state of readiness.
Pledged to a life of international travel, Parker must follow where 'M'Lady' goes.
Let me give some context...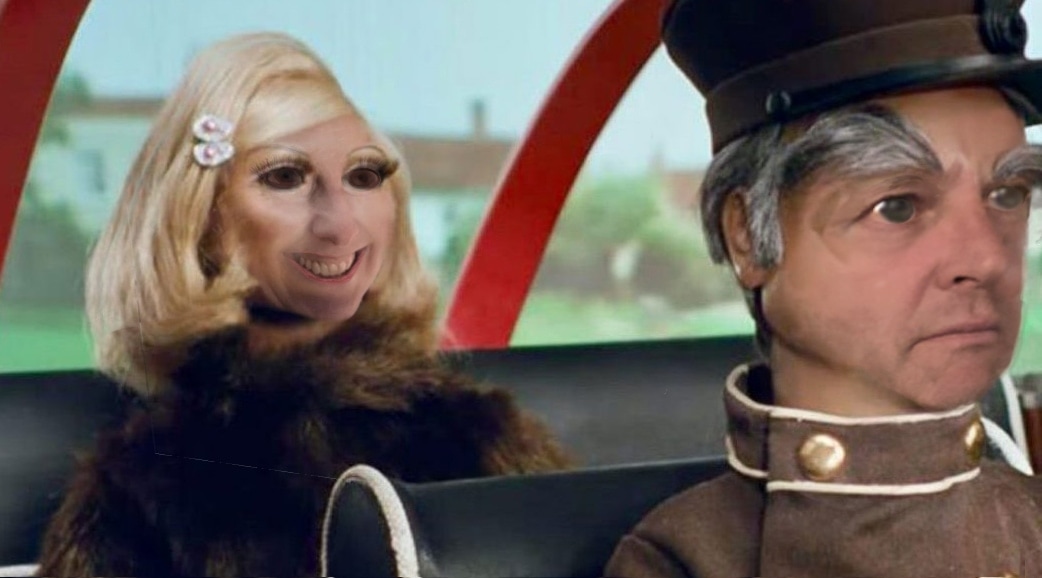 THUNDERBIRD CHARACTERS? HOW DID THIS COME TO BE?
Well, it fell into place of its own accord in the very early days of our year-long campervan trip in Europe.
We were transitioning into right-hand lane driving (we're from Australia) and at the same time trying to hone the driver/navigator skill set. We needed to function together like a smoothly oiled machine.
Although the theory was sound, the practical application was a different story.
When we were both in the vehicle and there was a heightened degree of tension between us, caused by either the driver taking unnecessary risks or the co-driver not fully communicating road navigational instructions, we defaulted to using Thunderbird personas.
I take on the persona of Parker, and Shelley that of Lady Penelope or simply Lady P.
For example, I (Lars) may be driving too fast for Shelley's liking, making her feel uncomfortable. Now, we guys really don't want to be told driving tips from the ladies. However, with Shelley taking on the voice of Lady Penelope, she deftly delivers her instruction,
'Parker .. drop your speed please', in her most aristocratic British accent.
I, Parker, respond with a compliant 'Yes, m'Lady' and proceed to drop my speed.
Yes, it's classic Thunderbirds oratory.
Of course, we do the accents to give it authenticity!
LADY PENELOPE AND PARKER SWAP SOME SMALL TALK
The accents are brilliant!
LADY PENELOPE AND PARKER THUNDERBIRD CHARACTERS WORK. WHY?
It takes the 'personal side' out of the situation. Neither party has to feel as if they can't speak up and there is no direct perceived fault. It's focused on non-confrontation and it works perfectly for us!
This ensures that a perfect equilibrium is maintained and if the situation needs to be re-visited, then it can be done knowing that it will be taken on board with a degree of humour.
Don't know about The Thunderbird characters? These puppet-like characters form an international rescue team that basically does battle against evil. A whole TV series was built on this concept. Even an action film followed. It sounds a bit of a corny concept and it is, but it's super funny to watch.
Of course, none of this is binding unless the agreement is set in stone until it is agreed and signed. So, Lady Penelope and Parker sat down and drafted Parker's Code of Conduct.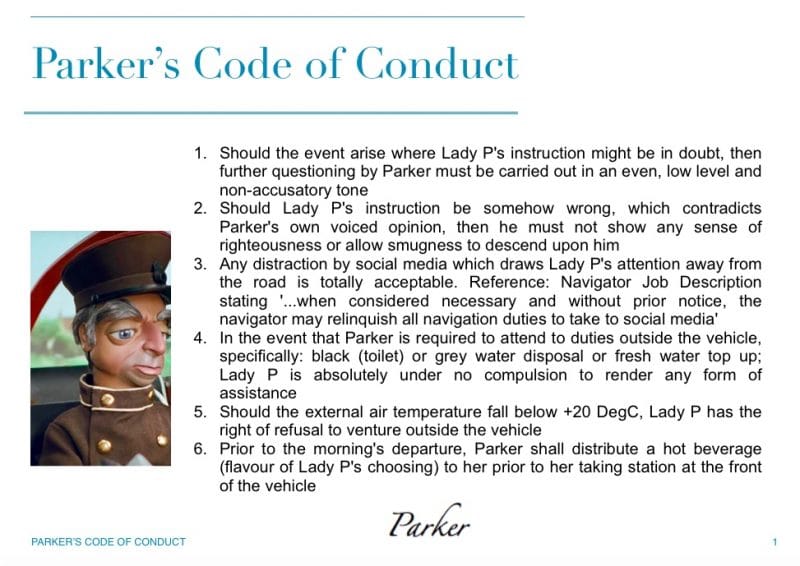 ---
Lady Penelope and Parker … Over and Out
We hope this short post about how and why we become Lady P and Parker has brought a smile to your face and given you some light-hearted tips on how to get along when on a road trip😉
Laughing or smiling through the madness helps!
READ NEXT: Have you read our 15 Fantastic Road Trip Tips For Couples?
Do you have any funny road trip stories to share?
How is the driver/navigator dynamic managed by you on your road trips?
We'd love to hear from you.
---
If you enjoyed this article, you may like these FREE RESOURCES: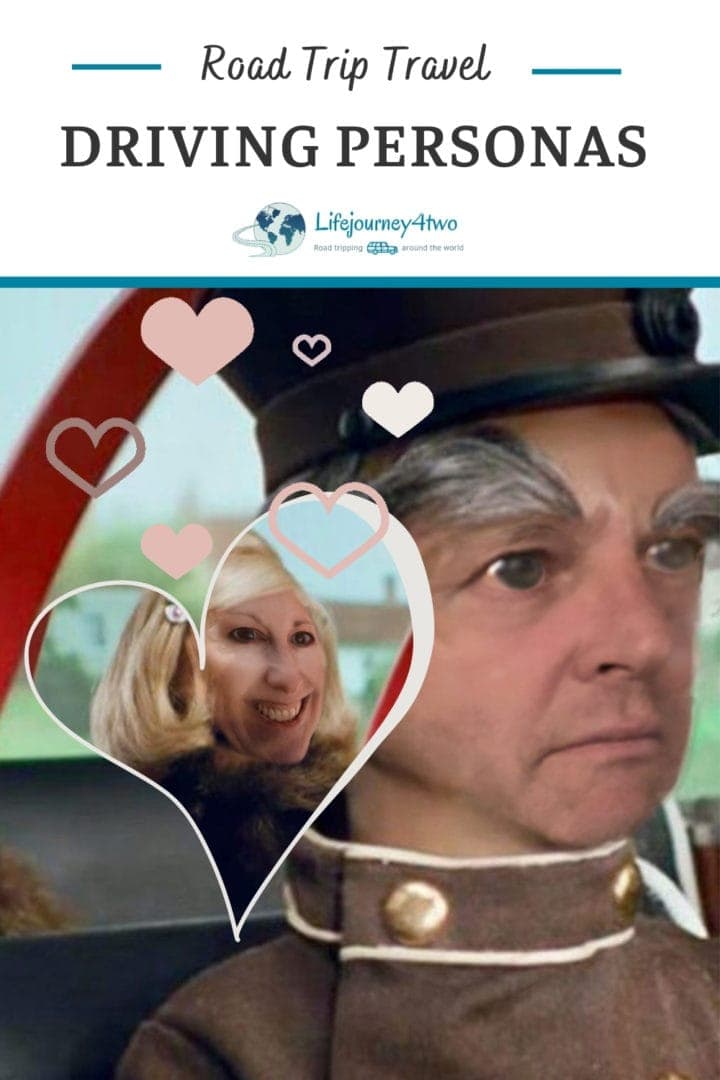 Read More Here:
PLANNING YOUR TRAVELS?
These are some of the travel resources we use when planning our trips.
For a more thorough list visit our Travel Resources page here.